My Project: Infrared View
Richard Mosse depicts African conflict in infrared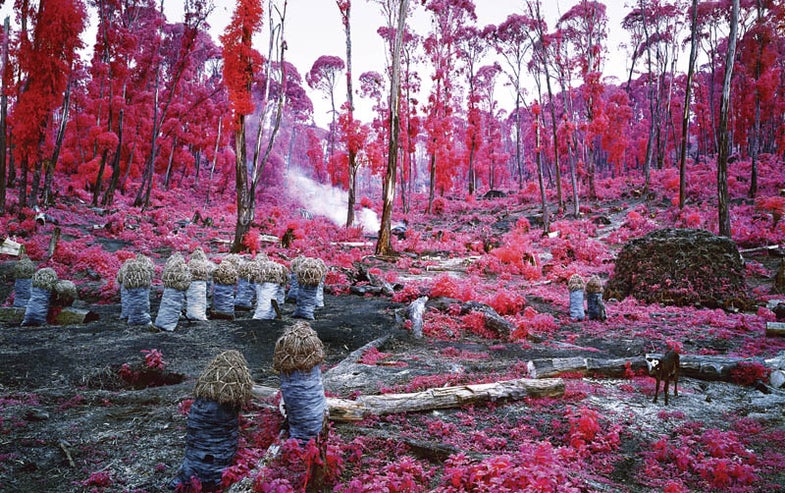 Artist Richard Mosse, 32, never dreamed he would photograph in the Congo. Nor did he anticipate working with infrared film. But in 2009, when he learned that color infrared film was slated to be discontinued, he saw a chance for a new way of working, and the two came together. "I was interested in [the film's] original purpose as a military tool, but I was also drawn to its peculiar color palette," he says. "I wanted to use it as a way of thinking through this conflict and the rules and conventions of war photography."
In January 2010, he began the first of five trips to the Democratic Republic of Congo in two years, working with local media fixers and human-rights activists. "Access was tricky," he says, "as it involved building up a relationship with each particular rebel group" before meeting secretly in elevated jungle highlands.
Using the film in his 8×10 and 6×7 cameras proved challenging. The film, he notes, is highly heat-sensitive, meant to last just seven days at room temperature—and freezers are rare in the region.
Even harder? "You're always under threat of ambush, especially when walking across front lines, in unstable zones of conflict deep in the jungle," he says.
His photos, exhibited at Jack Shainman Gallery in New York, paint a portrait of paramilitary conflict in the Congolese region unlike what the world typically sees. "The heart of the project was a sense of an unseen predator, a very real threat of horrific massacres and sexual violence, which is sadly very common in eastern Congo," says Mosse. His film "produced nightmarish, disturbing landscapes which are also very beautiful."