My Project: Faces of Music
Music photographer Michael Weintrob personifies the player's sound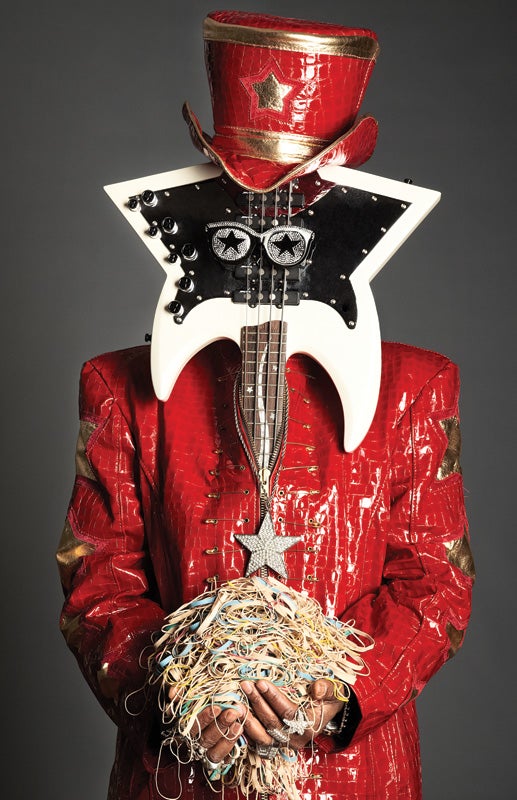 Like most pros, music photog-rapher Michael Weintrob tries to coax more from his portrait subjects than boilerplate promo shots. So he began to ask his subjects to "mess around" with their instruments during shoots.
"These musicians look at instruments as an extension of their body, much like the way a photographer thinks of his camera," he says.
Making surreal images was not the purpose of these portrait sessions, but when the musicians placed their instruments in front of their faces, Weintrob realized he had something special.
So in 2006 he began collecting the set of signature photos that would become his series, Instrumenthead, with plans to publish a book. By suspending the artists' instruments in front of their faces, instead of superimposing them in postproduction, Weintrob creates an intimate expression of each subject's artistic identity. "When I look at these images, I can hear them playing. I wanted to share that," he says. "I want you to envision what the music might sound like."
With these portraits Weintrob pays homage to iconic rock and blues musicians such as bassist Bootsy Collins, guitarist Derek Trucks, and longtime Grateful Dead drummer Mickey Hart.
But he also ventured outside American popular music, exploring his love for so-called world music—genres unfamiliar to most U.S. audiences. Depicting such musicians as the renowned Indian tabla player Zakir Hussain and the Zimbabwean mbira player Dr. Pride Chigwedere this way, he hopes to "show the significance of these instruments to the artists and their cultures, and connect indigenous art forms with new eyes and ears."
Instrumenthead has not only helped Weintrob to develop his style and refine his portraiture. He explains that it has also helped him to understand his own connection to photography.
"I ask the artists, 'What is it about you that makes you special?' And it helps me find that out about myself, too."