World Press Photo Awards Announced
Tim Hetherington's image of an exhausted U.S. soldier in Afghanistan takes top prize.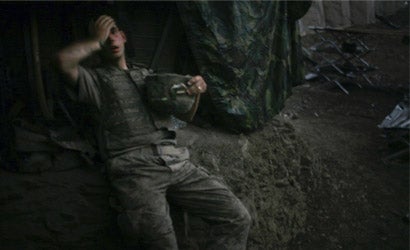 UK photographer Tim Hetherington's image of an exhausted U.S. soldier in a moment of respite after intense fighting in Afghanistan has won the 2007 World Press Photo Contest, one of the most prestigious prizes in photojournalism.
Hetherington made the photo of the unnamed soldier last September while on assignment for Vanity Fair. The shot was taken at the so-called "Restrepo" bunker, named after a soldier from his platoon who was recently killed by insurgents. The soldier depicted in the photo is a member of the 2nd Battalion Airborne of the 503rd U.S. infantry division, a unit deployed in the Korengal Valley in the Eastern province of Afghanistan. According to the World Press Photo Website, the valley is infamous as the site of downing of a U.S. helicopter and has seen some of the most intense fighting in the country.
"This image represents the exhaustion of a man — and the exhaustion of a nation," jury chairman Gary Knight, a photographer with the VII agency, said of Hetherington's winning image. "We're all connected to this. It's a picture of a man at the end of a line." Time magazine's director of photography MaryAnne Golon, who also served on the jury, commented: "I use all my energy to have people notice bad things. There's a human quality to this picture. It says that conflict is the basis of this man's life."
An international jury chose the photo from among a total of more than 80,000 that were entered from 5,019 photographers from 125 countries.
Hetherington's photograph is part of a picture story that was also awarded 2nd Prize in General News Stories. Several Americans were among the 59 winning photographers representing 23 nationalities. Getty Images' John Moore took first prize in the Spot News Singles category for his recent photos depicting the chaos that emerged in Pakistan immediately following the assassination of Benazir Bhutto in Rawalpindi. An edit of Moore's pictures from the blast scene also took first place in the Spot News Stories category.
Justin Maxon of Aurora Photos took first prize in the Daily Life Singles category for his shot of a homeless woman with HIV and her son bathing in the Red River near Hanoi, Vietnam; Ariana Lindquist took the top prize in the Arts & Entertainment singles category for her backstage shot of a girl dressed in an anime costume before a performance in Shanghai, China; and National Geographic shooter David Liittschwager won first prize in the Nature Stories category for his stunning images of magnified marine life found near the Hawaiian Islands.
For his winning image, Hetherington will receive a 10,000-euro monetary award as well as an EOS-1Ds Mark III DSLR donated by Canon. An awards ceremony will be held to honor the winners in Amsterdam in April, preceded by a program of lectures, discussions and photography screenings at the historic Oude Kerk.
For more information and to view the complete winners' gallery, visit www.worldpressphoto.org.