War Photography With Bite
Three new photo books on Iraq take a more nuanced, artful look at the conflict than earlier efforts.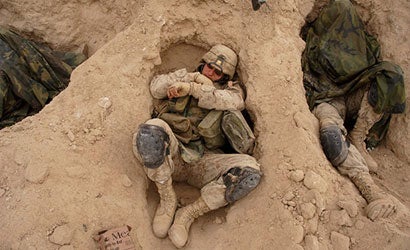 Rarely have the first drafts of history gotten it so terribly wrong, or at least so incomplete, as the book publishing world's first take on the war in Iraq. The year was 2003, and the country was still smarting from the September 11 attacks. Book publishers, including those specializing in photo books, were falling all over themselves to release products that capitalized on the country's rampant patriotism in time for the holiday season.
The books, such as Time's 21 Days to Baghdad and Regan Books' The War in Iraq: A Photo History, were rush jobs that were heavy on the bravado and skimpy on real photojournalism. Packed with photos of the initial invasion and key administration officials, the books' shortsightedness is best summed up by their gullible inclusion of the orchestrated shot of President Bush after his landing on an aircraft carrier, standing in front of a banner declaring "Mission Accomplished."
Fast-forward four years, and we're only now starting to see a more nuanced, artful look at the conflict. This fall will see the release of at least three monographs that offer views of our military involvement in Iraq that are both penetrating and skeptical. With an American public that has largely turned against the war, or at least grown frustrated with its handling, this country may finally be a willing audience.
First up is Iraq: The Space Between (powerHouse, $35) by German-born photographer Christoph Bangert, who organized his book around the concept of distance: "It describes the gap between different peoples and cultures in Iraq. It attempts to show the space between two wars, the American invasion and the Iraqi civil war, the space between us and them, my experience and your experience."
Some of Bangert's photos hit you over the head with war's brutality, such as one of an Iraqi left for dead in a pile of garbage. Others, such as the book's cover of an abandoned playground, arrive more indirectly at the "war is hell" inevitability.
Magnum's Thomas Dworzak, also a German, uses the popular sitcom M*A*S*H as a narrative device to highlight similarities between the current quagmire of Iraq and America's mid-century misadventures in Korea and Vietnam. M*A*S*H: I*R*A*Q (Trolley, $35) juxtaposes subtitled screenshots from the '70s CBS sitcom with images shot in Iraq between 2003 and 2006. The narrative trope could seem gimmicky in less-skilled hands, but under Dworzak's deft touch, the M*A*S*H frame grabs become insightful captions for his photos.
Finally there's Ashley Gilbertson's Whiskey Tango Foxtrot: A Photographer's Chronicle of the Iraq War, released this fall by the University of Chicago Press ($35). Gilbertson is perhaps best known for his work during the pivotal fighting in Fallujah in November 2004. His photo of a marine gleefully sliding down the marble handrail in Saddam's Tikrit palace made it into several of the early books on Iraq.
In Whiskey Tango Foxtrot we see that Gilbertson has much more to say — visually and verbally. Along with his images, the book includes harrowing first-person accounts and lengthy personal reflection on the unintended consequences of war. Refreshingly, Gilbertson doesn't shy away from his own culpability; in fact he explores it, and the book is all the better for this honesty.
With any luck, the more personal, artistic, unvarnished approach to Iraq represented in these books will push more conflict coverage in that direction. And if we're really lucky, maybe publishers will realize that the earlier they print this kind of work, the more likely it is to influence public opinion rather than just reiterating it.