Visa pour l'Image Preview
The most prominent photojournalism festival in the world celebrates its 20th anniversary next week.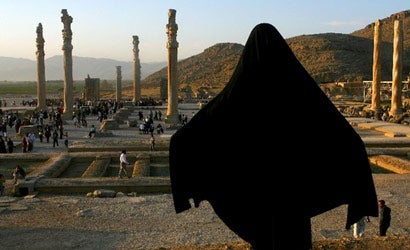 The largest photojournalism festival, Visa pour l'Image, kicks off on Saturday in Perpignan, France — and this year the festivities are sure to be bigger than ever. The festival, which met with extreme skepticism when it was first started by the inimitable Jean-Francois Leroy, is triumphantly celebrating its twentieth anniversary this year.
Visa pour l'Image runs for two weeks from August 30 to September 14, but it is during the first week that photographers and photo professionals flock to Perpignan to reconnect with old friends, to make new deals, and to celebrate and reassess the current state of photojournalism. American Photo's editor at large, Jean-Jacques Naudet, and senior editor, Miki Johnson, will be there during professional week to provide daily coverage at the State of the Art blog.
The foundation of any photography festival is its exhibitions, and this year there are 30 around Perpignan and more at satellite locations in Paris. The long list of top-notch photojournalists with work on display includes Nina Berman, Philip Blenkinsop, Alexandra Boulat (who died this year and will be honored with a memorial presentation), Horst Faas, David Douglas Duncan, Brent Stirton, Paolo Pellegrin, Paula Bronstein, Jan Grarup, and Stanley Greene.
Visa pour l'Image is also known for its slideshows, which will cover the main news events around the world this year: Israel/Palestine, Iraq, Afghanistan, Sri Lanka, Colombia, China, Tibet, Russia, Somalia/Ethiopia, the U.S.A., and Chad. A special program will also be presented on September 5 marking the festival's 20th anniversary with highlights of the events that have had the biggest impact on it.
The festival's awards are also distributed during these evening presentations. These include Visa d'Or awards for News, Feature, and Daily Press; the City of Perpignan Young Reporter Award, the Canon Female Photojournalist Award, and the CARE International Award for Humanitarian Reportage. Check out the extensive Visa pour l'Image website to see the nominees for each award as well as past honorees.
In recent years the festival has increasingly been a place for industry leaders to discuss the state of photojournalism and to help define the path forward in an increasingly dismal landscape. The 2008 symposium minces no words with it's mission statement: "Thousands of photos are sent to Visa pour l'Image-Perpignan as proposals for exhibitions and evening programs, and over the last two or three years, these pictures have been increasingly 'neat and tidy,' increasingly standardized and, to put it bluntly, tedious, with the same old stories, seen from the same old angles; and this tendency is getting even stronger." The symposium will attempt to find explanations and solutions for this tendency, while the Elle Magazine Panel Discussion will tackle the increasingly difficult situation for women in Afghanistan.