Travis Dove Named College Photographer of the Year
The Ohio University graduate student began shooting only two years ago.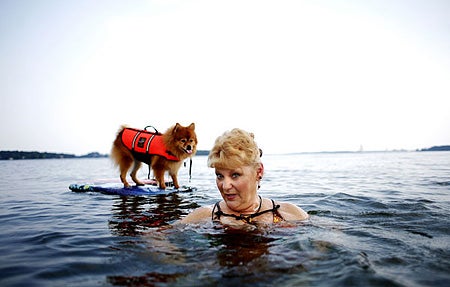 Travis Dove isn't accustomed to winning awards for his work as a photographer, but after his second year entering the College Photographer of the Year competition, the 25-year-old Ohio University graduate student took the competition's top honor, winning gold in the portfolio category.
Dove has only taken photography seriously for the past two years, but has since interned at three newspapers including the Valley News in Vermont, the Augusta Chronicle, and the Charlotte Observer. Most of the work in his winning portfolio was shot for class assignments and personal work, though some was from his most recent summer internship at the Charlotte Observer.
Before winning CPOY this year, Dove hadn't won any awards for his photography since he was a young child, despite entering images in last year's College Photographer of the Year competition as well. "I got an honorable mention in a Boy Scouts photo competition when I was a kid," Dove said. "I think I was about eight."
This year Dove took the competition seriously, spending hours editing images with friends, other students, and photographers he met during his internships. All his hard work paid off, winning five awards during this year's CPOY competition. "I can't tell you how many people I had look at this portfolio," Dove said. "Things kept coming in and out, in and out."
In addition to the gold award in the portfolio category that earned him the title College Photographer of the Year, Dove also won gold in the portrait category, gold in the documentary category, and awards of excellence in both the sports feature and pictorial categories.
Several days after learning of his first place award, Dove still had trouble containing his excitement. "It's unbelievable; my cheeks are hurting right now from smiling so much," he said. "It's an incredible honor. Just looking through some of the work I saw this year made it even more special. I'm still in a dream state right now."
Joining Dove as winners in the portfolio category were Dominic Nahr of Ryerson University in Toronto, Canada, and Brian Frank of San Francisco State University, winning silver and bronze, respectively.
As College Photographer of the Year, Dove will receive a Nikon Digital SLR Camera set, a 14-week internship at National Geographic Magazine, a National Press Photographers Foundation $1,000 scholarship award honoring the memory of Colonel William J. Lookadoo, and a plaque. He will also be brought to Washington,D.C. to receive his awards and present work at the annual Pictures of the Year International/College Photographer of the Year awards ceremony on April 17 and 18, 2008.
The College Photographer of the Year competition was founded by Cliff and Vi Edom in 1945 and is held each year at the University of Missouri-Columbia under the direction of Rita Reed, who has served as the competition's director for the past six years.
The 10,645 still images and 122 multimedia projects entered into the competition were judged from November 4-9, 2007 by judges Kathy Kieliszewski of the Detroit Free Press, Richard Koci Hernandez of the San Jose Mercury News, Susan Smith of National Geographic Magazine, and Mike Stocker of the South Florida Sun-Sentinel. More than 460 student photographers entered work representing 88 colleges and universities in 10 different countries.