'reGeneration' Showcases '50 Photographers of Tomorrow'
The book and exhibition, which makes its American debut this month at the Aperture Gallery in New York, collects work from some promising young photographers set to make their mark in the coming years.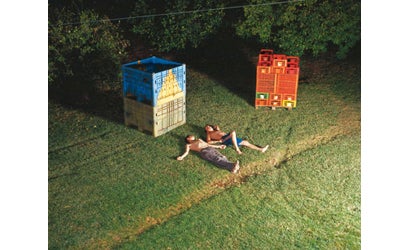 Which photographers will we be talking about in the year 2025? How will their work differ from what we see on museum and gallery walls today?
These questions and many more are explored in reGeneration: 50 Photographers of Tomorrow , the book and exhibition that makes its American debut the month at the Aperture Gallery in New York City. The show originated at the Musée de l'Elysée in Lausanne, Switzerland last year and traveled to Milan last fall. Although it's been pared down somewhat from the original 350 prints, it still represents an impressive array of young artists with no shortage of talent and ambition.
William A. Ewing, the director of the Musée de l'Elsée and one of the three curators on the project, said reGeneration arose from a desire to "look into the future" and imagine "what will photography be like in 2025." To narrow the focus, Ewing and co-curators Nathalie Herschdorfer and Jean-Christophe Blaser decided to use photography schools as a kind of "filter." After sorting through 450 portfolios submitted from more than 60 schools around the world, Ewing and his team settled on the final 50 photographers.
So what common themes emerged from the massive survey of work?
"This generation no longer agonizes about what is true, what isn't true," Ewing says. "They just know it's all false. … And so they manipulate in gentle ways. You're not quite sure what you're looking at but you end up with very interesting pictures and they know that that's what counts."
Exhibition on view at the Aperture Gallery, April 7-June22Reception with the curators and artists, April 19, 6-8 p.m.Panel Discussion with William A. Ewing, curator, and Josef Schulz, Angela Strassheim, Shigeru Takato, and Chih-Chien Wang, artists April 20, 6:30 p.m.
Eight American photographers were chosen from the 50 in the exhibition: Samantha Bass, Ted Partin, and Angela Strassheim from Yale University School of Art, Suellen Parker, Nicholas Prior, and Caroline Shepard from the School of Visual Arts, Marla Rutherford from Art Center College of Design and Carlin Wing from Harvard University. Their work ranges from Bass' unflinching reportage of industrial livestock processing plants to Rutherford's cheerful juxtapositions of the risqué with the everyday to Wing's ironic look at how photographic prints by such esteemed artists as Nan Goldin and Thomas Ruff are used to decorate the meeting rooms and corridors of American corporations.
For Ewing, reGeneration presented a departure from the normal museum curator's mindset of assessing and working with established artists well into their careers.
"Museum people are not on the front lines, always looking for the latest, hottest thing," Ewing admits. "It's beginning to influence us, that kind of pressure to be on the latest wave, but museums just generally aren't. So this is a museum project, not a gallery project."
As such, Ewing says the curators sought out a "solidity of vision" among the portfolios that signaled to them the photographer had interesting ideas and was not just a "fly-by-night" success.
Ewing says his team chose reGeneration as the title of the project because it properly conveyed the photographers' connection with the past. "Although there's so much talk about computers and the kinds of imagery which hasn't existed before, despite that, there is a careful use of the past to move forward," Ewing says. "It doesn't feel that there's an abyss between one generation and the next."
Still, reGeneration shows that young photographers looking to make their mark can't simply retread what has worked in the past.
"Everything is influenced by man, so young people don't look for pristine environments," Ewing says. "It's too late to go to Africa and find primitive tribes. You can't do that. But you can go to Africa and find all sorts of amazing mélanges of old and new which are equally as fascinating."
Assessing the emerging generation, Ewing says its photographers are not likely to get caught up in what he calls the "spectacle machine" of today's overloaded visual culture. "This generation is aware of that, it knows its dangers," he says. "But it's not taken in by it like the public is taken in and believes. This generation knows it's insidious and is dangerous but it's all encompassing and they find their way within it with this cloud of images. They stake out their terrain and they go after it."
List of 'reGeneration' Photographers
Anoush Abrar (Switzerland / Iran)
Keren Assaf (Israel)
Christoph Bangert (Germany)
Samantha Bass (United States)
Jaret Belliveau (Canada)
Marco Bohr (Canada / Germany)
Mauren Brodbeck (Switzerland)
Matthias Bruggmann (Switzerland / France)
Bianca Brunner (Switzerland)
Song Chao (China)
Natalie Czech (Germany)
Raphaël Dallaporta (France)
Kathrina Drzková (Czech Republic)
Julie Edel Hardenberg (Greenland)
Leo Fabrizio (Switzerland / Italy)
Miklos Gaál (Finland)
Gérald Garbez (France)
Tarik Hayward (Switzerland)
Raphael Hefti (Switzerland)
Aimée Hoving (Netherlands)
Pieter Hugo (South Africa)
Milo Keller (Switzerland)
Idris Khan (England)
Gábor Arion Kudász (Hungary)
Eva Lauterlein (Germany / Switzerland)
Lucy Levene (England)
Rémy Lidereau (France)
Marcello Mariana (Italy)
Oren Noy (Israel)
Ryo Ohwada (Japan)
Suellen Parker (United States)
Ted Partin (United States)
Charlotte Player (England)
Nicholas Prior (United States)
Valérie Rouyer (France)
Marla Rutherford (United States)
Johann Ryno de Wet (South Africa)
Martina Sauter (Germany)
Josef Schulz (Germany / Poland)
Mona Schweizer (Switzerland)
Caroline Shepard (United States)
Angela Strassheim (United States)
Cathrine Sundqvist (Sweden)
Shigeru Takato (Japan)
Pétur Thomsen (Iceland)
Mieke Van de Voort (Netherlands)
Raffael Waldner (Switzerland)
Chih-Chien Wang (Taiwan)
Carlin Wing (United States)
Pablo Zuleta Zahr (Chile)
To suggest a different link for any of the photographers, e-mail Jay DeFoore.