Readers Respond to Annie Leibovitz Article
Several readers wrote to us after reading the story "Annie Leibovitz Called Out for Artful Borrowing." Here's a sampling of their responses.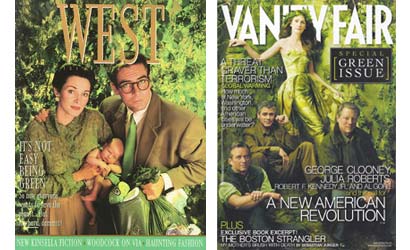 Re: Annie Leibovitz Accused of 'Artful Borrowing'
I read with interest your article on the "artful borrowing" that you suspect Annie Leibovitz is guilty of for her cover shot of Vanity Fair's May 2006 issue. I suspect inspiration is closer to the truth; no reasonable working photographer could claim she copied the image, and if she was a attempting a copy, she failed miserably.
Ms. Leibovitz's lighting is considerably different than Penn's, her poses are all different, and her subjects are posed on a rising set instead of a flat floor. Her image is in color, and considerably busier than Irving Penn's work. The similarities? Three men and one woman, in a corner, posed in a triangular manner with the woman standing. The argument for inspiration is compelling; for exact copying, or "artful borrowing," the argument seems forced.
In your article, you mention that the March cover was deemed similar to Edouard Manet's 1863 painting, 'Le Déjeuner sur l'Herbe'. I know first hand the effort Ms. Leibovitz put into that layout and lighting; I was one of the models for the lighting setup. Because her time with the actual celebrities was limited, Ms. Leibovitz hired three models the day before and posed them in the manner she wanted to pose the three women.
Yes, three women — Tom Ford was a last minute addition to that photograph, once Rachel McAdams proved to be uncomfortable with the concept. I believe if you remove Mr. Ford and his tie from the equation, all possible similarity to Manet's painting disappears.
Thanks to Google, we can quickly see the effects that "inspiration" has on the commercial marketplace. Google "magnifying glass" and "smile" and numerous near-exact copies of Herb Ritts' iconic portrait of Jack Nicholson appear — many of them from stock agency libraries, no less! Now here's the interesting part — wasn't Ritts' portrait itself an homage — and a rather more faithful copy than Ms. Leibovitz achieved — of an earlier work?
There are so many images produced and distributed today that even a photographer who works in total isolation is virtually assured, if his work achieves the sheer volume that Ms. Leibovitz' body of work has, of producing an image similar to another image somewhere.
At least Ms. Leibovitz has the grace to admit her inspiration.
Nicole Herold
model
www.nicoleherold.com
Annie Leibovitz v Penn v Manet v David Vance (et al)
Seems the latest brouhaha with Waterbury (CT) native Annie Leibovitz is only drawing additional attention to something I have known since assisting David Vance in 1988: that Ms. Leibovitz borrows liberally, from anyone and everyone.
Sadly, even her iconic 1980 photograph of John Lennon curled fetally before fatally wounded was, perhaps, inspired by Mr. Vance's 1972 nude: http://gibbsfarmington.blogspot.com/2006/04/vance-1972-v-leibovitz-1980.html/.
Bernard M Lynch Jr.
Interesting story on the Vanity Fair green issue. Check out this green cover I shot 17 years ago. It was possibly the first "green issue" in North America and I'm sure that there have been many done since.
Robert Karpa
Robert Karpa Photography
Vancouver, BC
Ed's Note: West Magazine, which is no longer publishing, was a general interest magazine distributed in Western Canada. This cover is from the October 1989 issue. The editor at the time was Paul Sullivan and the art director was Susan Casey (now the Time Inc. Development Editor).
Just one question. If images like these (stars and the like posing together) are subject to post production digital composition re: the 'Artful Borrowing' of the Vanity Fair cover image, why does the
photographer get credit for the image without a 'disclaimer' or something that states the image never happened as we see it, but was digitally constructed?
Marlon Rouse
From time to time we'll publish your thoughts on photography related issues in the news. To have your voice heard, e-mail Jay DeFoore at jdefoore@hfmus.com. E-mails may be quoted by name unless the writer stipulates otherwise.