Rare Dylan Photos Up For Auction
A set of six original prints of the rock legend are up for bids now.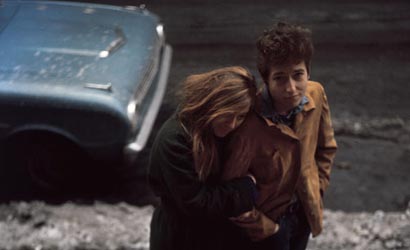 When a 19-year-old Bob Dylan left Minnesota for New York in January of 1961, it was an innocent trip east to visit his ailing hero, folk legend Woody Guthrie, who was in a New Jersey hospital. After visiting Guthrie, Dylan settled in New York's Greenwich Village, where he performed frequently in small folk clubs and caught the eye of New York Times critic Robert Shelton and, in turn, Columbia Records' John Hammond.
Signing a deal with Columbia opened the door for Dylan to change the face of popular music with his protest songs (a label forced upon his songs that he still vehemently rejects), such as "Blowin' in the Wind," "Masters of War" and "Oxford Town." It also began his collaboration with legendary photographer Don Hunstein.
Hunstein, who was Columbia's unofficial staff photographer from 1958 to 1981, has had his photographs placed on the covers of more than 200 albums. His covers include both Dylan's eponymous debut album and the iconic shot of Dylan and then-girlfriend Suze Rotolo walking arm-in-arm down Jones Street in Greenwich Village that became the cover of 1963's The Freewheelin' Bob Dylan.
And now, a set of six original photo prints, including shots taken at the same time as the covers for both albums, are being auctioned off. All of the photos are signed by Hunstein and are up for bid at Icon-Collectibles.com. The auction ends April 22 at 9 p.m. and the price started at $600 (as of April 19 at 1 p.m., it was up to $1,651). Don't have that kind of money? Don't think twice, it's all right. When ya ain't got nothin', ya got nothin' to lose.