Pictures of the Year Judging Begins in Columbia
The 2008 Pictures of the Year International's three-week judging session opened Sunday with the Sports Action category.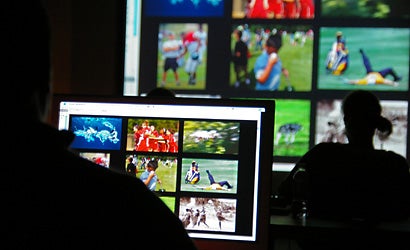 COLUMBIA, Mo. – In or out? With 45,000 images to get through, there's barely enough time to capture a frame in the dimly lit room before judges decide whether an image stays or goes. It's raining outside at the University of Missouri, but in Tucker Forum it's sunny, cloudy, hot and cold as each image has its moment to shine on the big screen.
With fewer than a dozen spectators in the audience, the rain kept most from attending the first day of public judging during the 65th annual Pictures of the Year International competition. But that will change over the next three weeks, as students and professionals from across the country will join a group of 12 judges from around the world as they select winning images in each of this year's 48 categories.
Beginning each Sunday and ending the following Friday, a panel of four judges will review thousands of images each day for three weeks, with each judge serving for one week at a time. This year's judges have come from as far as China, with Xinhua News Agency's Wen Huang making the trek from Beijing to the rural Midwest town of Columbia, halfway between the cities of St. Louis and Kansas City.
Huang, along with Jeanie Adams-Smith of Western Kentucky University, Ruth Fremson of The New York Times, and Brad Mangin of SportsShooter.com, is serving as a judge during the first week of the competition, reviewing images from the newspaper and general divisions, which includes sports, news and portrait categories.
POYi director Rick Shaw hopes to make the competition more accessible to international photographers. This year he sent out call for entry forms in Chinese and Spanish and brought on judges such as Huang and Ruth Eichhorn of Germany's GEO Magazine, who will join the competition during the second week of judging.
| | |
| --- | --- |
| | |
| Photo by Zach Honig | |
| SportsShooter.com co-founder Brad Mangin reviews an image in the sports feature category during the first day of Pictures of the Year International 2008 judging. | |
Huang, who has twice served on the jury of the World Press Photo competition in Amsterdam, was very enthusiastic about joining the panel at POYi. "It was really a big surprise to me," she said. "This is a really high standard photojournalist competition."
Huang said POYi has been known to Chinese photographers since the 1990's, but until recently was viewed as more of an American competition than one for international photographers, such as World Press Photo. She said that many Chinese photographers submit to World Press Photo each year, and hopes to spread the word about POYi's international image to the Far East.
Brad Mangin, a founding member of the sports photography networking site SportsShooter.com, is a freelance photographer based in the Bay Area. Mangin recognizes the advantages of having a diverse pool of judges. "Everyone comes from such different backgrounds," he said. "It's fun to hear what (the judges) have to say."
Even though Mangin says he's never entered his own work into the competition, he jumped at the opportunity to join the panel of judges in Columbia. "To me it's like going to the hall of fame," he said. "To get to come here where so many careers have begun."
With each set of four judges working for one of three weeks, Mangin will stay in Columbia through Saturday. Judges for the second week, which features the magazine and multimedia division, include Sue Brisk of Magnum Photo Agency, Chris Hondros of Getty Images, freelance photographer Brenda Ann Kenneally and Ruth Eichhorn of GEO Magazine. They'll view images from pictorial, science, general news and feature categories, before finishing out the week with the multimedia feature story and multimedia news story categories.
The final week includes entries to the multimedia and editing divisions, including additional multimedia projects and newspaper and magazine page layouts. Judges for week three include Susan Gilbert of The San Francisco Chronicle, Keith Graham of the University of Montana, Michele McDonald of The Boston Globe, and Robert Hood, director of multimedia at MSNBC.com.
| | |
| --- | --- |
| | |
| Photo by Zach Honig | |
| Jeanie Adams-Smith (center) comments on an image as Wen Huang (left) and Ruth Fremson react during the first day of Pictures of the Year International 2008 judging. | |
Guests in attendance during the first day of judging included students from the University of Missouri School of Journalism's photojournalism sequence, local professionals, and a photographer from The Birmingham News in Alabama. They will be joined over the next few days by students from Western Kentucky University, the University of Nebraska, Arkansas State University and Northern Arizona University, who will also assist with the contest's daily operations.
The 65th annual Pictures of the Year International competition judging will continue through Friday, March 7th and winning images will be posted to the POYi website after the conclusion of each day's judging session. Winners will be honored at a two-day event in Washington, D.C. on April 17-18, 2008. Stay tuned to PopPhoto.com following the competition for a summary of this year's awards.