Photography at the Summit: It's a Wrap
Back from the photo workshops in Jackson, Wyoming, American Photo editor David Schonauer recalls a few highlights and showcases the top images from the final day.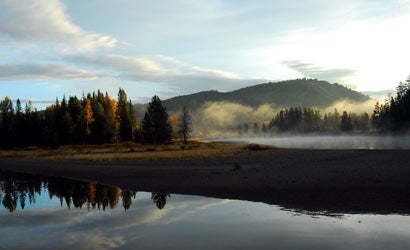 JACKSON, Wyo.–What's the difference between a good photograph and a great one? That was, in essence, what the students at the Photography at the Summit workshop in Jackson, Wyo. came to learn. As a member of the faculty at last week's workshop, I came to teach, but I'm sure I received more wisdom than I imparted.
Rich Clarkson, the former director of photography of National Geographic, launched his Summit workshops years ago, inspired by the photojournalism workshops run by Cliff Edom at the University of Missouri. (It was Edom who coined the term "photojournalism.") Clarkson's idea is to bring together legendary photographers — this year including William Albert Allard, Jody Cobb, and David Alan Harvey of National Geographic, nature photographer Patricio Robles Gil, photojournalist James Hill, former National Geographic editor in chief William Allen, nature photographer Tom Mangelsen, sports photographer Dave Black, and Time magazine photo editor MaryAnne Golon — and have them review and critique work done each day by students. Most students shoot the local landscape and abundant wildlife; others focus on people stories about the residents of Jackson. In addition, the faculty presents nightly projections of their own projects.
What makes it really work is the give and take with the students. Last Friday, the final day of the workshop, I gave a presentation that served as both an overview of American Photo and a look ahead at the future of photography. I quoted the famed Harper's Bazaar art director Alexi Brodovitch, who once commanded Richard Avedon to simply "astonish me." I asked, is it possible for photographs to astonish us now, in a world so suffused with imagery? Here's what I learned by looking at the student work: The answer is yes. Every day, I was astonished.
Here are my five selects from the final day's critique session: John Keys captured the inky black stillness of the Snake River one morning; Tim Fitzgerald shot a hill outlined in fog; Jeremy Shockley made a memorable portrait of cowboys by shooting through a corral fence; Karen Schuenemann got a picture of two moose necking; and Al Hubbs made a neatly composed photo of geese gliding in for a landing.
I addition, I threw in two more shots of the faculty: Rick Morris's image of David Alan Harvey (in back) and William Albert Allard; and a shot Tom Mangelsen made late one night when Allard was playing pool. Did I mention that students and faculty often stay out late at night?
If you are interested in learning more about the workshops, visit www.photographyatthesummit.com .
The weather here in Jackson, Wyoming has been…well, everything. Sun and 70 degrees, dark clouds scudding over the Tetons, rain with snow at high elevations, more sun, more clouds. That's good for the students at the Photography at the Summit workshop, because, as the workshop's founder, Rich Clarkson, told them yesterday, "Bad weather makes good pictures." Judging from the photos the students made on the first day of the workshop, he was right.
I arrived here late Sunday night, but in bright lights of Jackson Hole airport you could see Air Force Two parked off in the distance. Turns out Vice President Cheney, who owns a condo in Jackson, is in town. He's been in Wyoming campaigning for Republican congressional candidates. That's been a cause of concern for the workshop staff, because one of the students enrolled in this year's session is Tipper Gore, a talented amateur landscape photographer. Should Mrs. Gore and the vice president happen to run into each other at a local restaurant, it might prove awkward.
I'm here as part of the faculty for the workshop, which is awkward for me, since I have to voice my opinions alongside photographers like Jody Cobb, David Alan Harvey, and William Albert Allard of National Geographic, as well as photojournalist James Hill, who flew in from his home in Moscow, and wildlife photographer Tom Mangelsen, who lives in Jackson. There's also sports photographer Dave Black, and Time magazine photo editor MaryAnne Golon. That's a pretty good crew. What advice can I offer students about photographer that these guys can't?
Last night Cobb and Allard gave memorable presentations of their own work — Cobb showing pictures from her "Geisha" project and her big Geographic feature on modern-day slavery. Allard showed his wonderful work from the American West and his recent project on Hutterites in Montana. At the end he got a standing ovation from the crowd gathered at the National Museum of Wildlife Art. Clarkson described Allard as an American master, and he was right.
Each day the students go out and shoot, then edit their work and enter their selects into a group critique by the faculty. Starting today, I'll be selecting five images from each day's critique session to feature on popphoto.com.
Most of the work, as you might expect, is landscape and wildlife — elk, geese, bison, beaver, eagles … you name it. The winning students today are Charters Osborne, Tim Fitzgerald, Michael Kircher, Drew Rush, and Oscar Hildalgo. A senior at the Brooks Institute of Photography, Hildalgo is a talented young photojournalist, and rather than shoot the beautiful mountains in the area, he chose to do a photo essay on the Hispanic community here. His work is strong, particularly this picture of a family at dinnertime.
So far, however, Mrs. Gore hasn't turned up. I'll let you know later what her photographic topic is.
On Tuesday evening, celebrity student Tipper Gore arrived at the Photography at the Summit workshop here in Jackson, Wyoming. (She flew in on a private jet with husband Al, who then proceeded on to San Francisco.) By Wednesday morning she was out shooting with a group led by wildlife photographer Thomas Mangelsen. So far, I haven't seen any of her pictures.
But I have been looking at plenty of student shots, and it's always astonishing to see how quickly they make progress. The faculty, including Mangelsen, Bill Allard, MaryAnne Golon, Dave Black, and James Hill, agreed that the pictures shown during the second day's critique session was much higher in quality than what was show on day one. One student, Noppadol Paothong, got a shot of a moose shaking off water deposited by a sudden rainstorm, and we all felt it was the highlight of the show, so far.
The other winners from today's critique, chosen by me, were: Amy Bykowski, who stepped back to shoot a group of students working over one of Jackson's most-photographed sites, the Molson barn. Bruce Behnke took a sweet macro photo of an aspen leaf. Braden Duncan shot two bison going head-to-head. And Tally Atkins caught an eagle soaring between two clouds.
Last night Hill presented his photography from the Afghanistan and Iraq wars, as well as his emotion images of the aftermath of the Beslan school tragedy in North Ossetia, Russia. Afterward he asked me what I liked best, and it was easy: The Iraq images. In those shots, made during the American invasion in 2003, it was already clear that there was a craziness to the war. "You look at the pictures, and you see that two and two adds up to six," Hill himself said.
Golon showed work that her magazine, Time, ran after Hurricane Katrina hit New Orleans last year. Later, I asked Golon about her plans (already reported on this Website) to organize an American-located photojournalism festival, similar to the one in Perpignan, France. There is no name for the festival yet, she said, but several major companies, including Getty Images, have already committed to major funding. If all goes as planned, the festival would launch in Charleston, South Carolina in 2008.
As the sun broke through looming clouds, the students at the Photography at the Summit workshop hit the great outdoors (and indoors) of Jackson, Wyoming. The results were often spectacular.
From today's critique session I chose five winners, plus a couple of images of instructors at work. Russell Brady got a stunning shot of a distant Aspen grove in a shaft of sunlight. Jerry Kaufman went for a monochromatic approach when he shot sunlight breaking through dark clouds. Keegan Uhl found a moose admiring its own beauty. Meanwhile, Humberto Guarin visited a local cowboy bar late at night and got a moody shot of a pool player. And Marilyn Paine made a portrait of a mother and child that the faculty greatly admired.
Speaking of the faculty, Thomas Hawkins shot Magnum photographer David Alan Harvey working with a student, and Gene Tremblay shot a student being given advice by William Allen, former editor in chief of National Geographic, and Patricio Robles Gil, a renowned wildlife and nature photographer from Mexico City.
I wasn't aware of Patricio's work until I met him here, but now I'll be on the lookout for him. Founder of two conservation groups in Mexico, he has also worked closely with CEMEX, the second largest cement company in the world, to become actively involved with conservation issue. With backing from CEMEX he has produced some of the most exquisite books of nature photography I have ever seen. But his biggest accomplishment was getting to create a vast, protected area on the border of Texas and Mexico, El Area de Proteccio Maderas del Carmen in Mexico, owned by Cemex, and Big Bend National Park in Texas.
I had a chance to speak with him privately yesterday, and we discussed a relatively new organization that should prove to be an exciting force in nature photography, the International League of Conservation Photographers. The group has established a strict system of ethical standards for wildlife photography that has proven to be somewhat controversial — no digital manipulation, no shooting wildlife raised on game farms. Also quite necessary. More on that later….