PBS to Air Marilyn Monroe Documentary
"Marilyn Monroe: Still Life" examines star's life through imagery.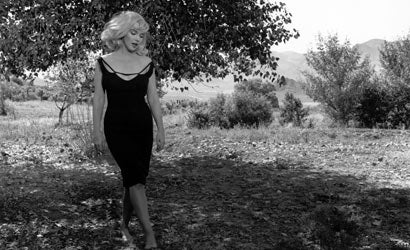 The award-winning PBS documentary series American Masters this week turns its lens on perhaps the most photographed woman of all time, Marilyn Monroe.
In "Marilyn Monroe: Still Life," which airs Wednesday, July 19 at 9:00 EST (check local listings), photography plays a major role in telling the story of one of America's first superstars.
Through interviews with photographers such as Eve Arnold, Arnold Newman, Elliott Erwitt, George Zimbel and Phil Stern, and especially through the photos themselves, "Still Life" explores the ups and downs of Monroe's tragic life, from the first nudes in 1949 to the classic air grate photo from The Seven Year Itch through the final shots taken just before her death by George Barris in 1962.
"The vast archive of Marilyn Monroe photographs cemented her in the public conscience like no one before or since," Susan Lacy, creator and executive producer of American Masters, said in a release. "We are telling her story through the iconography of the 20th century. Her relationship with the lens was, perhaps, her greatest and most successful love affair."
As Some Like It Hot director Billy Wilder put it best: "The first day a photographer took a picture of her, she was a genius."
* View Photo Gallery