A Page of Their Own
A new online forum provides a space for women photographers.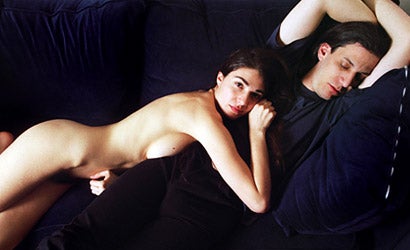 A new online gallery launches today, and it's name says it all: Women In Photography. Organized and curated by photographers Amy Elkins and Cara Phillips, the site will highlight a different female photographer every two weeks. Here Elkins and Phillips explain the project's synthesis and their goals for the project, each in her own words.
American Photo: Please tell our readers a bit about Women In Photography. How did the idea arise and what are your goals for the project?
Amy Elkins: Women In Photography (WIPNYC) is a bi-monthly online venue for showcasing female photographers from around the globe. It is co-curated by Cara Phillips and myself and is open to submissions on a rolling basis. Our goal is to bring attention to the abundance of talented women working in the photographic medium in a way that makes it accessible to everyone.
I believe there were a few things that slowly started stirring the pot, leading to WIPNYC being born. Humble Arts Foundation put together a show of emerging female photographers during the month of March, purposefully up during Women's History Month. The exhibition, 31 Under 31, featured 31 female fine are photographers under the age of 31. A panel discussion featuring women in art photography, occurred as part of 31 Under 31 that brought a lot of interesting statistics to the table. Shortly after an article titled "Gallerinas" was run in the New York Times Style section, discussing the various roles women have in the gallery scene. It seemed to over-emphasize beauty over talent, style over substance and it painted the gallery world to be quite shallow and seemingly sexist. With the sudden shift in gaze towards women in photography quite a few female photographers were interested in having their voices heard. There were blog articles posted in reaction to the New York Times article, emails sent out and banners created (such as the one Liz Kuball created "Women Photographers Helping Women Photographers").
WIPNYC came at first as a spontaneous reaction to an email Cara Phillips, my partner and co-curator on wipnyc.org, had sent regarding the article that ran in the New York Times. Rather than a cry for help or a stifled whimper about the art world not being fair towards women, I thought of doing something proactive, creating a venue that allows the strength in the work to shine through. The evolution that followed came naturally. Cara and I set up our initial site with info about the open call as well as an account to receive emailed submissions. Humble Arts Foundation and Made By Brown stepped in to offer sponsorship, supporting our ideas and building us a unique website to showcase the work. Cara and I have been working together for a few months and have been building a wonderful lineup, with our first featured solo show going to Elinor Carucci.
Our goals are wide open at the moment. We are focusing at the present on making sure that the solo shows are hand picked and of high caliber, mixing both emerging and established photographers into our selections. Eventually we want to reach out to strong female editors and gallery owners or directors to do guest edits. If this leads to bigger things in the future, such as physical exhibitions or publications, we will be glad to step up those challenges.
Cara Phillips: Women in Photography came about after I was a speaker on the Humble Arts "Women in Fine-Art Photography" panel at the 3rd Ward in Brooklyn. The panel was part of the "31 Women Under 31" exhibit. As the panelists were talking it seemed that most of us had more male mentors and peers. We all thought it would be great to try and create a network of female artists. Sometime after, I wrote a post on my blog Ground Glass discussing an article in the New York Times on gallerinas. It generated a lot of conversation and I sent a call to action email to several women asking what we could do to make positive changes rather than just complain. Amy, who I had never met before, suggested we start a blog forum for women. And shortly after WIPNYC was born. Humble Arts Foundation offered to sponsor us and Amani Olu (co-founder of Humble) designed a fantastic site for us. Everything so far has been collaboration, with both of us working together to create WIPNYC. Amani from Humble has been a great help.
I would say our goals are very simple, to create a space for women at all stages of their careers to show their work. To be a resource for both curators and editors and to help women artists develop more community. This is a really exciting time. Artists are able to show their work to much larger audiences online. The more interest and excitement we can create, hopefully the more people will consider collecting contemporary female photographers.
AP: Why is it important to you to showcase the work of women photographers?
AE: Because it seems there are plenty of ways to sit back and not be content with the current state of the art world. It has long been male dominated. Do I think that every female photographer deals with injustices or unfair standards or feels they need the label themselves as a "female photographer" rather than just a photographer? I'm not sure they all do. There are plenty of strong female photographers who seem unhindered by most any challenge. They have unique methods, face challenging subject matter, and have strong visual voices. There are more female art photographers working now than ever. As a positive reaction to an art world that is competitive, challenging, cut throat and at times impossible to step into, we have created a unique curated venue to share bodies of work for those who you may not have heard of otherwise as well as to celebrate the work of successful, established photographers.
CP: Well, female photographers are still featured less in museum shows, and their prices continue to be less on average than male artists of similar stature, the exceptions being Diane Arbus and Cindy Sherman. But for me, it is about artists taking charge of their careers. Getting a show in a New York gallery is pretty difficult. Of course we all want a book deal and a solo show in Chelsea, but these things take time and are not the only option. Personally, I get a great deal of satisfaction out of the emails I get from people who have read my blog and relate to something I have said. If I can help a female artist's career or give her her first solo show on WIPNYC, I feel that I am doing something for all of us because both Amy and I are, of course, women in photography.
AP: I assume you already have the first few photographers lined up. Give me some of the logistics you've had to work through. And what have photographers' responses been to the project?
AE: It's been an interesting process. I would say that a good deal of the work being emailed to us is by emerging photographers who show a great level of excitement for the project and have strong bodies of work but perhaps haven't had a chance to show their work yet. We have had a strong reaction across the board from those who have submitted their works and from the established photographers we have contacted. We have had to do quite a bit of research to get into contact with some very esteemed photographers and virtually have had to do a good amount of "cold-calling" through email to explain our project and why they would be such a great addition to it. Sometimes we get no reply, but more often we get an enthusiastic response along with an emailed edit of their works and a statement. It's been fantastic to suddenly be in contact with photographers whose work I've always admired and to have them personally sending work in for the site.
CP: The site looks great and we have solo shows lined up for quite a while. For us, looking at the entries and contacting established photographers has definitely been a lot of work. As a result I have learned a ton about editing and submitting my own work. The response to the site has been pretty incredible. We have received so many entries that include notes from women saying, "Thank you for doing this," or "Even if you don't show my work, I think you are doing something great." In addition, the generosity of the established artists, who certainly don't need the exposure and who responded to our call to participate. Their willingness to trust us with their work has really impressed me. And the photo blog community has been really supportive.
AP: You talk about "creating a visual dialog" and it seems that you want to make WIPNYC kind of a forum. Do you have plans for other facets of the project besides the online showcase? Will there be online discussions, events, etc.?
AE: It's our hopes that Women In Photography will branch out in the future to include guest interviews and curators from top gallery directors, owners, and editors. At this point we are not planning on having online discussions and are leaning away from the traditional blog format.
CP: For now we are concentrating on showing the best work and getting a good readership. I think Amy and I are open to other possible projects, but we would like to wait till we get going. We would love to have some guest curators down the road or group shows. This all came together so fast we are sort of making it up as we go along.
AP: I appreciate that your introduction is about celebrating talented women not lamenting that there is not always a place for them. Still, do you think it is sometimes hard for women in photography, which has long been a male-dominated industry (in some ways at least)?
AE: I think it can definitely be hard to find your place in an industry as competitive, cut throat, and fast paced as it is with both the fine art world and the commercial world of photography. I'm not sure every female photographer faces or feels the same challenges, but they do exist on a larger scale, whether it's felt personally or not. The statistics are there, despite the abundance of talented female photographers out there — the scale tips heavily in favor of male photographers both in regards to fine art and commercial fields. Women In Photography is a venue created to help draw attention towards talented photographers with unique vision and impressive work.
CP: I think that women face certain challenges when they are trying to break into any field. The thing I found most upsetting about the New York Times 'Gallerina' article was its emphasis on looks. The message was clear: If you are attractive you can get ahead. And the photo industry has its own challenges. Most women going into photography are going to study with male teachers, which can be problematic. Or if you work for a male photographer sometimes you get hit on or have to deal with inappropriate behavior. The first time I assisted, the photographer and his first assistant did nothing but tell very raunchy sex stories. I felt like they were doing it to rattle me. Then of course, they did not want me to lift anything too heavy. Beyond the challenges of the industry, women also have to contend with how they are going to manage children, family and a photo career. Editorial shooters sometimes travel weeks at a time with only a day or two off. I think these are issues in our society, they do not only occur in the photo world. One solution is for women to network and support each other more. I think by taking action, we become stronger. Of course not all women in photography have to contend with these things, and there are many artists for whom gender is a non-issue.
AP: Please tell me a bit about yourselves, your work, etc.
AE: I was born in Venice Beach, CA in 1979. After spending some wonderful years in New Orleans I now reside and work in New York. I received a BFA in Photography from the School of Visual Arts in May of 2007. My work has been published in PDN, American Photo, EyeMazing, Dear Dave, NY Arts, Corduroy, Out, The New York Times Magazine, Newsweek Japan, and Newsweek US. My work has been in various group exhibitions, including the PIP International Photo Festival in Pingyao, China, Gallery Gagopa in Masan, South Korea, Gallery Elsa in Busan, South Korea, Jen Bekman Gallery, PEER Gallery, Visual Arts Gallery and Affordable Arts Fair in NYC, Fette's Gallery in Los Angeles and Aqua Art Fair in Miami, FL. I am currently represented by Yancey Richardson Gallery in New York City.
My work explores notions of vulnerability, identity and transitory states. My main body of work, "Wallflower," investigates and confronts some of the cultural grounds underlying gender. I have a personal photo blog that hosts various ideas and projects including the self-portrait project "Beyond This Place: 269 Intervals." In addition, I curate and maintain Wanderlustagraphy.
CP: I studied with Joel Sternfeld and Penelope Umbrico at Sarah Lawrence College. I went back to get my B.A. in my mid-twenties so I came to photography after spending years in the beauty business both as a child model and as a make-up artist. I grew up in the Midwest in suburban Detroit and I think that gender stereotypes are a bit more entrenched there. I was raised to think girls should always be sweet, accommodating and nice. When I was in high school my math teacher made a crack about how girls should learn to cook rather than geometry. Not too long ago, I tried to buy 220 film while visiting my parents and the guy at the store spent ten minutes trying to talk me out of it, explaining to me what a medium format camera was. I guess my upbringing and selling lipstick made me more aware of the struggles women can face. So when I began my second real body of work, I returned to something I knew: the world of beauty.
In the beginning I was interested in showing the places women go to seek beauty, as an investigation into what these places represent and why we return to them over and over to get fixed. Eventually I started to focus on the interiors of cosmetic surgeons offices after hours. They are the epicenter of our society's current expectations for the female body. But they also have certain psychological implications. In these chairs you confront what you dislike or find repulsive about yourself, and with machines, scalpels, or syringes you are made better. There is something very powerful about the promise of being instantly fixed. I have had my own personal struggles with body and eating issues, so in a way my work is about me confronting my own desires and self-judgments. Also, selling make-up showed me how people give power to things and places to make themselves feel better. So I guess that is partly why I am interested in images that are both seductive and a little scary. Currently, I am looking for a publisher for a book of the project, which includes text of the voices of women who have had surgery.