New Life for Bruce Davidson's Classics
The Magnum photographer's new books and exhibitions revisit Central Park and circus series.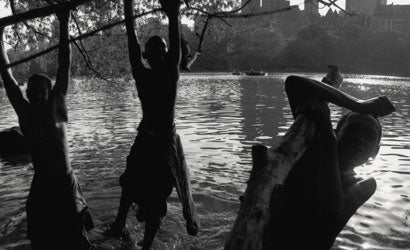 In the early '90s, Magnum photographer Bruce Davidson suggested a project on Central Park to the National Geographic editors he'd been working with in recent years. They hadn't done a piece on the park in decades, so they agreed, but insisted Davidson shoot in color, a thorn in the predominantly black-and-white photographer's side.
"But I was a good boy and I exposed about 500 rolls of Kodachrome," Davidson says. "And they hated it." Upon hearing that National Geographic had decided to give the Central Park story to another photographer, Davidson says he "went right back into the park and worked in black and white for three more years."
More than a decade later, that project has been turned into a full exhibition, currently part of Madrid's 2007 PHotoEspaña festival. It was also on view in New York City as part of the Magnum Festival, the agency's 60th anniversary celebration.
The show's master prints created by Davidson's long-time go-to printer John Delaney are a welcome rebirth of the monograph published by Aperture in 1995. A very small selection from that Central Park book was presented at the Aperture Gallery at that time, but since then it had languished in Davidson's personal collection — until this year when he revisited it while putting together a forecasted retrospective show.
"This project has been dormant so long and it's just coming out of the closet now," Davidson mused at the recent opening in Madrid. Davidson has also recently brought another dormant series out of the archive: his circus images. In Madrid he showed off his early copy of Circus (Steidl), which includes images from circuses around the world and reaches back to Davidson's early days as a photographer.
Central Park is a kaleidoscopic survey of the Manhattan landmark, utilizing square, 35mm, and panoramic images to capture everything from a whited-out great lawn to the homeless men and birdfeeders who call the park home. Davidson worked with Hasselblad, "every lens Canon makes," and especially the Noblex 120 Panoramic, to capture the "movement" that designer Frederick Law Olmsted envisioned for the park.
"Too many bums" was National Geographic's purported complaint with the color series Davidson first submitted to them — but the present incarnation hovers between rough reality and grandiose beauty in a way that often leaves the viewer with a sensation of the magical.
The images are also marked by Davidson's painstaking care for shape and perspective. In one beautiful panorama, an entwined couple sprawls across a rock face overlooking a waterfall, their bodies curving gracefully to mirror the river's path.
"I look at a rose not for its color, but for its shape," Davidson explains. "The shape of things in Central Park became important to me; I didn't need the color."
Anyone who sees this show is likely to agree.