National Geographic Photographer Brings Her Kids to Work
Annie Griffiths Belt's latest book highlights her dedication to both her family and her photography.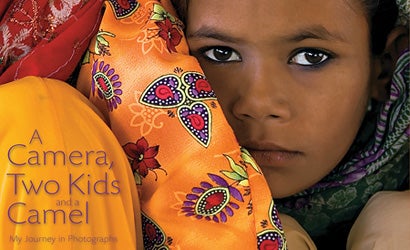 Balancing work with a social life can be a challenge even for single photographers, but adding a husband and two kids to the mix can lead to disaster, or worse, a desk job.
Annie Griffiths Belt found the perfect solution, bringing her family along for the ride. After 20 years of marriage and 18 years of parenting, the 55-year-old National Geographic photographer's plan is a proven success. Her daughter Lily, 18, is about to begin her freshman year of college with plans to become a physician and Charlie, 15, is attending high school.
Lily and Charlie Belt spent much of their childhood away from home, living for months at a time on every continent but Antarctica. Griffiths Belt says that spending all that time away from school, while difficult, was a positive influence in her children's development. "I think it enhanced both their education and their social lives," she said. "They're very flexible kids; they're very open to new cultures and new experiences."
As her kids developed open minds and a level of flexibility many parents could only dream of, Griffiths Belt continued to develop as a photographer. She explored the world with her camera, while Lily and Charlie explored with their nanny, never far from their parents.
A year before her first child was born, in 1988, Griffiths Belt married National Geographic correspondent Don Belt. As a family the Belts travel together whenever possible, often working on the same assignments. But now that her children are growing older, missing school is no longer an option. Staying together is no less a priority now, however, so Griffiths Belt says she's adjusted her schedule to accommodate those of her children, traveling for long periods of time only during the summer.
While school is in session, Griffiths Belt travels for a week or two at a time. Reserving large international assignments for the summer, she often participates in speaking engagements and other projects while her children attend classes, and is currently traveling around the country on tour for her new book.
With more than 200 pages of text and images from the assignments that have taken Griffiths Belt and her family around the world — including suicide bombings in Israel, weddings in Australia, and wildebeest in Tanzania — A Camera, Two Kids and a Camel draws a rich portrait of a life lived equally as a photographer and a mother.
The words in A Camera, Two Kids and a Camel tell of Griffith Belt's experience as a world traveling mother; however, the majority of her photographs are anything but family pictures. "The book certainly includes a lot of information about my family, but it's really about my life working for National Geographic," she said.
The portrait of a Pakistani girl on the book's cover emphasizes its role as a record of Griffith Belt's work rather than a collection of family portraits. "I wanted it to be clear that it was a book about photography," she explains of the decision to leave a portrait of her husband and children for the back cover.
And a photography book it is, with more than 100 full-size images, many spanning double pages. The majority of Griffith Belt's photographs appear in full color accompanied by long descriptions. While many of the images are from her assignments with National Geographic, the photographer includes several family images as well, captured in the field.
Griffith Belt's photographs live up to the National Geographic standard, but just as impressive is the story she tells of balancing a very successful photography career with her career as a mother, and raising a pair of bright, well-traveled children.
A Camera, Two Kids and a Camel is available for purchase now (street, $21). Personalized, autographed copies are available through Griffith Belt's Web site for $45.