Nachtwey Exhibit Captures Soldiers' Heroism
The photographer's images from Iraq show the struggle of recovery.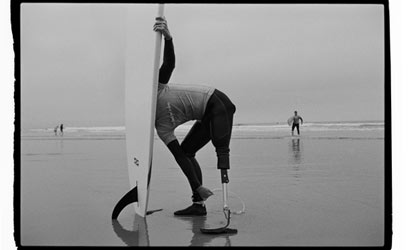 "You have to think about that you're at war and you never know when you get called out," a sergeant from the Medevac team says. "When you get called, you don't know if it's going to be someone you know, if it's going to be one of your friends. And if your friend is hurt, you've got to work on them. You've got to work on them."
This, more than any publicity statement for James Nachtwey's exhibit, "Sacrifice," demonstrates why the series is aptly named. The sergeant is one of the subjects of the series, which documents the medical rescue of soldiers wounded on the ground in Iraq. The exhibit, currently on display at 401 Projects in New York, begins with the Medevac unit's recovery of the victims, goes through the harrowing process of treatment and surgery, and concludes with images of the soldiers recovering at home in the United States — often, given the high number of blast injuries, as amputees.
Nachtwey is perhaps the most influential war photographer of our age, having photographed conflicts and human-rights tragedies in southern and eastern Africa, the Middle East and the former Soviet Union. He is recognized by his peers and audience for his unflinching determination to document any war, atrocity or human-rights crisis tirelessly. And his images of genocide in Rwanda, Sudan and Bosnia are some of the most jarring and iconic, likely to remain imprinted on the public consciousness for generations.
"Sacrifice" captures medical operations and rehabilitation as singular elements of war in a photo essay that testifies most to human resilience. The photos, which are in Nachtwey's typical stark black and white, are the first work he has done in Iraq since being on assignment with Time magazine correspondent Michael Weisskopf in Baghdad in 2003, when a grenade was thrown into the Humvee they were traveling in with two soldiers. Weisskopf grabbed the grenade and threw it out of the vehicle in time to save their lives, but he lost his hand in the explosion and all four men were hospitalized with serious injuries. This, Nachtwey's first combat injury, was also his first experience, as he puts it, "on the other side of the looking glass" — and the inspiration for Sacrifice.
The images, which vary from close-up frames of the interior of an operating room where medics try to save a soldier who was injured in a grenade explosion to a distant shot of one of the amputees learning to use a surfboard with a new prosthetic limb, emphasize heroism rather than victimization. In images that show, for instance, the pressure of performing feats of valor, the subjects are set worlds away from those on the outside. For the heroes on the military side, it was a different experience. "When you see it on the wall, it brings you back," says Army SPC Jeffrey Dean, who returned four months ago from a one-year tour in Iraq and is currently stationed in Texas. "You can smell the sand, smell the blood, smell the sweat, taste your sweat. All of it."
But it is also inspiring. "When you're doing your job, you see the person injured, you pick them up and take them to the hospital and that's all you see," Dean says. "It's good to be able to see the whole process. Going from being broken to being fixed."
In war photography, one of the most unsettling and provocative questions for viewers is the identity of victims; in every war, from every tragedy, their faces haunt us from the covers of newspapers and magazines. Sometimes, we learn who they are and what has happened to them — but often we do not. Nachtwey's photos show us a different aspect; they show us people we might know, from our communities or others, in a way that presents the nature and meaning of circumstance.
As the Medevac sergeant says, "You get home to your family and you know that you've made it. And then you'll run into a guy that got bombed and you'll see them a few weeks later and you'll remember them and you'll say, 'Hey! How are you doing?' And they'll say, 'Hey, Doc! How are you?' That makes you feel good right there. I know he made it home. I don't need to get congratulated. I don't need an award. I did that. I saved someone's life."