Michael Muller, Photographic Superhero
In Hollywood, nobody photographs superheroes like Michael Muller does. An inside look at the secrets of his craft.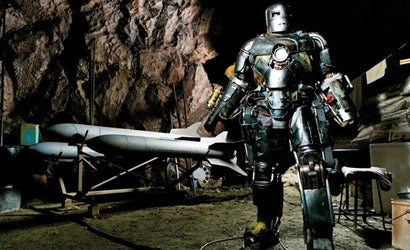 Shooting movie posters was something Michael Muller always wanted to do. Yet even his impeccable photographic credentials — ad campaigns for Speedo and Mercedes, magazine covers of Spider-Man Tobey Maguire for Premiere and Adrien Brody for Flaunt — hadn't won him the chance to shoot those dazzling film promos we see on billboards and bus stops. It was a self-assigned, movie-themed art project that finally brought movie-poster opportunity knocking.
Muller's project, called Superfamous, was a series of portraits of the superhero-costumed souls who parade around Hollywood's famous Chinese Theatre, where for five bucks they pose for tourists' cameras. "Most of the money goes to feed a drug habit," says Muller, "and one of the key pictures is of Batman smoking crack in the alley." The marketing head of Fox Studios saw a 4×6-foot print of that image at the home of Joaquin Phoenix, who Muller befriended when he was doing publicity photography for Walk the Line, in which the actor played Johnny Cash.
The Fox exec happened to be working on the runup to X-Men: The Last Stand, the third, Brett Ratner-directed installment in the Marvel comic-based series, and was so impressed with Muller's image that Phoenix immediately phoned the photographer to come meet him. Muller was hired on the spot to do the posters for the movie. "You never know what's going to open the door for you," he says.
Muller pored over pictures by the full-time set photographer "to get a feel for how the movie looked." (He also likes to see a film's script to better understand its characters, though that sometimes requires reading it in a high-security vault.) Then he put together what amounted to a roving studio, outfitted with battery-powered, 1,200-watt-second Profoto 7B strobes and mobile C-stands, that could be moved to any part of the set where filming wasn't in progress. "I'd walk around and find little nooks and crannies to shoot in, then pull aside Hugh Jackman or another cast member who was available," he says.
Digital capture — 17 megapixels' worth, shot with the Canon EOS-1Ds Mark II — helped close the deal with Jackman. Muller just fired up his laptop and showed the actor, who plays the film's Wolverine character, what he had already produced. "When you can show the director and the cast on the spot that the pictures you've been doing are good, they're much more open to working with you," says Muller, who has since posterized superheros for Spider-Man: The Last Stand, the Fantastic Four: Rise of the Silver Surfer, and Robert Downey Jr.'s new Iron Man. "It becomes a very organic, collaborative experience." This doesn't change the time constraints, however. "I've got to be able to light and shoot someone in less than five minutes," he says. "Time is money, maybe a million dollars a day on a big movie, and the poster photographer is low-priority."
To add to that challenge, Muller likes to get as much of the image right in-camera as he can. "Whenever I've shot someone on location, I challenge myself to find settings within a couple of blocks, and do the whole shoot within a very short radius," he says. "And that way of working translates into what I've been doing for the movie posters. I go and find little pieces of the set, or walls, or something they blew up the week before, and use that as a background element."
Muller's improvised yet controlled approach is a radical departure from the movie poster custom of shooting the subject on a seamless sweep and letting the studio "comp" the rest. In fact, he says that the studio just "slapped a bar code" on two of three images that were used in posters for the movie Hitman. Of course Muller has to arrange the pose and compose the image so that empty spaces are available for type and other graphic design elements, but he says this allowance is now "wired into my shooting."
Unlike most other Hollywood photographers, Muller also does his own post-production work on individual images, whether for movie posters or ad campaigns. And most of that happens with the RAW file. "Ninety percent of the look I get comes from how I process the file," he says. "I'm really the only one who can decide, at least from an artistic perspective, if the image would look better in black and white or could use a greenish feel." He does pull the processed image into Photoshop, but that's the easy part. "Once I get a file processed I probably spend about five minutes on it, adjusting curves and burning and dodging with a Wacom pen," he says. "You don't have to put your hands in butterfly mode like in the darkroom and burn in little spots one at a time."
Muller says he wouldn't like it, though, if he had to shoot movie posters day in and day out. "I'd get a little crazy," he says. "I love the challenge of new stuff." That said, his movie poster experience has affected the way he thinks about his other work — especially sports subjects such as surfing, another of his specialties. "Surfing's been shot the same way for 20-plus years," says Muller, who has also been photographing snowboarding since its baby bonks in the early 1990s. "I'm going to bring my cinematic approach to my surfing photography." To that end he's having underwater housings built for his Profoto strobes, and plans to do multi-light setups both on and under the water. He even wants to use the same technique for his ongoing photography of (gulp) great white sharks. If we were him, we'd stick with superheroes.
Lesson 1 Improvise
When Michael Muller did the poster photography for Hitman, the recent Fox movie starring Deadwood's Timothy Olyphant, the improvisational skills he cultivated on the set of the latest X-Men film were put to the test. The concept for the main Hitman poster called for Olyphant to pose in front of a bullet-riddled wall with light pouring through the holes.
The Hitman crew was shooting on location in Bulgaria. "Right before I left I was arranging to have my set designers build a wall and fly over there to set it up," Muller recalls. "The studio ended up nixing that plan because of its cost. So when I got to the set I found and photographed a room they'd blown up, shot some bullet holes, then did Timothy standing in the right pose. And when I got home we created a comp of it all. We saved the studio 25 thousand dollars and ended up getting the exact shot we wanted." Muller also saved his client the trouble of compositing the final image.
Lesson 2 Digitize
"I shoot all my movie posters digitally," says Muller. "I love the aesthetics of film, but the time constraints require instant results." He uses the 17-megapixel Canon EOS-1Ds Mark II for much of this work, including the Spider-Man 3 and Iron Man posters, and says the camera's image quality is good enough for the biggest tasks, literally. "If you upsize the right way, you can make an image that will hold up on the side of an eight-story building."
Depending on circumstances, and when he has more time, Muller also uses a 39-megapixel Phase One P45 digital back. That rig yields 120MB images that are especially suitable for "plates," the generic backgrounds or background elements (sky, landscape, buildings, weather) that are comped together with so-called hero shots of the actors themselves.
Unlike other poster photographers, Muller shoots — and likes to shoot — these kinds of pictures. He did so for one of Sony's big summer movies, Hancock, which stars Will Smith and Charlize Theron. "The movie takes place in L.A.," Muller explains. "So we rented a helicopter and flew over downtown, and I hung from a harness so I could shoot rooftops."