Marilyn Revisited
Photographer Lawrence Schiller exhibits new limited-edition series of classic Marilyn Monroe prints.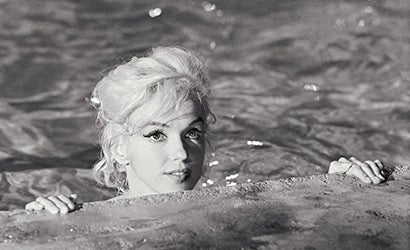 The year was 1962, the last of Marilyn Monroe's short life. In April she began shooting a comedy for 20th Century Fox called Something's Got to Give, a remake of the film My Favorite Wife, cast opposite Dean Martin. This came about a year and a half after her starring role in The Misfits, with Clark Gable, and a little over a year after her divorce from playwright Arthur Miller.
The story of the filming of Something's Got to Give has long since become Hollywood legend. Monroe's frequent absences from the set, due to personal issues but also to health problems resulting from a severe respiratory infection, delayed shooting and angered the studio and the film's director, George Cukor. Then, on May 19th, she added to the studio's irritation by flying to New York City to attend a Democratic fundraiser and sing "Happy Birthday" to President John F. Kennedy, with whom she'd been having an affair.
When Monroe returned from New York, there was far more drama on the movie set than in the film itself. And the blonde star had a surprise in store for everyone when she arrived to shoot a scene in which she was to frolic in a swimming pool.
"There was a line in the script that said she appears nude," recalls Lawrence Schiller, the famed photographer/writer/film producer, who was on the set that day to shoot a story about Monroe for Paris Match magazine. "[The script] didn't say that she was going to be nude. [It said] she 'appears' nude. So you figured she was going to wear a flesh-colored bathing suit, but you had no idea what was going to take place."
What happened on the set was this: After a few minutes of swimming in the flesh-colored bathing suit, Monroe slipped out of the suit's top, and later its bottom. Shooting began. There are those who say Monroe, who had lost some 25 pounds since her last film, never looked more radiant and beautiful.
"I shot everything with a Nikon SLR and a 180mm Sonnar lens sold to me by [photojournalist] David Douglas Duncan for $50," Schiller recalls. "The lens had been specially modified at Life to fit the camera. The color film was high-speed tungsten Ektachrome pushed one stop, and the black and white was Tri-X.
It was the first nude scene ever shot by a major Hollywood star, and the film might have gone on to be a major hit — except that it was never completed. In early June, angered at Monroe's behavior, the studio fired her from the movie, only to rehire her at Dean Martin's insistence and reschedule shooting for the fall. But on August 5, 1962 Marilyn was found dead in her home in Brentwood, apparently of a suicide or accidental overdose of pills.
Since then, Schiller's pictures of the swimming pool scene have become historic photographic artifacts. Most of them have been published over the years, but not all. And while Schiller himself made prints of them from his negatives for Paris Match and other organizations, he never thought of the work as art or collectible, and never made archival prints for galleries and museums.
Recently, however, Schiller has done just that, working with the venerable Modernage lab in New York City to create a limited-edition set of his Something's Got to Give images, as well as other work from 1960s and 1970s.
The Marilyn pictures are on display now at an exhibition called "Marilyn Monroe 12," at the Pop International Galleries in New York City. The magnificent prints add a new footnote to Marilyn's much-photographed life. They also should launch a reassessment of Schiller as a photographer.
Schiller shot for Life, Paris Match, and other magazines from the 1960s through 1975. When the big picture magazines of the era folded, Schiller "cut the umbilical cord" with photography, only to become one of the most intriguing personalities of the time — a Zelig-like figure roaming through American culture at the end of the 20th century.
He has published books, including W. Eugene Smith's Minamata and Norman Mailer's Marilyn. He also collaborated with Mailer on The Executioner's Song and directed the television mini-series of that book, starring Tommy Lee Jones as killer Gary Gilmore. He produced and directed a TV movie about photographer Margaret Bourke-White starring Farrah Fawcett. He's been a consultant for NBC News, written best-selling books (American Tragedy, Perfect Murder, and Perfect Town) and even worked for the defense during the O.J. Simpson Trial.
"I knew Simpson well; my daughter used to baby-sit for the family," he says. "Every person deserves the right to a fair trial, even O.J., though he was certainly guilty."
After a heart attack in 1992, Schiller found himself unable to work in the motion-picture business. "I was uninsurable for films costing more that $5 million," he says, shrugging. In the past few years Schiller has been re-examining his photographic archive, which includes indelible images from films such as Butch Cassidy and the Sundance Kid, as well as portraits of actors like James Earl Jones, Paul Newman, and Joanne Woodward.
But the big attraction at the moment is his images of Marilyn from 1962. That final shoot was actually the second time Schiller photographed the star. The first time was on the set of the movie Let's Make Love in 1960, when she had already emerged as an American movie icon. "Marilyn was sensual. But not beautiful," he says. "She knew how to handle her body. She knew how to handle her lips. With Marilyn, when everything was working, there was no one single element."
By 1962 Monroe was on the outs with her studio and facing competition from new sex symbols, especially Elizabeth Taylor, who was getting a million dollars for starring in Cleopatra for 20th Century Fox. (That costly film nearly put the studio out of business.) Monroe was getting only $100,000 a picture. "So, coming to Marilyn the second time around I knew I was coming to somebody who was living on eggshells," Schiller says.
Two other photographers were on the set that day: William Reed Woodfield, from Globe Photos, and Jimmy Mitchell, a studio employee. "I started shooting with a long lens," Schiller recalls. "All of a sudden she came up to the edge of the pool and she didn't have the top of the swimming suit on. I shot 11 or 13 rolls of black and white and four rolls of color. It happened in two hours."
Recognizing an enormous marketing opportunity, Schiller and Woodfield combined their take to sell worldwide. "I told him, 'Bill, two sets of photos will just drive down the price. One set, and we control the market for these pictures." Mitchell's images remained at the studio, unused.
Marilyn herself later approved Schiller's images, using sheers to cut up the negatives she didn't like. "She was a very intelligent business woman about these things," says Schiller.
Schiller saw Monroe again on August 4, stopping by her house in Brentwood to discuss plans for a photo shoot for Playboy. "She was out in the garden, pulling up weeds. She seemed at peace with herself," he says. That night he went to Palm Springs and was awoken the next morning with word of her death. "I couldn't believe that I was there talking so simply with her," he says.
Over the next four decades most of the negatives sat in boxes in Schiller's office. Hugh Hefner purchased several negatives for his private collection, providing scans of them for the new group of prints. Schiller scanned his own negatives. The prints themselves were made on silver-gelatin paper with a De Vere 504 DS Digital Enlarger.
"I'm seeing things in these new prints that I was never able to see before — textures and details in the light areas, especially," says Schiller.
Marilyn herself remains luminescent.