Magnum Turns 60
June festival will honor documentary in all its forms.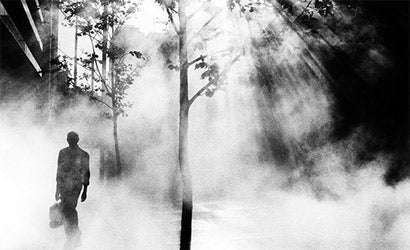 To celebrate its 60th anniversary this year, Magnum Photos New York is honoring the documentary in all its forms: photography, film, and the written word.
The Magnum Festival lineup, a series of New York City exhibits, film screenings, talks, and parties during the month of June, will feature several highlights, among them a selection of seminal documentary films curated by legendary director Werner Herzog. More than a dozen museums and galleries are displaying work by Magnum photographers in all, and the Panasonic billboard in Times Square will run celebrity edits from the Magnum archives throughout the month.
And because the festival was planned for June to coincide with the agency's general meeting, New York will be graced with Magnum shooters from around the world and staff from Magnum's offices in London, Paris, and Tokyo. Many of them will participate in a series of panel discussions at the New York Public Library. Check www.magnumphotos.com for a full schedule.
"Magnum is an amazing group of people who are dedicated to telling stories in a visual, articulate way," says Mark Lubell, the agency's New York director. "I'm trying to move the conversation and open it up a little."
Magnum Festival '07 Highlights:
New York Genius
A selection of prints from the Magnum Archives curated by Lou Reed.
Steven Kasher Gallery. June 2 to June 20.
Selects by Werner Herzog: (Non) Fictions and Vertical Series
A retrospective of the master director's works and his selection of seminal documentary films.
The Film Forum. May 25 to June 14.
David Alan Harvey: Hip-Hop Images of an international phenomenon.
The powerHouse Arena. May 31 to July 8; live music event June 14.
Panel discussions: Magnum photographers and other luminaries debate issues of truth and advocacy within the documentary tradition.
New York Public Library. June 16.
Magnum In Motion: Photographers and the Moving Image
The popular selection of films "by and about" Magnum photographers from Berlinale comes to the Walter Reade Theater. May 30 to June 7.