Legendary Portrait Photographer Arnold Newman Dies at 88
Newman is considered the 'father of the environmental portrait.'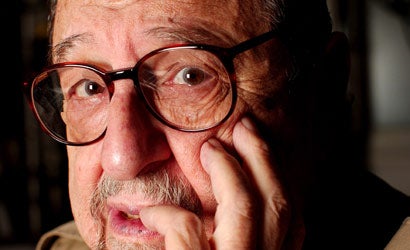 Arnold Newman, one of the master photographers of the 20th century who pioneered the environmental portrait, died of a heart attack Tuesday at the age of 88.
Friends say Newman had recently suffered a stroke and was hospitalized at Mount Sinai Media Center in New York.
Newman became one of the 20th Century's foremost photographers not only because of who he shot, but how he shot them.
His subjects included the powerful and the powerfully talented. He photographed politicians, scientists, and artists, among them John F. Kennedy, Dwight D. Eisenhower, J. Robert Oppenheimer, Pablo Picasso, Igor Stravinsky, and Alfred Stieglitz. His work influenced a generation of American photographers and was the subject of many exhibitions, including a riveting show in 2000 at the Corcoran Gallery of Art in Washington, D.C. that featured 160 of his images made between 1938 and 1998.
SOUND OFF Tell us how Arnold Newman inspired you or talk about your favorite Newman photo. E-mail us at editor@popphoto.com.
More than six decades ago, Arnold Newman virtually invented what is now known as the environmental portrait. In his images, his subjects were carefully placed amid surroundings that commented in some way on their personality or achievements.
"I didn't just want to make a photograph with some things in the background," Newman said. "The surroundings had to add to the composition and the understanding of the person. No matter who the subject was, it had to be an interesting photograph. Just to simply do a portrait of a famous person doesn't mean a thing."
More than one critic has called Newman "the American Karsh," referring to the Canadian photographer Yousuf Karsh, who also became famous for photographing political leaders like Winston Churchill. Like Karsh, Newman's portraits were always about the subject, not about the photographer's own creative will. "A portrait by Richard Avedon or Irving Penn is really about Avedon and Penn first, and the subject second," says one critic. "With Newman, the images were immaculately composed but centered on the personality of the subject."
Arnold Newman was born in New York in 1918 and studied art at Miami University. "I wanted to be a painter, but it was the Depression," he once recalled. "In those days you did anything to put food on the table." After two years of college he took a job in a Philadelphia photo studio making 49-cent portraits for $16 a week.
Later he took his prints to the Museum of Modern Art in New York, whose curator of photography, Beaumont Newhall, directed Newman to the great photographer and gallery owner Alfred Stieglitz.
Over his long career Newman photographed for many of the major magazines of the day, including Life, Look, Fortune, Holiday, and The New Yorker.
In an online tribute, Newman is quoted as saying "Good art cannot be defined. There is only great art that creates new ideas and then there are imitations of varying degrees. There is no best way or only way. We learn from the past, in order to understand the present. The past is our foundation, the springboard into the future tradition and past ideas are important bases to begin with…"
LINKS
Legends Online: Arnold Newman (PDN)
Arnold Newman: A Gift (The Digital Journalist)