Inside Story: Testing Sony's Alpha 100 D-SLR
Russell Hart offers up a first-hand account of a recent whirlwind trip to Alaska to try out Sony's new Alpha 100.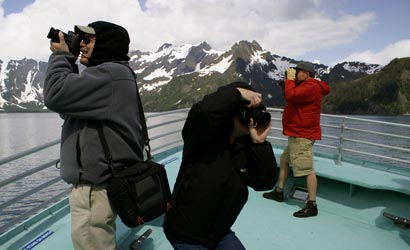 Camera companies have been known to hustle photo magazine editors off to picturesque places when they want them to shoot with a new SLR. That may sound like the sort of thing politicians go to jail for, given that those editors are wined and dined and their expenses mostly paid. Yet in 20-odd years of experience with the practice, I've found that it's actually beneficial not just for the camera companies — though I never make any promises of editorial coverage — but also for photo magazines and their readers. Such occasions give a writer the opportunity to focus at length on a new camera without the distractions of an office environment or the other stories he or she is working on. And during that time, the expert help of the camera's product managers and engineers is freely available to participants. The environment is sociable and low-pressure, with writers given the opportunity to step away from scheduled photo ops to record their impressions and, if on deadline, send stories back to the office.
Just as valuable for someone testing a new camera, these trips give editors with limited budgets access to a challenging variety of subject matter that they otherwise couldn't afford. One of the earliest I can remember is when, in the late 1980s, Canon flew editors to Bar Harbor, Maine so that they could shoot with the soon-to-be-introduced EOS-1 in and around Acadia National Park. And in June of 1992 Minolta invited the same generation of editors to Durango, Colorado to shoot with the brand new Maxxum 9xi — a trip ranging in excursions and elevations from a hike through the rocky canyons of the nearby Ute tribal park to a caravan of four-wheel-drive jeeps (most driven by a member of the photo press) snaking up single-lane dirt roads into the still-snowy Rockies, where at 14,000 feet we all got sunburns and altitude headaches. No one goes golfing or gets massaged; we just shoot, edit, print, talk, eat, and drink on these trips. So please don't call them junkets.
Though Sony is a newcomer to the digital SLR world, it saw the wisdom of creating such an experience to introduce photo magazine editors to the Sony Alpha 100. Its whirlwind two-day adventure in Alaska allowed me to take a long, hard look at the first Sony D-SLR — and get beyond the strangeness of using a single-lens reflex with a nameplate I'm more accustomed to seeing on my TV. I've only just recovered from the effects of 24 hours of travel time, which made Alaska seem more surreal than it probably is. Carting our motley crew around in a big bus, Sony kept us going for as long as there was light, which in Alaska this time of year means about 20 hours a day. We took pictures at wildlife preserves, mountain-ringed lakes, and from a boat cruising the waters off the Kenai Peninsula, where we saw humpback and killer whales, otter and sea lions, and flotillas of puffins. We flew bush planes into Denali and sailed over glaciers surrounding a socked-in Mt. McKinley, flying low enough to see grazing moose and pairs of swans along the way. Alaska's beauty is, for lack of a better term, raw. (I now have to fight not to capitalize that word.) It's not the sort of subject matter I'm accustomed to photographing, but I came away impressed with Sony's first effort at the type of camera, albeit a digital version, that I grew up with.
You'll find a very good, detailed analysis of the Alpha 100's features in John Owens's write-up for popphoto.com, so I won't go into point-by-point detail here. Take my word for it that the new camera is a feature creature, offering much more than its plain-vanilla, entry-level exterior might suggest. This may be because it inherits its capabilities both from the discontinued and always underrated Konica Minolta (nee Minolta) SLR system, to which Sony bought the rights, and from Sony's own EVF camera line, perhaps the best of its kind. Among the former's contributions are an installed base of KM and Minolta lenses that the Alpha 100 accepts in addition to its own optics, many of which appear to be from existing KM and Minolta designs. (By year's end there should be 19 Sony-brand D-SLR lenses, not including three co-developed with Zeiss.) Also from KM comes the Alpha 100's sensor-based image stabilization, which steadies shots made with any of those lenses. Together with the camera's high-ISO performance — speeds go up to ISO 1600, and I shot at ISO 800 with less grain than you'd get from a comparably fast film — this gives you much more leeway in handheld existing-light photography.
The camera's top-of-class 10-megapixel, APS-C-sized image sensor is from chipmeister Sony, as you'd expect. It's not the 10-megapixel CMOS chip of Sony's Cyber-shot DSC-R1, though, because it doesn't have to deliver a power-hungry live view. That probably contributes to the exceptionally long life of the camera's Li-ion battery, which seems almost inexhaustible.
The Alpha 100 also incorporates what Sony calls Dynamic Range Optimization (DRO). This hardware-based system is said to analyze and manipulate RAW data in-camera, before processing and JPEG compression, in order to recover shadow or highlight detail that might otherwise be lost. Because Sony didn't let us take our Alphas home from Alaska, none of us has had a chance to determine whether DRO is worth yet another acronym — whether it really gives the camera a tonal advantage over its competitors. But the system did seem to tame the relentless light of Alaska's summer, holding good detail even in sunlit snow. The system appeared, in fact, to lessen the need for RAW mode, which of course the Alpha 100 offers. Yet the Alaskan subjects shown here were in fact all shot (using one of two "kit" lenses, an 18-70mm f/3.5-5.6 and a 75-300mm f/4-5.6) in Large Fine JPEG mode. I'm of the opinion that RAW is oversold… but that's a story for another day.
Russell Hart is executive editor of American Photo and the author of Photography for Dummies. He can be reached at editor@popphoto.com.