As Goude As It Gets
Photographer and artist Jean-Paul Goude looks back at a ground-breaking career with his first-ever gallery show, a big new book, and this exclusive interview.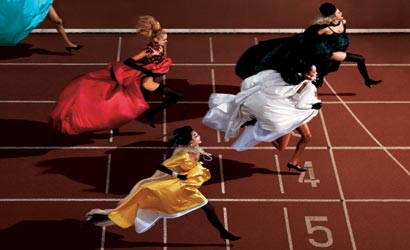 If you were to look at the general outline of Jean-Paul Goude's biography, it would probably recite a few basic facts — that he was born in 1940, that he is a French graphic designer and photographer, that he has conceived and produced print and television ad campaigns for companies like Chanel and Perrier, and that he was once married to the performer Grace Jones.
The details are far more interesting. Goude is one of modern visual culture's great creative minds. Indeed, he is responsible for helping to create the visual environment we now live in — a universe in which elements of high and low culture, sex and philosophy, spectacle and personal expression expand outward from a big bang of pure energy. Think of Goude as the big bang.
Goude was a legendary art director at Esquire magazine in the early 1970s, when the magazine was at its most culturally significant. He was a vital part of the New York of Andy Warhol, and the Pygmalion who turned Jones, who was not only his wife but his muse, into a disco diva. His fashion work in the 1980s helped give that decade its glittering sheen. The French bicentennial parade he staged in Paris in 1989 was closer to art than entertainment. His advertising campaigns for Chanel during the 1990s were instant classics that obliterated the line between art and commerce.
Because most of his work over the past 40 years has been in the commercial realm, his real impact as an artist has probably been overlooked — a fact that Goude himself shrugs off as "more or less inevitable." But a new retrospective exhibition and magnificent book should help put an end to that situation.
The exhibition, at the Hasted Hunt Gallery in New York from January 4 through February 17, marks the first time Goude's work is being shown in the context of a fine-art space. "I am caught in a funny situation," Goude says. "I happen to work on commercial projects, but all my life, I have had the attitude of a sincere artist. By sincere, I mean that I don't approach any particular project cynically, with only the goal of making money. I approach everything as a means of expressing myself. Everything I do is very personal work."
The accompanying new book, titled So Far So Goude (Thames & Hudson, $65) is a marvelous stylistic mashup. At nearly 11 inches by 10 inches and 350 pages, it has the impact of an art book. But it is in fact an illustrated biography that intersperses Goude's artwork with witty and revealing personal essays that look back on his life and career.
He tells of his early infatuation with photographers like Hiro, Irving Penn, and Richard Avedon, "for whom fashion was a point of departure." He tells of designing an issue of Esquire and finding his individual voice as an artist, a "mandate" for all the work that would follow. "In the end, I [had] but one passion: to correct. To take what is there and reveal it, by exaggerating, changing, sublimating at the risk of verging on the ridiculous."