Emerging Book Publisher: Blurb
A high-quality, print-on-demand publishing option is further dissolving the vanishing line between amateurs and professional photographers.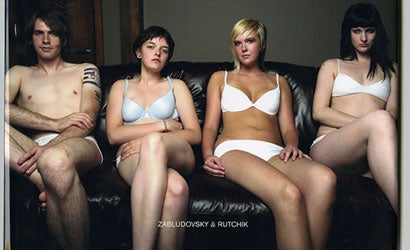 Eileen Gittins views traditional book publishers in terms any high-tech entrepreneur from San Francisco can understand. "I think of them as venture capitalists for authors," she says. "To succeed with a business-oriented venture capitalist, you need to go in with a recognizable name, a track record of success, a demonstrable market; it's very much the same when authors or artists try to get their work published. If you are the new guy on the block, either as an entrepreneur or as an author, good luck!"
The analogy comes easily for Gittins, the CEO of a year-old company called Blurb and an advanced amateur photographer in her own right. Essentially an online application for self-publishing high-end art books, Blurb grew out of Gittins's own frustration at getting her pictures published. She reasoned that there were many photographers like her, pros and amateurs alike, who would pay to economically produce their own hardcover coffee-table books.
The old publishing model, she says, is giving way to a new one: "The line that used to exist between amateurs and professionals is getting pretty porous," she says, "And we are breaking it down even more." In that sense, Blurb joins the ranks of Websites like Flickr as well as a new crop of microstock agencies in opening up commercial photography opportunities to the masses.
Blurb's hook is that it allows photographers to easily produce books that until now only large publishing companies could make. Gittins worked with technicians and graphic designers for more than a year to develop its proprietary software, called BookSmart, which allows photographers to drop images into a range of templates. (Go to blurb.com.) Or they can synch up a design from other software. Back-end production is handled through integrated printing firms, where books are printed digitally with HP Indigo and Xerox iGen technology in a range of formats. And all that is achieved with a speedy turn-around time of only seven to ten working days.
Prices begin very low — a 40-page softcover book measuring 7×7 inches costs $13 — and go up. A 240-page hardcover book measuring 8×10 inches (good for landscapes) or 10×8 inches (for portraits) costs $60. A 350-page hard-cover large-format landscape book, at 13×11 inches, costs $160. (Various discounts are available depending on the number of books ordered.) For now, all books are printed on 80-pound paper with a semi-matte finish, though Gittins is looking to add a pricier option as well.
The dimensions and print quality of the books set them apart from other available print-on-demand services, which offer smaller photo albums, calendars, and similar products aimed largely at amateur photographers. After launching Blurb in 2006, Gittins caught a break when blogger Michael Arrington at electronics blog TechCrunch took note of the service. "Within 24 hours we were getting downloads from all over the world," says Gittins.
A recently added social-networking feature should make the service of interest to groups of photographers who want to work together on a book. "Everyone uploads their photos to the site, then one or two designated editors put the book together," says Gittens. "The final book is placed in our bookstore area, and all the contributors can buy a copy."
In the end, says Gittins, her new company "doesn't make much of a distinction between pros and amateurs." They are now all essentially on a level playing field, at least as far as technology is concerned. "Look at what is happening throughout photography and publishing," says Gittins. "People everywhere are now producers, and not just consumers. Blurb is part of that whole revolution."