Elinor Carucci Revealed
A personal tour of the artist's first show at the Edwynn Houk Gallery in New York City, up through Oct. 21 and not to be missed.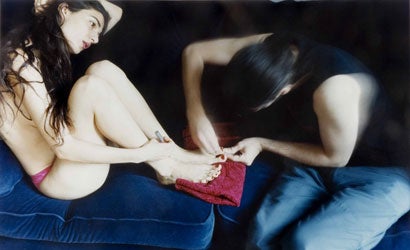 Elinor Carucci met me at the entrance of the Edwynn Houk Gallery late on a warn morning in September, wearing a simple red sun dress. Her first warning: "I have a cold, so be careful," she said. "It's the price to pay when you have little children: You're always getting a cold." Carucci, 35, has two-year-old twins. When one of the gallery's assistants brings her a cup of tea, she is amazed. "What? Someone is taking care of me? I could get used to this!"
Her show, which opened on Sept. 7 and runs through Oct. 21, is a typically personal expose of her own life. Carucci burst on the art scene several years ago, with the publication of her first book, Closer (Chronicle Books, 2002), and especially after she received the International Center of Photography's 2001 Infinity Award as Young Artist. Her pictures explored her own marriage, her relationship with her mother, her feelings about her own beauty, and the inevitable conflicts that occur when an artist unflinchingly turns her own life into the subject of her work.
|| |—| | * Slideshow| Her photographs, however, are not mere diary entries. Unlike the personal chaos of emotions captured by Nan Goldin, Carucci creates carefully composed, hauntingly beautiful images that gain power as much from their use of color and texture as by what they reveal.
Her new exhibition represents a coming of age for Carucci. It is her first show at the Houk Gallery, and the work looks more mature amid the trappings of Fifth Avenue's high-end commercial boutiques. (The Ricco/Maresca Gallery in Chelsea formerly represented Carucci.) Included in the show is work from two recent projects, as well as older work from the "Closer" project. Houk himself wisely chose to mix the various projects on the walls of the gallery, rather than showing them discretely. "I thought that was a mistake at first," said Carucci, "but Edwynn felt the show shouldn't be chronological. He wanted all the images to be seen as one kind of idea."
The two new themes in Carucci's work explore a crisis in her marriage and the debilitating back pain she endured for a year. As usual, there seem to be no boundaries — physically or emotionally — that she will not cross. The nudity in her pictures becomes an essential notion as she literally reveals herself; she seems as fascinated with her own body as any viewer would. The body is certainly central to the images concerning her back pain, but it is just as essential an element in those that depict her relationship with her husband. In those, the defining relationship between bodies is not proximity, but distance. In some images, physical barriers, such as windows and curtains, separate her and her husband, Eran.
How does one manage a marriage when at any moment a camera may be deployed to capture the bitterness that can arise between two people who love each other? "It often is a good thing," Carucci told me. "Even when an argument is at its worst, the camera becomes a mediating force. In the presence of the camera, you become the person you want to be seen as. That doesn't mean you become a false person. It just means you become the better person that you really are."
There is that sense of healing running through all of Carucci's images — a healing that comes from a willful and absolute belief in the power of self-examination. But it is the visual grace of her photographs that, in the end, is the salve to all the wounds we are permitted to see.