Detroit Free Press Wins First Emmy
The 23-part "Band of Brothers" series tells the stories of Michigan Marines and their families.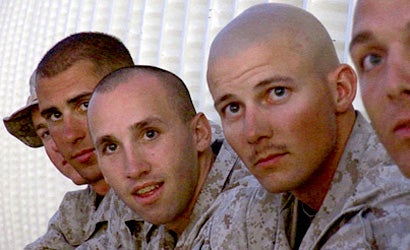 Just two years ago, the Detroit Free Press, a daily newspaper in Detroit, Michigan, began to introduce its photographers to a new medium. Video was unfamiliar to the staff; after all, until the dawn of the 21st century, motion pictures had no home with print media. A few hundred short video documentaries and about a year and a half later, the staff found themselves nominated for the National Academy of Television Arts and Sciences' prestigious Emmy award.
Formal recognition was not new to the esteemed staff, having won eight Pulitzer Prizes in years past, but until this year, an Emmy was never in sight. Joined by fellow winners MediaStorm and the San Francisco Chronicle, the Free Press bested entries from Frontline, National Geographic, Newsweek, and the Washington Post to win one of three News and Documentary Emmy awards in the brand new broadband media category.
The newspaper submitted six entries for consideration, and while three were nominated, the "Michigan Marines: Band of Brothers" video series produced for www.freep.com received the Emmy award.
The team that worked to produce the winning series included executive producer Nancy Andrews; producers/principal videographers David P. Gilkey and Stephen McGee; principal reporters David P. Gilkey, Stephen McGee, Joe Swickard, and John Masson; director of photography and video Craig Porter; deputy director of photography and video Kathy Kieliszewski; videographer Brian Kaufman; and photographer/reporter Kathleen Galligan.
Though now employed as a freelancer, Stephen McGee, one of the videographers who worked on the project, began his career at the Free Press in 2005. Managing Editor for Digital Media Nancy Andrews, who was director of photography at the time, invited McGee to join the staff after learning of his skills as a video producer while at the Eddie Adams Workshop in 2005. A short time later, in October of 2005, McGee joined the Free Press as a photography intern, but quickly jumped in to help the staff with their early video efforts, teaching technique and video production to fellow photographers.
Andrews brought McGee on board to help the staff progress into the digital age. As readers began turning to the Internet as a primary news source, Andrews felt a need to adapt. "We are historically a newspaper, but we as a news organization have to adapt to how people are receiving and want to receive information now," Andrews said. "Some people want to read the print product; some people want to watch a video."
The Free Press staff put their video skills to use, and began working on the "Band of Brothers" project in August of 2006, after Andrews and David Gilkey, a Free Press staff photographer, read an Associated Press article printed in their paper. From the article, Andrews and Gilkey learned of a battalion of more than 900 Michigan Marines that were training in California before being deployed in Iraq.
One of the early videos McGee and Gilkey worked on as part of the "Band of Brothers" series, in November of 2006, was one documenting the funeral of 35-year-old Marine Sgt. Bryan K. Burgess, killed in combat in Iraq. McGee shot video of the funeral in Michigan while Gilkey shot the marine's funeral in Iraq, which took place on the same day. The team produced the video in less than 24 hours.
McGee said that the Burgess video set the bar for those to come. "We have a readership that's expecting great videos," McGee said. "With the bar already set with that first video we produced with the Marine laid to rest, we have to meet that bar or exceed it every time."
Because the "Band of Brothers" videos were produced over a long period of time, the project gave journalists an opportunity to spend more time working with their subjects.
"I do believe that there's a place for that in journalism today," Andrews said. "There are quick turn stories that we should do to tell people what's happening on the street right now, and then there are the stories that to get the access or to tell the story properly, you need to spend a bit of time on it."
Some of the stories, like that of Sandy Leshinsky, a woman fighting breast cancer while her husband fought in Iraq, required a lot more time and effort, according to Andrews. "Hearing her story and hearing her voice as you watch her go through treatments; you don't tell that story with a quick investment of time," she said.
Other vignettes, such as David Gilkey's video of Michigan Marines manning an Iraqi checkpoint, can be captured in a much shorter amount of time. Videos such as these can have a turn around time of only a few days, and sometimes even less.
Andrews says that one of the responsibilities a news organization has to a community is to tell stories like these. The "Band of Brothers" project helped localize a national issue, and brought the stories of war closer to home.
"It's our role to tell the story of our community and reflect the issues of today," Andrews said. "This particular series is not about the entire war, it does not try and go into the ins and outs of Iraq foreign policy. It tells the story of one group of Marines and their families. It allows you to be aware as a member of this community, to understand what the reality of the war in Iraq means to your neighbor or your neighbor's neighbor. You don't need to go many degrees of separation when you have this many people in the confines of this one space."
For some of the stories, photographers captured images with still cameras, but the majority of their time was spent behind the lens of a high-definition video camera. Even though photographers shot primarily with video cameras, they were still responsible for bringing back quality still images, and still frames were often pulled from video.
"If a still photographer is shooting with still photos in mind, I think you get better cinematography as a whole," Andrews said. "You definitely get more complex cinematography. It's a visual portrait as well as an interview."
As photographers take on these new responsibilities, it's important to find a balance. "You have to think of the image for the video, you have to think of the still image for the newspaper, and you have to think of the multimedia package," McGee said.
Andrews said that it's important to have methods in the journalism industry to recognize exemplary work and that she felt the "Band of Brothers" project deserved recognition.
"We felt that it was complete as a project," she said. "That it had fairly and accurately told the story of these Marines and their families, and that it was important. It's one piece of a giant story that's effecting all of our lives because we are at war in Iraq."