A Conversation with Stacy Pearsall
The first woman to win Military Photographer of the Year twice talks about the military's top-notch photographic training.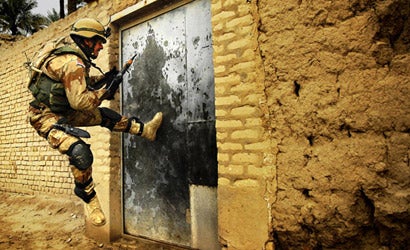 Combat photojournalist Stacy Pearsall was named the Military Photographer of the Year recently for the second time. One of only two women to take home the honor, she is the first woman to take it twice. Having just finished serving as a mentor for the annual Department of Defense Worldwide Military Workshop, Pearsall talked with American Photo about how she proved she could hang with the boys and her fast rise through the ranks.
American Photo: To get started, please tell me how old you are, where you were born, where you live now, and what your basic job description is.
Stacy Pearsall: I am a globetrotting 28 years-young female combat photographer. I was born in Corpus Christi, Texas. My dad was and air traffic controller serving in the Navy and we were at the air station there. I currently am stationed in Charleston, South Carolina, with my husband, Master Sergeant Andy Dunaway. We are both aerial combat photojournalists with the 1st Combat Camera Squadron. My job as a combat photojournalist is to deploy around the world to various locations to document Soldiers, Sailors, Airmen, and Marines taking part in combat operations, humanitarian relief, and exercises. Ultimately our imagery is used to keep the senior military leadership (combat commanders, Joint Chiefs of Staff, Secretary of Defense, and the President) abreast of the day-to-day military activities. Also, our imagery is put on a server, which civilian news agencies may access and use and for historical purposes.
AP: It says in your bio that you started out as an Air Force photographer when you were 17. How did you end up there and what was that experience like?
SP: While growing up, I really liked to paint and draw. I took a small photo class in high school, which was pretty fun. However, I didn't know that is what I would do later down the road. I just thought of photography as another means of expressing myself. When it came time to graduate and fly the nest, I had every intention of going to college. I started looking at the cost and didn't think I could manage. My sister, Meggen Pearsall-Ditmore, had joined the Air Force right after school, so I started looking into the service too. I found out that the Air Force had a really great graphics art and photography program. I thought, bingo! I talked it over with my parents and they agreed to sign the age-waiver, which would allow me to go to basic before my 18th birthday. I told my recruiter that I would like to be either a photographer or a graphics artist. Well, a photography position was open and I jumped at the opportunity.
I found out quickly that the photography career field was quite small in the Air Force and that I got lucky with the job. Moreover, the pool of DoD [Department of Defense] photographers is small, so I got to know everyone quickly.
I didn't take to photography at first. I spent my first four years processing U-2 (spy plane) aircraft film. It wasn't a glamorous job, but it taught me patience and motivation. I focused (no pun intended) my spare time on building a portfolio, which would eventually get me into one of the coveted Combat Camera Squadron slots in Charleston.
AP: What has your career progression been since you started as an Air Force photographer? How do promotions and job changes work within the military?
SP: I started out as an Airman Basic, which means I had no rank or real authority. My sole purpose was to watch, learn, and practice. I was trained at the Defense Information School in Laurel, Maryland, with a Nikon film camera. I got a basic course on how to shoot as well as process film and caption pictures. After I finished the six-month course, I was assigned to the U.S. Strategic Command at Offutt Air Force Base, Nebraska. I processed huge roles of five-inch film from the U-2 reconnaissance aircraft. I also trained on one of the first Nikon digital cameras.
Over time, I got promoted a couple of ranks and transferred to the Joint Analysis Center at Royal Air Force Molesworth, United Kingdom. I did more film processing, went to college at night, and worked on getting a portfolio together.
I really excelled at being a model Airman. I was on the honor guard, won many awards for being an outstanding volunteer, went to school, and really gave 100 percent all the time. I went from being the trainee to being the trainer within months.
After four years of darkroom work, I got accepted into the 1st Combat Camera Squadron (COMCAM) at Charleston Air Force Base, South Carolina. I was on cloud nine. I re-enlisted for another four years of service and got promoted to Senior Airman (E-4).
When I got to COMCAM, I really felt out of my league. Many of my colleagues had years of shooting experience and had attended the military photojournalism course at Syracuse University. I struggled at first, but I handled it like I do anything else: I just kept plugging away. I shot every chance I could and listened to the feedback I was getting. COMCAM sent me to the DoD Workshop, the Multimedia Bootcamp, the Eddie Adams Workshop, and more. The more I put into learning, the more I improved. It was not easy, though.
My first major deployment was to Chile where I was supposed to document the U.S. Army participating in Cabanas (a training exercise). That is where things started to click for me. After I got back, I got promoted to Staff Sergeant. I went to Korea and did some aerial missions over Iraq until I finally had ground orders to deploy to Baghdad. When I returned from Iraq, I won Military Photographer of the Year and was accepted into Syracuse. I took a year off for school and went straight to Africa after graduation. I was then sent to Cyprus to cover the Lebanon evacuations and then back to Iraq. I won Military Photographer of the Year for a second time after returning from Iraq. I have been to several other places in between, but those are some of the highlights of my tours.
I pretty much went from learning to teaching. But I still stand firm in the belief that you never stop learning. At least that is what I believe for myself. As the industry changes, so does military photography. We do our best to stay current with trends.
AP: Tell me about your photography now. What is a typical week like for you? How much are you shooting, why types of stuff, and where?
SP: I just shoot for the troops. I try to pack as much information and emotion as I can into one frame. I find that my biggest weakness is my biggest strength, and that is really getting in touch with my subjects. Most of the time, if they are suffering, so am I. I shoot what is around me and try to convey that energy with the use of light and body language.
As I mentioned before, I never stop learning. So I have taken this last year as an opportunity to practice with lighting and sports. I already have a solid grasp on both, but I would like to know more. Photographers like Bill Frakes, who is a sports legend, make me want to try new angles and Joe McNally, a lighting master, encourages me to improve my strobe skills.
Most of what I have shot this year has been in Charleston, South Carolina, with the exception of the Kentucky Derby and the DoD Workshop.
AP: How is being a military photographer different from being any other kind of photographer? Does it influence what images you make or which of your images are distributed?
SP: Well, it's hard to say how I differ from other photographers because being a military photojournalist is all I have known. However, I have the same education as any civilian journalist and am held to the same ethical standards. My imagery has been used in many types of media such as newspapers, online new sources, and magazines.
It is pretty rare that the military will dictate what I shoot in the field. I usually have free reign because I am there to document for the service. However, our Public Affairs Office (PAO) will determine what is considered okay for public release to the civilian media. That said, the PAO usually has a good reason why they will not release a picture.
AP: What is in your usual camera bag? You probably subject your equipment to more difficult circumstances than most photographers; what kind of things have you had to deal with and do you have any good tricks you've learned?
SP: I have a tan Domke bag, which I use to transport my gear. But I usually use a shooter's vest in the combat zone. I have to carry a weapon as well as my camera gear, so I stuff the pockets with camera batteries, M-9 bullets, and lenses.
The biggest problem I faced was wear and tear. I lost one camera to bomb fragments and one from being banged around too much. The sand gets in every possible crack and crag, so canned air and lens clothes were my saving grace. When I was on a mission, I would clean my camera every chance I got.
Traveling light was essential, because I would have my body armor, camera gear, and weapons. I weighed myself one day and I had an excess of 70 pounds worth of gear. Plus I would have to lug that for days at a time. In my camera vest I would store water and snacks. I also had to keep a first aid kit too.
In keeping with my "travel light" theory, I would only bring two lenses and one flash. But I have to say I rarely ever used a flash. My lenses were a 17-55mm and a 70-200mm Nikon. Most of the time, I was up close and personal, so I shot mainly with my 17-55mm. I believe that your equipment is a tool. It doesn't matter what you are shooting with, because you are what makes the photo.
AP: Being a military photographer must be a difficult job for anyone, but did you ever feel that it was particularly difficult as a woman (in what I can only assume is a predominantly male industry)? Are there advantages to being a female photographer as well? Or did gender not make that much of a difference?
SP: There have been successful women journalists before me and they set the bar high. I can smile knowing that I raised it a little higher. I can also be happy in the fact that I have raised the standards for the men too!
Being a woman has its disadvantages. We are few in number and often not taken seriously right away. I have been in situations where I have had to work with all-male Special Forces or infantry units. These guys are used to seeing "Army-types" and NO WOMEN. Then I show up (Air Force and female) and they do a double take. Most of them stare and others whisper. But I go in there with confidence and let them know that I can hang. After a grueling day of marching through ankle deep mud, firefights, and 100-degree heat, they realize that I am no different from the rest. I just let them draw their own conclusions based off of my tenacity and drive to complete the mission and provide the best pictures I possibly can.
There is an upside to being a female too. I get to see what it is like to be a woman service member and male photographers don't. I get access to places men might not, so that has come in handy.
AP: What is the most difficult part of your job? What is the most rewarding?
SP: It is difficult being away from my husband for months at a time. We both do this job, so being together for any length of time is a miracle. So we take advantage of our time together by shooting projects and just enjoying photography together.
The most rewarding part of this job is touching people's lives. I can make someone feel so important when his or her picture is published. I can make war-weary soldiers laugh at themselves over goofy photos. I can make them weep when I share the last photo ever taken of their comrade. I document history — I make history. That is rewarding.
AP: Do you also work outside the military. If so, has that work been influenced by your military photography?
SP: I have shot some projects for USA Today and have assisted Sports Illustrated photographer Bill Frakes. I was told many years ago during the DoD Workshop that I should do some freelance work. Well, I took what they said seriously and pursued some civilian projects. So you can say the military encouraged me to shoot outside of the Air Force.
My work on the outside has shown me that I have to learn a whole new process of picture making. The assignments are similar: Go make contact with a subject, shoot a story, caption, and transmit. However, the terminology is a bit different, so there is a learning curve.
I also volunteer at the Eddie Adams Barnstorm Workshop. So I have picked up quite a bit from the staff there. They have always been very welcoming of military and willing to show us the civilian side of the journalism world too.
I would like to thank the Air Force for giving me such great opportunities these last ten years. I am sad to let it go.
More of Pearsall's work is available at f8pj.com.