A Conversation with Bettina Rheims
The French photographer offers a behind-the-scenes look at a recent photo shoot and explains why she remains "misunderstood" in the U.S.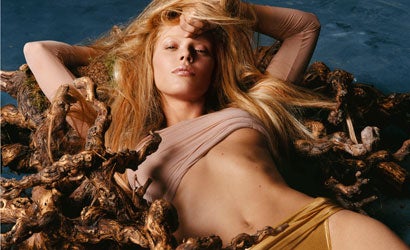 "The whole wine thing, I really don't know much about it," says photographer Bettina Rheims. That should come as a surprise — not because she is French, but because she is in New York City this week to promote a new project which, in theory, is all about the seductive glamour of French Chablis wine. To Rheims's way of thinking, you don't have to drink it to savor it.
The new project, called "Liquid Gold," could be seen as a departure for Rheims, one of France's best known artists. But again, to her way of thinking it is not. Sponsored by the Chablis wine making region, it consists of 11 images of a statuesque model named Margarita Svegzdaite decorated in various golden disguises, each printed in large format on shining aluminum sheets. In June the prints were unveiled in windows at Bloomingdale's in New York. This month the exhibition moves to the Palace Hotel and later to Grand Central Station.
This was certainly not the first big commercial job Rheims has taken on. She regularly shoots for magazines and advertising clients like Chanel and L'Oreal. But, as she notes, the boundaries between her personal work and her commercial work is blurry.
The images in the new project, with titles like "Dream," "Pride," "Desire," "Femininity, "Magnificence," and "Thirst," touch on themes that Rheims has focused on throughout her career. A former model, journalist, and art dealer, she turned to photography in 1980 with a breakthrough series on strip-tease dancers and acrobats. Her first book, "Female Trouble," a collection of portraits and nudes of actresses and models, was published in 1989. That was followed by "Modern Lovers," a series of portraits of androgynous teenagers, and in 1992 with her acclaimed book "Chambre Close," in which she turned to color to create a fictional erotic tale featuring women in hotel rooms.
Other Artist Q&As • Luc Delahaye • Martin Parr • Taryn Simon • Roger Ballen • Todd Hido • Andrew Moore • Paul Shambroom
That work, and later books such as "X'Mas" (2000), "Shanghai" (2003), and her recent "Heroines," have secured Rheims's reputation Europe. In the United States, however, she has remained largely unappreciated and, in her own words, "simply misunderstood." She is often associated with the late Helmut Newton, who was one of her mentors. But while Newton's fashion and advertising work was based on his own fantasies of luxury, decadence, and eroticism, Rheims's imagery is grounded in her notion of reality. She cites Diane Arbus as a major influence.
"People might think, 'Oh, she only creates scandalous pictures, nudes," says Rheims. "But that's not the point. My work is not about provocation. And I freely go back and forth between commercial and artwork, which puzzles some people. But I make no distinction. I see no contradiction there."
Seeing no contradictions where others do may be the perfect definition of a misunderstanding. On the morning after the opening of her Bloomingdale's exhibition, Rheims met with me over coffee at the Mercer Hotel in SoHo to discuss the new project and to explain, or at least try to explain, why she still hasn't achieved the fame she deserves in the U.S.
AP: How did you decide on this approach to the project, with a model dripped in gold?
BR: I really am a stranger to the culture of wine. I've seen the film "Mondovino," but that's about it. But the concept was wide open, so I thought, why not do something as glamorous as I would for a perfume campaign? I told them to bring me in everything that had to do with wine, and they came back with big pieces of wood, the grape, and we began talking about the color of the wine.
AP: And you went from that to painting a girl in gold?
BR: As the concept was building up, I began thinking of paintings. I was thinking of Caravaggio, all these interpretations by Italian renaissance painters of the feast. It had to be a feast; it had to be joyful. It had to be full of pleasure…the pleasure of the wine, with nobody drunk at the end.
AP: And the girl?
BR: Well, we looked a long time to find the right girl. It should have been a French girl, because it's a French wine. Unfortunately, we are not so rich today with French models; we couldn't find the perfect French girl. So we found a Canadian model, and she speaks French. It was close enough.
AP: What was the production like?
BR: Big, like a movie. I brought in a makeup artist, and I told him we were doing everything gold. He's like a magician. He came in with gold powders, gold liquids, gold foil. He had to learn how to put gold material in the model's hair without making the hair look dirty. It was fun.
AP: What camera did you shoot with?
BR: I shot it all with a 6×7. That's the format I usually use.
AP: Do you see a connection between this work and what has come before it in your career?
BR: Certainly. I have always believed that whether the work is my idea or a commission, it is personal work. When I do advertising jobs, I always think, "Will one of these pictures have another destiny? Will it become a lasting, important picture?" In the end, as my old master Helmut Newton used to say, there are only two kinds of pictures: the good ones and the bad ones.
AP: You mentioned thinking about paintings. Your last book, "Heroines," is a collection of portraits of beautiful and famous women seen in a harsh, unforgiving light. They look like paintings…
BR: I got the idea for the book when I was in Vienna. I was having a big retrospective there and had some time to kill. So I went to several museums. Of course I knew Egon Schiele and Gustav Klimt, but I looked at them in a different way. I looked at Degas's dancers. I always looked at the skin.
AP: And that was your jumping-off point?
BR: In a way, all my projects start with skin. My first question — even before I start to think about black and white or color or camera format — is "What kind of skin do I want to represent?" For "Heroines," I shot with a 20×24-inch camera; it was the first time I used that large of a format. I wanted to show raw skin: skin and blood, skin and veins, scars, imperfections. It was not the usual kind of glamorous skin. It wasn't Hollywood skin. It was the skin of pain. The pictures were about women today, about being able to assume your femininity as well as your strength.
AP: And yet the images are very sympathetic to the women. In an interview with American Photo in 1991 you said, "People often come to my studio to scare themselves a little."
BR: I am always sympathetic to my subject — especially the ones in "Heroines," because I chose women whom I consider icons. It was a very special moment. I was asking these women for a moment of abandon, to give up whoever they were.
AP: Early in your career you shot only in black and white. Now everything is color. How did that change come about?
BR: When I did "Chambre Close," I wanted to do a tribute to all those old, turn-of-the-century pornographic postcards I saw in flea markets in Paris. But I didn't want my pictures to look old-fashioned, so I began using color. But I wanted strong, colorful color. Again, it started with the skin. I wanted the people in the pictures to look like Rodin sculpture. I wanted viewers to feel like they could touch the skin of the models. The funny thing is, today I can't work in black and white. I see the world in color.
AP: Why do you think your work has never become as famous in the United States as in Europe?
BR: Well, I don't have a gallery here, for one thing.
AP: What you do defies easy categorization. It is fictional, and deals with fantasy, like Helmut Newton's work, but it also has elements of documentary work….
BR: I'm proud that I can't be categorized. I think a lot of artists find something and do everything in that way. They are careful not to change, and to make pictures that can be identified instantly. I would be happy to be recognized, who wouldn't? I like it when someone comes up to me and says, 'I like your work.' But I'm with myself most of the time and I want to be happy with what I am doing.