Canon DC50: Tapeless Wonder
The Canon DC50 shoots video on optical disks that you can view immediately with your DVD player or drive -- no transfer required. And it even takes five-megapixel stills.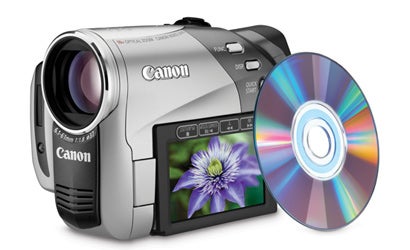 We may earn revenue from the products available on this page and participate in affiliate programs. Learn more ›
Videotape has made the transition to digital with aplomb, Mini DV now being the format of choice for both amateur and professional camcorders. Mini DV tape is less than ideal, though, as a way of quickly viewing video on a TV or computer monitor. Unless you have a dedicated DV deck you have to use the camcorder itself as a playback device, plugging it in whenever you want to look at what you've shot on TV. Or you have to plug the camcorder into your computer and first download your video inch by inch.
But there is a simpler way. You can use a camcorder that records digital video directly on Mini DVD disks — three-inch-diameter versions of the familiar, full-size DVD disk — rather than tape. Once finalized in the camcorder, usually a one-button process, the disk can be removed and played immediately in a tray-style DVD player or computer drive. (The disk fits inside the tray's smaller concentric inset.) There's no need to go looking for, and hooking up, AV or DV cables. What's more, when you slip one of these disks into your computer's DVD drive, the video it contains can be viewed directly or downloaded quickly to your hard drive. A dual-layer Mini DVD can hold up to about 108 minutes of video.
One of the most impressive of these new disk-based camcorders is the Canon DC50, just introduced. Like other such models, the DC50 is extremely compact despite accommodating a three-inch disk. Unlike tape-based camcorders, the DC50 and the disk it produces provide true random access to your video "footage." (Of course, that term really doesn't apply to disk-based video!) The DC50 generates a "Visual Index" of all your scenes, displaying thumbnails of each scene's beginning; you click on the thumbnail to review or play that particular scene. You can rearrange shots into a "playlist" in the camera itself. And there's no risk, as there is with tape, of mistakenly overwriting existing video because the DC50 automatically records only to a blank area of the disk.
The Canon DC50 shoots in the movie-style "wide screen" proportions that are becoming standard in TV screens with the upcoming high-definition mandate. That 16:9 aspect ratio is seen not only in the camcorder's 2.7-inch flip-out LCD monitor, but in its eye-level electronic viewfinder as well. And unlike many other camcorders, which achieve a wide-screen effect by "cropping" the top and bottom of a standard-format (4:3) sensor — and thereby sacrificing resolution — the DC50 uses the full area of its 16:9-format image sensor. If you want to switch to standard 4:3 format, you just push a button on the screen.
The picture produced by the DC50 is surprisingly good, but its quality isn't due just to the 5.39-megapixel sensor's 2716 x 1983-pixel resolution. Glass is always a big factor, and the new camcorder's 10x optical zoom owes much to Canon's SLR optics. It zooms very smoothly through a focal length range that's about the equivalent of 44-440mm in the 35mm format, when you're shooting in Widescreen Video Mode. You can extend that range by mounting an accessory .7x wide-angle converter (which gives you a 35mm-equivalent angle of view as wide as 31mm) or a 1.5x teleconverter (which gives you telephoto power equivalent to 660mm). The camera zooms digitally to 200x.
When you have access to focal lengths that long, image stabilization is a virtual necessity for smoothing out the distracting jiggle that would otherwise be caused by shaky hands. Unlike models using electronic stabilization — which does its job by stealing pixels from the image, reducing resolution — the DC50 features optical image stabilization, which works the same way as in Canon's IS (Image Stabilized) lenses for its SLRs.
In fact, the Canon DC50 can even shoot five-megapixel stills, saving them to a removable SD memory card. That's a cool feature, and fine for a quick snapshot or two when you're shooting home video. We can't speak for you, but for all its virtues, the DC50 still won't be replacing our Canon EOS 5D.
Canon's DC50 DVD Camcorder arrives in stores in late February and carries an estimated selling price of $799.
Find out more about the latest digital camcorders in the PopPhoto.com Buying Guide.