Book Review: Christoph Bangert's 'Travel Notes'
Bangert's 22,000-mile road trip through South America is the type of epic journey that's essential in the making of a great photojournalist.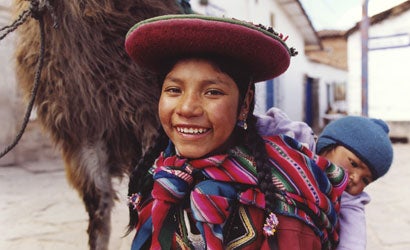 However much Christoph Bangert learned in the photojournalism program at International Center of Photography in New York, chances are he owes as much of his success now to the path he took to get there.
On Feb. 15, 2002, with no set plan for his future in mind, Bangert boarded a plane from his native Germany to Buenos Aires, Argentina. The photographer landed with one contact on the entire continent — a girlfriend that he'd met on a short trip to New York — with only a bank card, some basic necessities, a Range Rover and a camera to his name.
Over the next five months Bangert would travel through Argentina, Chile, Ecuador, Bolivia and Peru, through crowded protests in Buenos Aires to the very southernmost tip of the Americas, from the salt lakes of Salar de Uyuni to the mountains of Machu Picchu. Six months later, with images from 14 countries added to his portfolio, Bangert arrived in New York City to begin his studies, already a far more seasoned student of photojournalism than most of his peers.
Travel Notes: 22 Thousand Miles Across the Americas (powerHouse Books) documents Bangert's unforgettable experience in images and diary entries. It chronicles the beauty of South America, from crowded city streets to dense mountain ranges to sprawling sea vistas and sand dunes — a reminder that the beauty of the continent is apparent most in between destinations. But the book also chronicles Bangert's journey, and this is what makes it, rather than a simple collection of images, an adventure.
On such a trip you really learn to live for and appreciate the moment," explains Bangert, who has since gone on to a distinguished freelance career. "You begin to realize that life can be over very quickly and just as unannounced as a long and adventurous journey can be." The diary begins with the excitement of being free and uncertain in a strange territory, and is catapulted into a series of moments that are kaleidoscopic visually and emotionally. Watching sunsets on the Magellan Strait, climbing the most dangerous road in La Paz, Bolivia, going dancing in San Ignecio; lonely in youth hostels, broke in Chilecito, stuck in the mud 50 km from any road in the desert in Bolivia; with every daily entry, Bangert paints the experience of what he refers to as, "the epic journey" — one that's essential in the making of a photojournalist and also one of the greatest, and most transformative, human experiences.