Behind the Scenes with Diana Walker
The White House photographer offers a glimpse inside the politics and practice of Beltway photojournalism.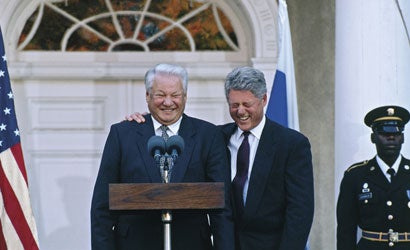 Diana Walker has photographed the political operators of our nation's capital through five presidential administrations, or roughly since Gerald Ford became president. "I just missed out on all the excitement of Watergate," she says. Born and raised in Washington, D.C., she knows the corridors of power intimately, from "up on the Capitol Hill" to the Oval Office, and she has applied that knowledge effectively over the years as White House photographer for Time magazine. She is one of the great masters of the ultimate D.C. photography game — getting access to guarded newsmakers and capturing them in private moments.
Indeed, if there is a typical Diana Walker image, it is the "behind the scenes" shot, such as her famous image of Al and Tipper Gore kissing onstage at the 2000 Democratic National Convention. She used a small degree of her guile to get on the platform, while other photographers could only shoot from below. Hers is a view of politics unlike any other, based often on relationships built up over years of experience. She is the consummate Washington journalist.
Walker has just released a new book called The Bigger Picture: 30 Years of Portraits (National Geographic Books, $40), and in it you will find many examples of her intimate brand of photojournalism — though not all of her subjects over the years have been politicians. Along with the Gores and Hillary Clinton there are shots of actress Jamie Lee Curtis and Apple chief Steve Jobs.
No matter what the subject, however, Walker's success is based on her ability to engage with people and to get them to trust her, while never forgetting that she is a journalist whose needs may sometimes run contrary to the person she is shooting. Recently, Walker visited American Photo to talk with editor in chief David Schonauer about that remarkable professional balancing act and her long career.
David Schonauer: Let's start at the beginning. How did you become a photographer?
Diana Walker: Photography was a childhood hobby. I remember when I got my first Brownie Hawkeye. My first serious camera was a Kodak Pony 135, which came from the corner drug story. I had a darkroom in our basement in Georgetown, and put the developer and the stop bath and the fix on a plank of wood over the washing machine. And it was always treacherous because my father would walk across the floor above, and dirt would come down off the ceiling into all my trays. So my photos were always spotty.
DS: Did you go into photography as a profession after that?
DW: I got sidetracked with the idea of theater and all kinds of other things, and I was in my early 30s when I started to get back into photography. A friend of mine who had been stylist for the photographer Bert Stern here in New York said, "You don't want to do what you're doing now, why don't you start taking pictures?" We set up a business — she kept the books, and I did the photography — called "I Am a Camera." I don't know if Christopher Isherwood would have like that, but apparently he didn't hear about us. We did weddings, bar mitzvahs — anything that moved. Then I was asked to take pictures for a small magazine called Washington Monthly. The assignment was to photograph asparagus for a story on produce. That led to a job. The editor, Charles Peters, said, "I can only pay you $25 per picture used, but I'll get you your credentials for shooting on Capitol Hill and the White House, and then you could go freelance." Charlie launched many well-known journalists on their careers, but nobody remembers he also launched a photojournalist's career. I think my first assignment was to photograph Nelson Rockefeller, who was about to be nominated as Vice President by Gerald Ford, in 1974.
DS: So you became a political insider…
DW: I was in Washington, and the product of Washington is politics. If I'd grown up in Cleveland or New York, my career would have been different. I didn't do what I advise young photographers to do: I didn't go and work for a small-town newspaper.
DS: Let's talk about a couple of your pictures that illustrate what it is you do. What about the 1997 photograph of Hillary Clinton, who was then the First Lady, riding in her limo with her chief of staff, Melanne Verveer.
DW: Time was doing a cover story on her — "Hillary at 50." I went with her that day when she was attending an event for a children's group. After the event, I was trying to do a "Hillary behind the scenes" shot. I asked Melanne if I could ride back in the car with them. Hillary agreed. I scrunched up by the door of the limo. I had maybe a 24mm lens. I loved it, because the two of them were having a wonderful time. I can't hear when I take pictures, because I'm trying so hard to take the picture that I don't hear anything. So I don't know what they were laughing about.
DS: We see Mrs. Clinton this way more now, where she looks relaxed and happy. But in 1997 it wasn't the typical shot of her.
DW: You really didn't see anything like this then. I sent this image to Time in New York with a star on it saying, "This is the First Lady having fun." And it ran double-truck across the lead of the story.
DS: And what about that shot of the Gores kissing. How'd you get that?
DW: You mean the one where you see all my colleagues down on the floor? I had asked to be behind the scenes as much as possible at the convention. By the way, usually when I say "behind the scenes," I mean I was getting like a minute behind the scenes. Being behind the scenes is not at all like being a fly on the wall. In this case, I was with Al Gore as he was on his way to the convention. He was being introduced to the delegates by Tipper and, instead of coming out from behind the set, as nominees usually do, he walked down the floor of the convention to the stage. I was attached at the hip to his staff photographer. They actually liked having me there, because that way his staff could keep an eye on me. We were in front of him as he walked through the convention, and we had time to run up onto the stage ahead of him. There were already some photographers on one side of the stage, so I went to the other side, got down on my knees, and we were just there when the Vice President came up on stage. I had a camera with black and white film, and another with color film. I focused on him, and this extraordinary thing happened — this embrace, which wasn't a stage kiss, but a real, romantic kiss. It went on for a long time, so there was plenty of time for me to get the shot right.
DS: What happens when you photograph someone who didn't like the story about them when it eventually appears? How do you deal with that when you photograph that subject again?
DW: Well, I don't want to sound too callous, but really, all I have to say to that person is, "Tough." Anyway, I can't remember anyone ever getting mad at me for a story in Time. Politicians and journalists understand the way this world works.
DS: How do you balance the demands of getting access to people with the demands of being an objective journalist?
DW: You have to remember first of all that you are a journalist. You happen to use a camera; you don't use a pencil. And this is where I have a slightly different take on the idea from a lot of my colleagues. I've had many long arguments with other Washington photographers about this. I believe that to maintain my balance and do what I've been sent to do I don't listen and I don't report. When I've been given access to the president I don't come out of the room and say, "Guess what I heard! Where's my writer…quick! We're going to war!" My tool is my camera, not a tape recorder. I am there to show you as much as possible about what I saw and give you as much information as you can have, whether it's out front or behind the scenes. My editors know that about me, and I would hope that the people I photograph would know that about me too.