Behind the Lens with Norm Barker
PopPhoto.com's Zach Honig interviews biomedical photographer Norm Barker as part of the Behind the Lens question & answer series.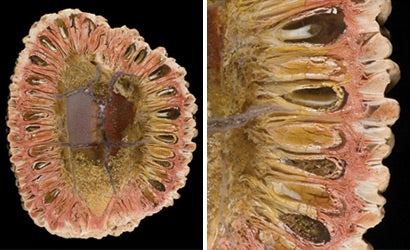 The photographic community is incredibly diverse, made up of photographers that shoot from the sky to the sea and everywhere in between. Each month we'll focus on a different segment of the industry, interviewing top professional photographers about life, their careers, and what sets their piece of the photographic industry apart from the rest.
This month we focus on Norm Barker, a biomedical/scientific photographer at Johns Hopkins University in Baltimore, Maryland. Barker also serves on the faculty at Hopkins as director of the Pathology Photography Laboratory. Barker's work has been published in magazines, books, and exhibited around the world in museums and traveling exhibitions. His work emphasizes the incredible diversity of the photographic community; armed with a microscope and other, more conventional, photographic equipment, he brings us to a world not seen with the human eye.
When did you first begin to develop your identity as a photographer? Why did you decide to integrate photography as part of your career?
After I graduated from The Maryland Institute College of Art with a BFA in Photography, I wanted to go on to graduate school but had to pay the bills. I fell into a two-year paid training position at the Johns Hopkins School of Medicine as a biomedical photographer. At the time I didn't even know what a biomedical photographer was, I wanted to be an artist. It didn't take long to figure that art was not going to pay the bills. This was around 1980 and one of the benefits of the job was that they paid for graduate school in the evening as long as you went to Johns Hopkins. I completed an MS in continuing education and was hired on staff.
What type of photography equipment do you use on a daily or weekly basis? How might this equipment differ from subject to subject?
Our department got into computer graphics and digital imaging very early, around 1982. It's incredible to see how much change has occurred in such a short amount of time. A majority of what we shot was on 4×5 or 5×7 film or Hasselblad for location. Being a large medical school we also shot literally millions of 35 mm copy slides for lectures; with PowerPoint, that's all gone.
Currently we are about 99% digital, but I still have some clients that request Kodachrome film for certain book projects. I don't mean to sound anti-technology but I really do miss the beautiful quality of a Kodachrome 25 slide. The problem with early digital systems was that we could not match the quality of film, but as you know, that's all changed too. All the scientific photography under the microscope in the operating rooms, the studio, location and public relations, is all-digital.
Being in the Pathology Department that services the entire medical school, I do a large amount of macro and photomicrography as well as very special lighting techniques such as darkfield and fluorescence. We use Nikon and Fuji cameras with a wide variety of lenses and specialized macro equipment. A large majority of what we do is published in textbooks or journals, so often times the image winds up being column width size, at most full cover size.
How much time do you spend behind a camera each week? What other responsibilities do you have as part of your job?
I'm sure photographers can relate when I say I would love to spend more time shooting than working on the computer, but that's not a reality. I'm usually shooting at my Zeiss microscope three to four hours a day and then fitting in whatever studio, or location assignment comes along that day. In the age of FedEx, faxes, and e-mail, clients are more demanding. Being from Johns Hopkins, one of the top medical Institutions in the world, I always stress quality. Our visuals are seen all over the world in print or at meetings. Our images have to be first rate, the best. I'm always fighting the "that's good enough" mentality that some of our busy clients have. As far as other responsibilities, I'm an Associate Professor with dual appointments in the departments of Pathology and Art as Applied to Medicine, so teaching and publishing my work is expected. I'm also Director of the Photography and Graphics Laboratory here at Johns Hopkins, so there are all the personnel and budgeting issues to deal with.
What type of subjects have you photographed over the years? Do you have any favorites?
I've been at Hopkins for 27 years and I can honestly say it's been a little of everything. The unusual thing about a biomedical/scientific photographer is that he or she needs to be expert with all the specialized techniques used for imaging science. But they also need to be highly proficient with all kinds of different areas of imaging such as portraiture, studio/location, public relations, architectural, just to mention a few. These are areas that we cover on any given day as our normal job responsibilities.
Obviously we get a fascinating behind the scenes look at the human body, which is an amazing machine, but we also enjoy being exposed to all different branches of knowledge in science. One day I might photograph the necropsy of an elephant, whose heart looked almost human but weighed in at 40 pounds, or I might be photographing rare 15th-century manuscripts. We just never know what assignment we might be asked to cover.
My personal favorite is photomicrography, photography under the microscope. The microscope provides a whole different beautiful world, that if done correctly can provide an interface between both science and art.
Where has some of your work been published? Have you done any work on a freelance basis?
One of the great things about my job is that I get to collaborate with some of the top scientists and researchers in the world. I've had work published in everything from scientific images in Nature to portraits in Penthouse, Smithsonian, and Natural History. I have also had the pleasure of working on more than 30 textbooks, fascicles, and atlases, where I did all the photography in the books.
I've also co-authored two books, one titled Ancient Microworlds, which has an exhibit that has been traveling in the U.S., Europe and Asia for the last seven years. More than a million museum visitors have seen the show.
Some of the other venues where my work has been exhibited include The Smithsonian Institution, The Museum of Natural History in New York, The Science Museum in London, as well as the Nelson-Atkins Museum of Art in Kansas City. My personal work is in the permanent collections of more than 35 museums. The other book titled Seaweeds has a traveling exhibit as well and opened at The Charleston Museum in South Carolina in 2006. I do freelance but with all the different projects I'm involved with, I tend to be very selective. There are just not enough hours in the day.
As a biomedical photographer, is it more important to have a strong visual background or an expansive knowledge of science and medicine? Why?
It's essential to have both! You can't function in the field without a strong knowledge of science, medicine and anatomy. Most biomedical photographers already have an undergraduate degree in photography, and have a fairly strong sense of design. They not only need to be technical thinkers but they need to communicate the scientific image in an artful way, especially when images are used for a lay audience. Most imaging centers in large academic medical centers are also service bureaus where clients in the medical community come for advice on purchasing equipment and scanning or outputting their research. So now more than ever, photographers need to have a background in graphic design and computers as well.
What led to your career as an educator? Why might that be advantageous over a full time photography career?
I always enjoyed teaching and sharing information in a collaborative way. Many photographers in the commercial world like to keep their own little technical secrets to themselves, so no one else finds out and can do the same thing and compete.
Just because I'm a professor at Johns Hopkins doesn't mean I'm not a full time working photographer. Our department is 100 percent cost recovery, which really means we're a business within the university. Even though I'm a full-time university faculty member, I have to pay for space charges, recover salaries, project income, and deal with all the business issues a freelancer would. The big difference is, I have benefits and receive a steady paycheck.
The teaching is just one part of my job. In a large academic medical center with space and resources at a premium, nothing is free. If you don't bring money in, you won't be around for long. Dealing with office politics also comes into play when working for a large institution, whether it's Johns Hopkins, Harvard, Duke or General Motors.
What type of work is done at the Johns Hopkins Pathology Photography Department? Does your department provide services for external organizations?
I spoke a little bit about the wide variety of assignments and work we do, but we are a service bureau as well and do a lot of scanning and output for our clients. So we work on other people's images as well. We have a Noritsu digital mini-lab and offer film processing and printing as well as digital prints from CompactFlash and SD cards. We offer wide format printing as well as high-resolution scanning and design services. Two full-time graphic designers deal with a wide variety of diverse design projects. Our client base is not only in the hospital but we have tried to expand our services and do work for publishers, drug companies and other area hospitals.
What makes a biomedical photographer stand out in the industry? Is this type of photography routine or does artistic ability come into play?
I think to stand out in this industry you need to be very technically competent as well as have excellent photography and design skills. Many of our clients are coming to us as the subject matter specialist in imaging. Most M.D.'s or PhD's are pretty sophisticated when it comes to imaging so you need to try to stay a couple of steps ahead of your clients, which in our business is a constant challenge. Keeping up with continuing education is also very important. If you're not learning something new all the time you become stagnant in this fast changing field. Part of how I evaluate my staff is by identifying what new technologies they have learned and how they have transferred that knowledge to make them more productive to help our clients.
As in any job, some of what we do is routine, but if that routine work is some part of your business, you can't afford to become complacent. It may be routine for you, but it provides a valuable service for your client. We are always looking for ways to improve on the routine so service gets better. My old boss had a sign in his office that said, "If you think you're too big for the little jobs, you're probably too small for the large jobs." Keeping our clients coming back is priority one. We are all about servicing the medical institution. Johns Hopkins is the largest receiver of NIH (National Institutes of Health) grant money and the quality of images that we provide to our customer base is responsible in part for helping these top quality grants get funding.
Do you have any advice for photographers interested in a career in biomedical photography?
There are a couple of excellent schools out there, like Brooks Institute or Rochester Institute of Technology. There are also several really fine BFA programs but they concentrate on fine art and not business and certainly not science. This job requires a bachelor's degree and many individuals have graduate degrees and many department directors have PhD's.
The other thing is, it's not like the old days (10 years ago) where you could just do photography; now the demands are much greater. With the advent of all this computer technology, anybody who can click a mouse or press a shutter button thinks they're a photographer or a designer. Just like our medical doctors spend years in training for their specialties, biomedical/scientific photography skills take many years of training and practice. You need to have solid computer skills as well as good design and graphic skills and be a top-notch shooter. To be successful, this field requires wearing many different hats.
Read other interviews from the Behind the Lens series
• June 2008: Robert Hanashiro
• May 2008: Steve Winter
• April 2008: Preston Gannaway
• March 2008: John Moore
• February 2008: Martin Schoeller
• January 2008: Brian Skerry
• December 2007: Jasin Boland
• October 2007: Cameron Davidson