Behind the Lens with Cameron Davidson
PopPhoto.com's Zach Honig interviews aerial photographer Cameron Davidson during the first installment of the Behind the Lens question & answer series.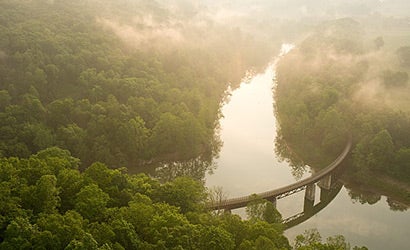 The photographic community is incredibly diverse, made up of photographers that shoot from the sky to the sea and everywhere in between. Each month we'll focus on a different segment of the industry, interviewing top professional photographers about life, their careers, and what sets their piece of the photographic industry apart from the rest.
This month we focus on Cameron Davidson, an aerial photographer based in Arlington, Virginia. Davidson shoots from helicopters and airplanes all over the world specializing in editorial and corporate aerial photography. He's worked for such publications as Vanity Fair and National Geographic and corporations such as the energy company Dominion and Kimley-Horn, a top consulting firm. Davidson took some time out of his busy schedule to answer questions about his career and the aerial perspective.
Can you recall your first experience with photography? At what point did you realize that your passion for photography might turn into a successful career?
My first experience with photography was finding a post-WWII Agfa camera in a closet that used unique cartridges of film. Richard Zamsky, a photographer friend of my mother, gave me 20 rolls of Tri-X and off I went — shooting everything and anything that interested me. The normal stuff: girls, friends, landscapes and birds.
I knew from the start that this path was the one I needed to go down. I rarely had a doubt about shooting.
What photography equipment do you use on a daily or weekly basis?
I pretty much carry a Leica body with me everywhere I go, usually with the 35mm Summicron lens attached. For most client work, I shoot with the Leica M8, Canon 1Ds Mark II or occasionally a medium format digital camera. For personal work, I still shoot with an old Rollei TLR and my Leica M4 or an M8.
What led to your career in photography?
Good solid advice and a burning desire. I started off as a bird photographer. I shot several stories for wildlife magazines and a story on Great Blue Herons for a nationally known magazine. That story led me to shooting aerials, which changed the direction of my work and career. I was able to combine my two loves — creating graphic abstract images with loads of color and shooting the landscape from a unique angle.
What percentage of your time at work do you spend behind a camera? What else is involved?
When I'm on the road, I spend a fair amount of time shooting, either aerials or portraits on location. I spend way too much time in front of my Macintosh processing files, but that is the reality of our business now — we are the lab and photographer. I do appreciate how much more control I have over the image.
Who are some of your clients?
My clients are a mix of corporate, editorial and advertising. Some include Vanity Fair, Smithsonian, Air & Space, Audubon, Field and Stream, Preservation, and National Geographic.
Where have some of your images been published recently?
Recent projects include a piece for Field and Stream about gas mining in Wyoming — an all-aerial piece. Audubon ran a photo essay on mountain top removal mining that I shot as a personal project. Vanity Fair ran two spreads from a shoot I did for them in June on the Anne Bass estate in New England. Recent ad and corporate shoots have been for Virginia Tourism, Dominion, Symantec, HNTB, Howrey, and Kimley-Horn.
A career in photography can be highly stressful; what do you do to unwind?
Music. I play guitar and have an Internet radio station called Fret Heaven. I create the playlists of my favorite guitarists and let it roll. Ride my bike. Walk my hound. Get killed at the gym by the "Queen of Mean" — my trainer Daffney wipes me out, and that releases the stress. Try to read as much as possible.
Have you had any close calls while flying?
Actually, two. Once was a chip warning light while flying in a Bokol helicopter in the Gulf of Mexico. We had metal flakes in the transmission oil and needed to get back to the rig. The problem was we were fairly low and a ways from the rig. If the transmission had seized up, we would have made an unscheduled landing into the Gulf. Another was pilot error — the pilot was paying attention to me instead of our approach speed on landing. The aircraft started to stall. I felt the plane start to buffer/shake and reached over the back seat and pushed the yoke forward. I caught it, since I am also a pilot, and corrected the situation.
What do you do to stay safe in the air?
I'm a nut about safety. I fly low and slow. The biggest thing you can do to stay safe is to have a sit-down with your pilot, talk through your flight, what you need and how you will communicate. The pilot is in command of the flight. Listen to your gut.
What type of aircraft do you shoot from?
I shoot primarily from Hughes 500 and Bell Jet Ranger helicopters. I also shoot from a Cessna 172 and a friend's 177 Cardinal. I've ridden in just about everything from Piper Cubs to Military Jets.
Why would one be advantageous over another?
Turbine helicopters have a solid safety history. Another ship that many people use is the Robinson R-44 — an avgas powered helicopter that is less expensive than turbines. I prefer turbines for the type of work I do.
What makes aerial photography unique?
You are working in tandem with another person. It is a team effort. You are working above and around a constantly changing environment. I love the feeling of being above the world and it feels right to me when I am sitting in the rear cabin of a Hughes 500 with my feet hanging out into the air stream.
Is there any equipment that you use for aerial photography that you wouldn't use on the ground?
The gear is similar. I use a Ken-Lab Gyroscope for shoots — a gyro is two spinning tops mounted in a cylinder filled with helium. It reduces vibration in the camera and is an essential tool for aerial shooting. The safety gear is different. I use an inflatable life vest and carry a HEED bottle, which provides a couple minutes of underwater breathing time in case we end up in the water — plus I carry an ELT (ACR MicroFix PLB-406 MHz PLB with GPS) that is registered to me. In case of a crash or unplanned landing, I can trigger the ELT and it will send out a distress and location signal that is accurate to within three meters.
What situations call for an aerial approach?
When you want to present a unique viewpoint or grand overview. Readers and viewers are dealing with information overload; an aerial perspective can sometimes cut through the daily barrage of traditional and cutting edge imagery. Not always — but sometimes — it is enough to make someone stop and think about the images and subject.
You've been through a lot to get where you are today. Do you have any advice for photographers just getting started?
Trust your instinct. Get a good liberal arts education. Shoot, shoot and shoot some more. Ignore the folks who say you can not do it. Learn to recognize the people who can help you.
Jon Schneeberger, A friend of mine who passed away a couple of years ago, was an illustrations editor at a well-respected magazine. He gave me some sage advice — he said, "Always surround yourself with people who are better then you — talented and driven. That is how people will judge you, by the company you keep."
Where should someone turn if they're interested in becoming an aerial photographer?
I would learn as much about aviation as possible. Study the masters of aerial photography — William Garnett is the grandfather of American aerial photography. He flew the American West in a silver Cessna 170 and shot amazing images with a 4×5 and Pentax 6×7. I was lucky enough to meet him and his wife while on assignment in California. I purchased a print of his Death Valley series. It hangs in my living room.
More than anything, be true to yourself and your own approach. I tend to fly low and slow. I like the intimacy with the earth. David Maisel is the opposite; he shoots from three to five thousand feet. Adriel Heisey shoots from his Kolb Ultralight that he pilots himself. The key is safety first above anything else. No picture is worth dying for. If you get a gut feeling that something is wrong — speak up and let the pilot know. You can always come back another day.
ISAP (International Society of Aviation Photographers) is a good group of photographers with a focus on aviation and aerial photography. Their yearly symposium is a fantastic gathering of the best aviation photographers in the world. The featured speaker presentations are filled with stunning photographs and harrowing stories.
Another group is APA (Advertising Photographers of America). Good solid professional contacts, networking, software and high standards.
Read other interviews from the Behind the Lens series
• June 2008: Robert Hanashiro
• May 2008: Steve Winter
• April 2008: Preston Gannaway
• March 2008: John Moore
• February 2008: Martin Schoeller
• January 2008: Brian Skerry
• December 2007: Jasin Boland
• November 2007: Norm Barker