Amon Carter Museum Exhibits '100 Great American Photographs'
Opens July 1 and runs through August 20.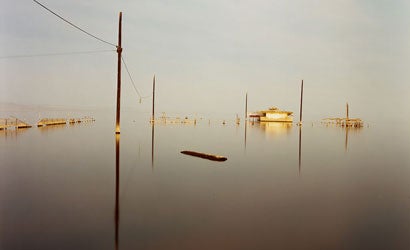 When your photography collection includes more than 30,000 images, choosing the best 100 to display can be a daunting, albeit enjoyable task. That's exactly what the curators at the Amon Carter Museum in Fort Worth, Texas have done with 100 Great American Photographs, an exhibition that shows off the strengths of one of the country's premiere photography collections.
Opening on July 1 and running through August 20, 100 Great American Photographs aims to be more than just a greatest hits exhibition by creating a depiction of American history through photographs.
"We try to take people on a journey across time, across history," says John Rohrbach, senior curator of photographs at the museum.
|| |—| | * View Photo Gallery| The exhibition is certainly broad, ranging from one of the first Daguerreotypes ever made in the U.S. to digital images created in the last year. Organized chronologically, the show begins with the collection's strengths, namely 19th century photographs from Western settlements. Also included are some of the earliest portraits taken of Native Americans.
From there the show transitions to early 20th century artists like Alfred Steiglitz and Edward Weston, photographers who exhibited what Rohrbach calls the period's "overt interplay of photography and fine art." Pioneers from this period pointed the way to photography as a medium of personal expression rather than a purely documentary form.
From there the exhibition turns to mid-20th century masters such as Harold "Doc" Edgerton, Carl Mydans, and Weegee. Highlights from this period include early color images by Paul Outerbridge and civil rights-era photos by Danny Lyons. Joel Meyerowitz, Keith Carter, William Christenberry and Richard Misrach represent the latter half of the 20th century.
As for the future of photography, Rohrbach says it's represented by the recent work of Dallas photographer David H. Gibson. By taking digital pictures of a waterfall and printing it 40 inches high on watercolor paper, Rohrbach says Gibson's work "becomes a portrait of light and the notion of the photographic medium begins to recede."
Other topical photographs in the exhibition include work from Michael P. Berman's 2001 "Crossings" series, in which the photographer observed illegal aliens crossing into the country while wandering through the Arizona desert with his view camera.
Rohrbach is enthusiastic about the museum's photography collection and eager to show off the 100 Great American Photographs exhibition.
"The Carter started collecting photography in 1961 when it opened and the museum has always had a strong commitment to photography," Rohrbach says, adding that it has "aggressively collected both overtly fine art photography and traditional documentary photography" over the years. "One of the things that brought me here was the museum's longstanding interplay between fine art and cultural history."
Later this year, the Amon Carter Museum will continue its tradition of fine photographic exhibitions with Regarding the Land: Robert Glenn Ketchum and the Legacy of Eliot Porter. That show runs from Sept. 16 to Jan. 7, and promises to be a fantastic look at two of the most important figures in color landscape photography.
For more information on the Amon Carter Museum and its programs, visit www.cartermuseum.org.