Nikon's new 125x zoom camera has a lens that would be impossible on a DSLR
That much zoom pushes into telescope territory.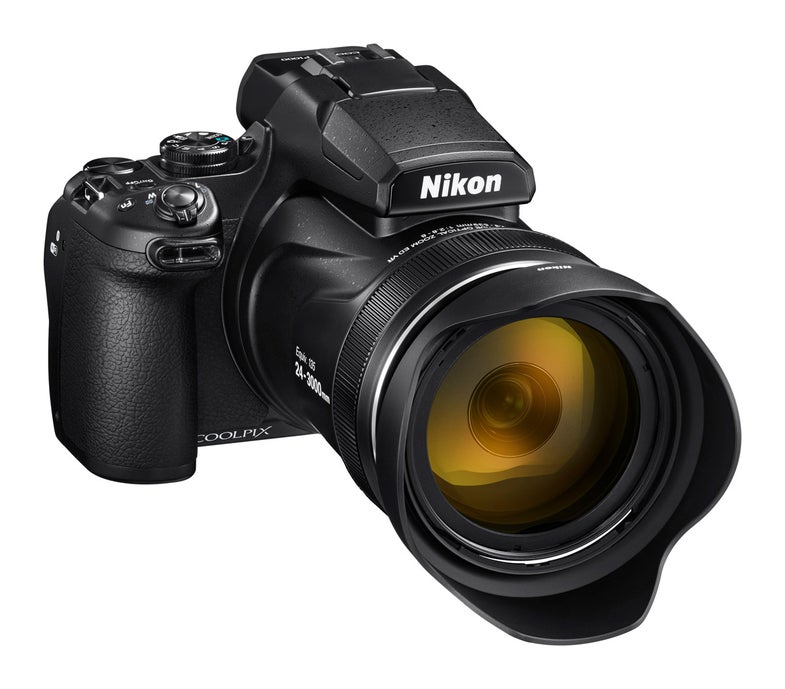 We may earn revenue from the products available on this page and participate in affiliate programs. Learn more ›
The concept of "zooming" on a smartphone camera is mostly a lie. They often "zoom" by simply cropping the image to narrow the angle of view or adding an extra camera module with a more telephoto lens to handle the longer shots. Both methods come with downsides in terms of usability and image quality. Dedicated camera makers like Nikon know this, and the company's latest long-lens camera is an emphatic reminder of just how different dedicated camera lenses can be from their smartphone counterparts.
The Nikon P1000 has 125x optical zoom, which means it starts a little wider than your typical smartphone camera lens, and can zoom far enough that you can focus on objects that are literally miles away depending on your vantage point.
In camera terms, the 125x lens has an equivalent focal range of 24mm to 3000mm. To put that in perspective, the massive, telephoto lenses you'll typically find on the sidelines of sporting tend to hover between 400mm and 600mm. Those high-end lenses have higher-quality glass, more advanced motors, and wider apertures for letting in more light, but in terms of pure zoom, the P1000 is in a totally different league.

Nikon P1000 lens comparison
Zooming all the way to its longest setting doubles the length of the P1000.
We could in theory design the same spec lens for a DSLR, but it would be nearly impossible to create the parts and assemble such a lens in the factory," a Nikon representative told us via email. "Thirty years ago Nikon developed an AI Zoom-Nikkor 1200-1700mm f/5.6-8P IF-ED lens, and it weighed 16kg! And that's for 1200-1700mm. If you were to design and build a 24-3000mm DSLR lens for an FX-format sensor, you might need a truck to carry it. To give you a rough idea of size, a 3000mm lens with a maximum aperture of f/8 built for a DSLR sensor would need to have a front lens element with a diameter of about 360mm (more than 14 inches)!"
While you don't need a truck to carry the P1000, it's still a sizable chunk of gear. It weighs roughly 3.1 pounds and extends to a length of 14 inches at full-zoom. A considerable amount of that weight comes from the 17 glass elements in the lens (arranged into 12 groups).
Keeping the camera steady at an equivalent of 3000mm can be difficult, even on a tripod, but Nikon equipped the P1000 with its latest vibration reduction technology, which it claims can mitigate camera shake by up to five stops. "Dual Detect VR is so-called because the system calculates and corrects for the direction and amount of camera shake using two methods simultaneously: an angular velocity sensor and imaging information from the image sensor," a Nikon representative explained. "This enables the kind of enhanced vibration reduction performance required by a camera with this kind of focal length."

Nikon P1000 zoom example
The first image was shot at its widest setting, and the second shot is the same scene at full telephoto.
Behind the lens is a 16.1-megapixel backside-illuminated sensor in the 1/2.3-inch format. It's considerably smaller than the 1-inch sensor found in some other bridge cameras like the Sony RX10, but it's a function of accommodating all that zoom. Unlike the previous P-model Nikon cameras, however, the P1000 offers RAW photo capture, which should provide more leeway when it comes to noise reduction and exposure recovery.
The P1000 will cost $1,000 when it hits store shelves, and we're curious to see what kind of performance it can achieve when pushed to its extremes.