DJI Air 3 drone: More range with less noise
The DJI Air 3 is a consumer drone with tons of powerful features.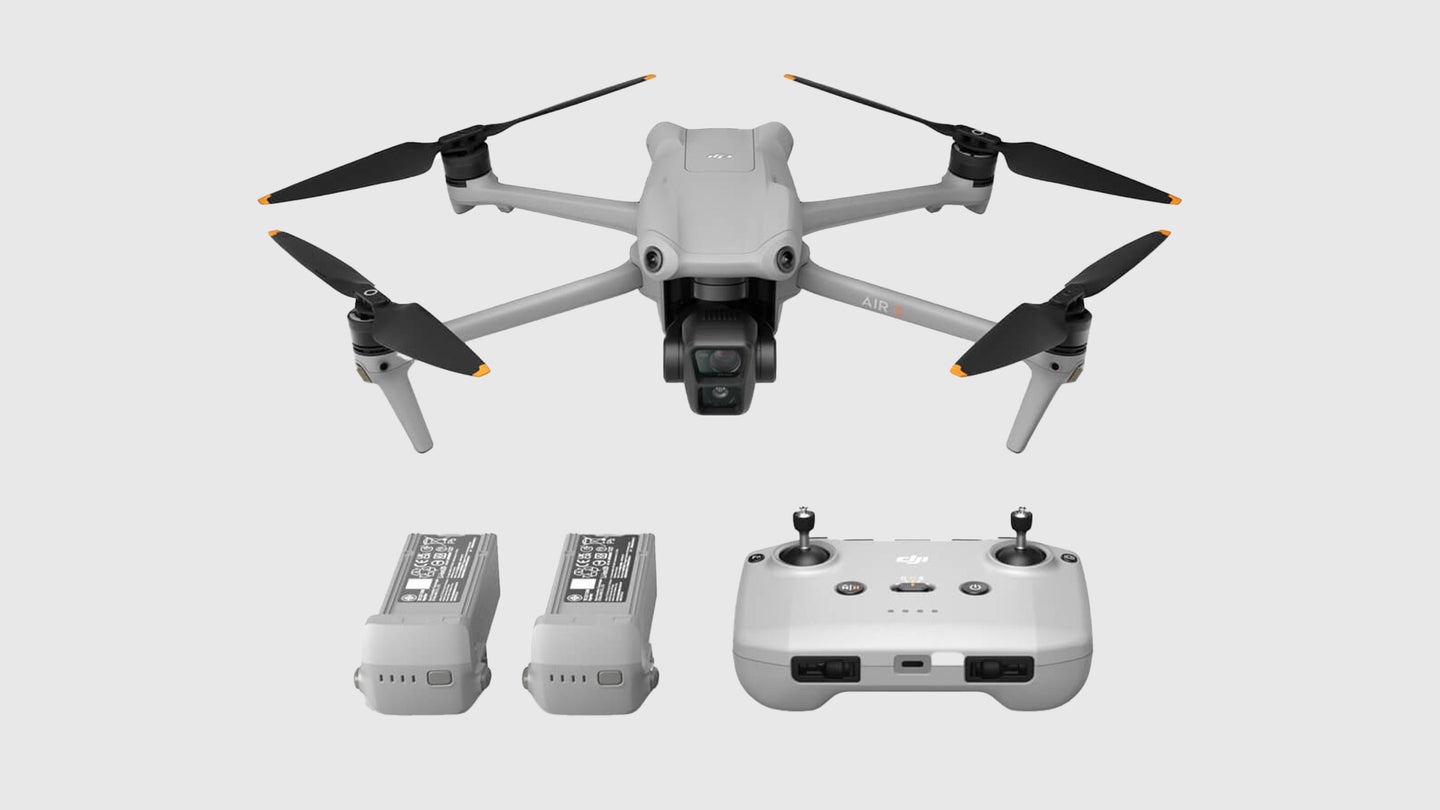 We may earn revenue from the products available on this page and participate in affiliate programs. Learn more ›
We consider the DJI Air 2 one of the very best consumer drones on the market, so we're particularly excited about the release of the new DJI Air 3. This new model offers a cadre of useful updates, from extended battery life to quieter flights. Here's a look at DJI's new flying machine.
DJI Air 3 drone at a glance
Two camera array includes a wide-angle and a telephoto lens
Each camera offers a 1.13-inch CMOS sensor
Up to 48 minutes of flight on a charge
48-megapixel photos and 4K/60P footage with both cameras
Object avoidance in every direction
$1,099 for the drone and controller
Weighs 1.59 pounds
What's new in the DJI Air 3 drone? Let's start with the cameras
This $1,099 drone offers a very similar form factor to other DJI folding drones in recent years. The camera represents one of the biggest differentiators when it comes to setting the Air 3 apart from its siblings. The Air 3 offers a pair of imaging devices, including its standard wide-angle camera as well as a 70mm (equivalent) telephoto camera to provide a very different look to your photos and footage. The wide-angle camera offers a maximum aperture of f/1.7, while the telephoto camera opens to f/2.8. That wide-angle camera offers more than a full-stop advantage over the model found on the Air 2S.
Both cameras in the Air 3 come toting 1.13-inch sensors. That's a small-but-noticeable uptick from the one-inch sensor found in the Air 2S. The Air 3 can also capture 48-megapixel still images while the Air 2S capped out at 20 MP. Instead of the 5.3K maximum video resolution offered by the Air 2S, the Air 3 promises 4K footage at up to 100 fps with no crop.
The Mavic 3 Pro offers a more advanced triple-camera design with a 4/3 Hasselblad main camera, but that craft also costs just less than double what you'll pay for the Air 3.
DJI Air 3 design
All of these folding DJI drones should look very familiar by now. DJI has been using this basic setup since the Mavic line first debuted. That's not a knock against the product. The folding design works very well and doesn't need a lot o fussing. DJI claims the Air 3 can detect obstacles in all directions, which means you can fly it in more complicated settings, like through trees or even larger indoor spaces, if you're qualified to do so.
The upgraded battery can now provide up to 46 minutes of flight time on a single charge. Of course, that number will vary wildly depending on your flying style and the environmental conditions. But that flight time number continues to grow with new models, and we're always glad to see that. Still, we almost always recommend getting the Fly More bundle if you buy a new DJI drone because it offers a discount on extra batteries (which you'll need) and the upgraded controller (which you may want).
Who should buy the new DJI Air 3 drone?
This remains a sweet spot in the DJI lineup. It's more advanced than the Mini Pro and the older Air 2S, but it's still roughly half the price of the flagship Mavic 3 Pro. The second camera is a very welcomed addition, but it's only going to come in handy if you have plans to use it. For many beginners, one main camera is enough, but this is a nice option for someone who is more advanced (or hopes to get there soon).
The drone itself costs $1,099, but there are several Fly More options available for purchase right now. The $1,349 bundle includes a pair of extra batteries, the advanced battery charging hub, a shoulder bag for carrying everything, and more. Move up to the $1,549 version, and you get those same accessories, except you'll also get the DJI RC 2, which integrates a 5.5-inch HD screen directly into the device.
We're looking forward to flying DJI's new drone as soon as review units become available.