Best Amazon Prime Day deals: 2021 savings you'll want to capture
Picture-worthy Amazon Prime Day deals that you'll be happy you took part in.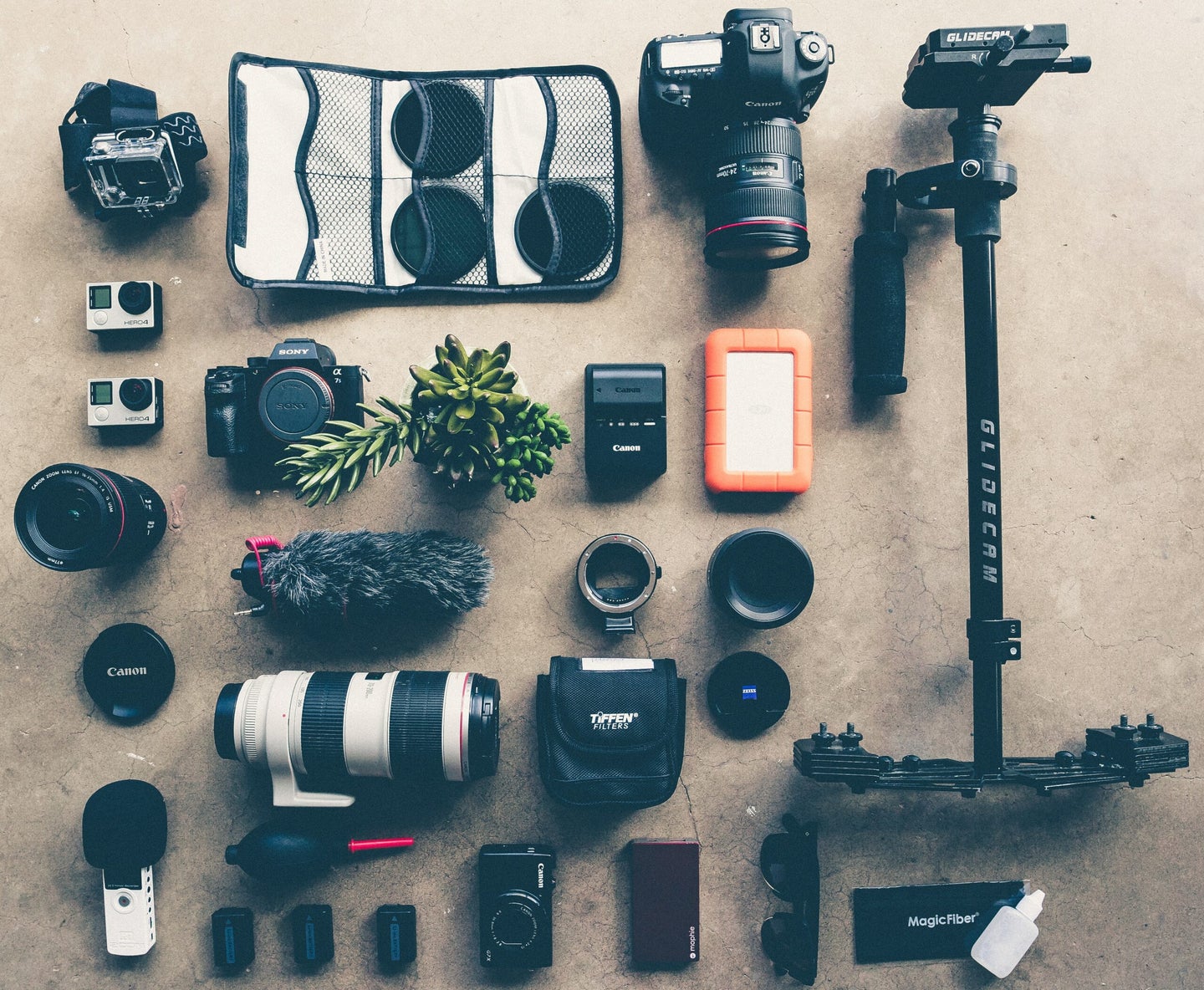 This article was updated at (8:00 p.m., E.S.T)
Interested in deals beyond photo gear? Check out more savings on our PopSci Prime Day post!
If you've been holding off on buying new camera accessories, DSLR, or just a point-and-shoot camera for easy flicks, Amazon Prime Day is the perfect time to pick up what you've been waiting for. With deals on high-quality photography equipment at a slashed price, you won't want to miss the best Amazon Prime Day deals. Whether you're just starting out and want to build your photo kit, or are a pro who wants to update with the latest gear, Amazon Prime Day 2021 has something for you. We've rounded up all the best camera gear deals from Prime Days past, so you can plan ahead for the biggest shopping holiday of the year. 
Best Amazon Prime Day deals on camera and gear
It's no secret that cameras can be pricey, but with the best Prime Day deals on Amazon, you can score top-notch photography equipment at insane discounts. If you've had your eye on that DSLR or mirrorless camera, now's a good time to tune into Amazon daily deals to find the best sale price.  
Best mirrorless camera deal for most people: Fujifilm X-E3 kit
Even at full price, the Fujifilm X-E3 is a bargain. The compact, rangefinder-style body offers the same 24.3-megapixel X-Trans sensor as Fujifilm's higher-end models. It also boasts an impressive electronic viewfinder, a touchscreen, and autofocus with advanced tracking abilities to combat blurry shots. Unlike many cameras at this price point, the X-E3 offers numerous dials and buttons for changing your settings quickly without digging into menus. For Prime Day, you can get it for $800 with the 18-55mm kit lens ($200 off), or opt for the 23mm f/2 WR prime lens kit for $752. If you already have Fujifilm lenses, the body alone costs just $489, which makes it a great step up from a smartphone camera or a solid backup body for working photographers.
Best Prime Day mirrorless camera deal for outdoor photographers: Olympus OM-D E-M5 Mark III kit
The Olympus OM-D E-M5 is small compared to its larger mirrorless competition. But, with super-robust weather sealing that applies to both the body and the lens, it can withstand just about any kind of weather you can throw at it. The Micro Four-Thirds mount makes this camera compatible with a ton of lenses. The Prime Day kit comes with a 14-150mm lens, which is the equivalent of a 28-300mm lens on a full-frame camera. That kind of zoom range covers everything from tight indoor spaces to sweeping nature scenes and everything in between. The kit retails for $1,799, but it's just $1,049 here on Prime Day, which makes this an unbeatable way to get into the Micro Four-Thirds system.
Pros often rely on hard camera cases when traveling because the road can be a brutal place. The Nanuk 925 case is fully waterproof thanks to flexible seals around the possible ingress points. The sturdy resin exterior can withstand brutal impacts while the customizable foam interior gently hugs your precious equipment. At 17.0″ x W11.8″ x H6.4″, it can hold plenty of kit for most jobs. The burly handle makes it easy to carry, and there's a place for a pad lock so you can add an extra layer of protection from thieves and accidental openings. For just $44, it could save you lots of money on busted gear down the road. 
Sure, you can make beautiful video while on a tripod, but a slider can move the camera in ways that make your footage look much more cinematic. Mount your camera to the tripod socket on the slider and program the time, distance, and rotation angle that you want using the advanced controller. Start recording and the slider will do the rest of the work. A piece of gear like this takes a little practice, but once you get the hang of it, you can use it for everything from Scorcese-like movie shots to epic time-lapse videos. The $239 31-inch version is probably big enough for most shooters, but you can step up to the $271 48-inch model for really dramatic sweeps. Either one will save you roughly $70 off of the regular price.
This pro-grade 27-inch display comes backing an IPS panel, which stands for in-plane switching. You don't need to understand the deep technical aspects of the technology to know that it typically translates into more accurate and consistent color reproduction. That's a huge deal when editing photos and videos. Each screen comes pre-calibrated from the factory so it will be accurate right out of the box. The 27-inch screen rotates and swivels, so you can use it vertically on its stand if you want to layout site designs or just watch Tik Toks in their native form. It also supports 100 percent of the sRGB color space, so you can really see the true color of your cat's evil, soulless eyes in every shot.
These rugged binoculars are a favorite of birdwatchers, with prisms made of BaK-4 glass that let you to peep your feathered friends in all their splendor. Large-focus knobs allow you to focus easily and twist-up eye cups provide a full field of view. Use these binoculars with or without glasses. 
Embark on your next adventure with this handy backpack. It will fit a DSLR or mirrorless camera, up to two lenses, a 15-inch laptop, and tripod. Then there's 50 percent more room in the pack for clothes, keys, snacks, and more. The sternum strap and ventilated wicking mesh back panel make this pack a comfortable carry when you're trekking in search of the perfect shots. 
Get bright and steady light for shoots in the studio or on location with this versatile lighting kit. It comes with two 660-LED RGB panel lights for photography and video, an LED video light with adjustable brightness, hue, and saturation, two white light diffusers, and two light stands. You can change the settings though the app, which works with tablets and smartphones.
Discover in real-time what your canine is up to with this live streaming dog camera, which features a full HD 1080p camera, night vision, and a 160-degree wide view. The barking sensor will alert you on the Android- and IOS-compatible app when Fido is getting vocal so you can calm him down. Then you can reward him with some catch.
From the pocketable design to it's improved camera technology, the GoPro Hero 8 is the camera you need to capture any adventure that awaits. The TimeWarp 2.0 feature allows you to to take smooth time lapse videos, all while adjusting speed based on motion and lighting so the finished result is stabilized. This bundle will give you everything you need to make the most of your GoPro, including a shorty, head strap, SD card, and rechargeable batteries. 
The wide aperture range of f2.0-22 on this lens allows you to capture images in low light environments. With a nano-crystal coating on the inner surface to minimize image flare and improve your overall photo quality. The ultra wide 12mm fixed focal length is perfect for night photography, landscapes, and long exposures. 
Connect to WiFi or Bluetooth and print from anywhere, including large format prints, augmented reality hyperphotos, and stickers. You can also connect the printer with friends and family using the Lifeprint App to easily share photos from anywhere—to share memories and have them on-hand for years to come. 
The NexYZ adapter features three directional knobs on the X, Y, and Z axis that let you align your device quickly so you don't miss the perfect shot. This sturdy adapter is also designed with tension adjustments so you can keep your device super steady as you capture photo and video.
Easily adjust brightness from 0 to 100 percent and color temperature from 3,200K to 5600K to create soft and shadowless lighting with this 18-inch device. Nine scene modes allow you to create special effects. The kit also includes a light stand, photo mount, and USB plug that works with most devices. 
The photography in National Geographic sets a high bar, but this lightweight tripod lets you bring it with you wherever you wander to set up some epic shots. Its three sturdy legs provide a strong base, or you can detach one of the legs to use as a monopod for greater mobility when you're running from a rhino.
Amazon Prime Day deals 2021 FAQ:
When is Prime Day 2021?
Prime Day starts at 3 a.m. EDT on Monday, June 21, and goes through Tuesday, June 22. See what kind of top-notch equipment may be on sale by exploring deals from last year's shopping holiday. You can also bookmark this page and check back for all the latest updates and promotions.
What is Amazon Prime Day?
Prime Day is a once-a-year shopping holiday where Amazon Prime members can find bargains on electronics, home goods, personal care items, outdoor and exercise equipment, and thousands of other products. If you're not already a member, you can sign up for just $12.99 a month, or $119 per year.
When does Prime Day end?
Prime Day 2021 ends on Tuesday, June 22. In the meantime, explore current Amazon deals here.
A final word on the best Prime Day Deals on Amazon
We'll keep you updated with the latest and greatest Amazon prime day deals on photography equipment here, so stay tuned and don't miss out on the best sale of the year.