Flickr Unveils New In-House Photo Licensing Program
Yahoo's photo service wants to sell your photos for you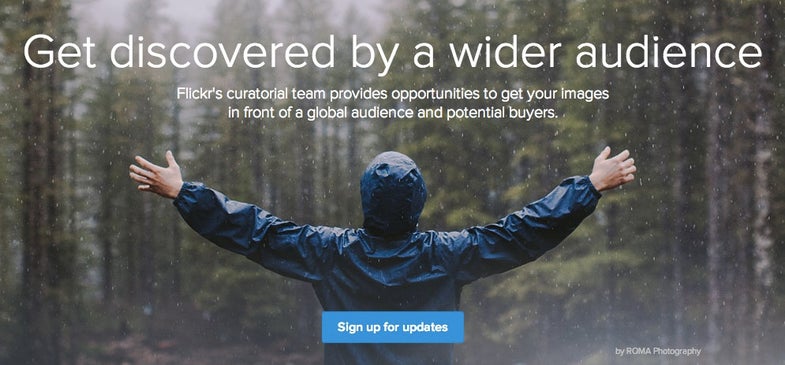 Flickr has announced that it will be offering a new photo licensing system, tied to a number of major news outlets. And while it's exciting that something this big is in the works, there's a lot left unsaid in the announcement, too.
Flickr announced the new licensing scheme in a blogpost, saying "Today we are excited to introduce a new way for you to partner with photo agencies, editors, bloggers and other creative minds who are seeking original content like yours. Our curatorial team will provide assistance, outreach and connectivity to help you get your photos licensed!"
Flickr users will be contacted directly with Flickr Mail if they've been invited to join the program, and on the sparsely informative Marketplace page, the site claims the New York Times, Reuters, Gizmodo, Monocle, the BBC, and Tumblr are on board. The blogpost also mentions that your work may be licensed to other Yahoo properties, like the Flickr blog, and Yahoo News and Travel.
The information about the program is scanty, to say the least. Probably the biggest question on everyone's minds is what sort of licensing cut Flickr will take from what it charges. When 500px first announced 500px Prime, they said photographers would only receive 30% of the licensing cost—however, the debate that followed persuaded them to bump that number to 70%.
It's also not clear where that leaves Flickr photographers who license their images through Getty (which currently gives users a 30% cut of the licensing). While the Marketplace site mentions "Get connected to opportunities to license your work to photo editors, designers, and agencies including Getty Images," according to a report from TechCrunch, this move has caused some friction with Getty, as Flickr is essentially moving to an in-house version of what Getty provides.
If any of our readers have been contacted by Flickr about the new service, let us know what the details are. With so little firm information in place, there's still plenty of room for Flickr to either make something really impressive out of this, or further frustrate its users.