Instagram Gets New, Better Editing Tools With Version 6.0
Instagram finally gets editing tools to adjust brightness and saturation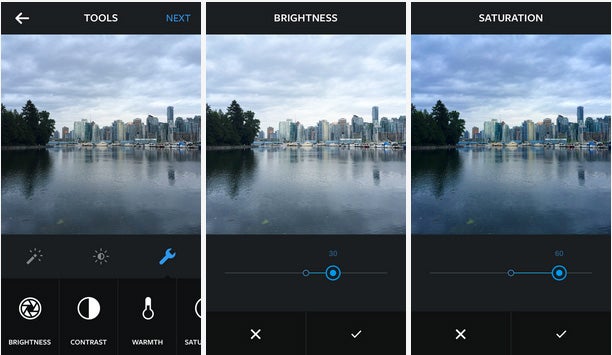 Instagram has announced version 6.0 of its popular smartphone app, and rolled out a whole suite of editing tools that have long been absent from the app. No longer will you have to tweak your image's brightness, contrast or sharpening in another app before sending it to Instagram for filters and sharing—now you can do it all in one place.
On a help center article, Instagram has put together a rundown of what the new editing tools do:
Tap to open up photo-editing tools.
Tap Brightness to make your photo brighter or darker.
Tap Contrast to make the bright areas of your photo brighter and the dark areas darker.
Tap Warmth to shift the colors of your photo towards warmer orange tones or cooler blue tones.
Tap Saturation to increase or decrease the color intensity of the image (ex: adjust up to make the red redder).
Tap Highlights to adjust the focus on the bright areas of the image.
Tap Shadows to adjust focus on the dark areas of the image.
Tap Vignette to darken the edges of the photo. Adding a vignette can direct the attention away from the edges towards the center of the photo.
Tap Sharpen to add crispness to your photo and make the photo appear clearer.
Tap Next to add a caption and location and to share your photo.
You can now also adjust the strength of filters by double tapping on the filter itself, allowing you to dial in just how heavy the post processing is.
Looking through these new features, it really does seem that Instagram is borrowing a page from VSCO Cam. The editing tools look extremely similar, right down to the icons, and the ability to control the strength of the individual filter is something that VSCO Cam has had for a while. However, many people share from VSCO to Instagram, and these tools may prompt them to skip the extra step in the middle, and just stick with Instagram for the entire thing.
As a note, none of us here at PopPhoto have succeeded on getting Instagram 6.0 working on our phones. We're all on iOS devices, and while the update is live in both the App Store and Google Play, it doesn't seem to be appearing on our devices. Hopefully our readers will have better luck, but at this time three of us independently haven't been able to update.