Amazon's Fire Phone has Six Cameras, Innovative Head Tracking, and Unlimited Photo Storage In The Cloud
The online retailer's foray into the world of phones does some very interesting things with images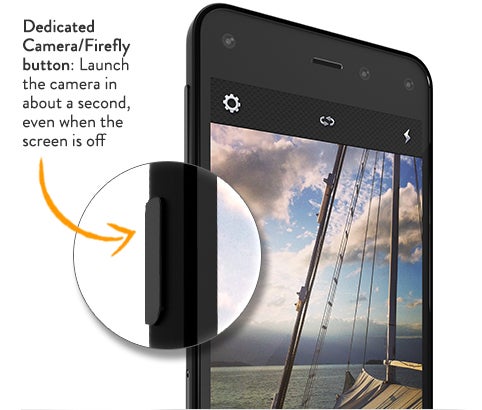 Yesterday, Amazon made its first push into the world of smartphones with the Amazon Fire Phone, a smartphone that taps into a frankly dizzying number of cameras to pull of features that mark it as substantially different from anything else on the market.
The most interesting thing about the Fire Phone is that it actually packs six different cameras. There's the usual front-facing and back-facing cameras, with the latter having an f/2 aperture, and a 13-megapixel sensor. But what really differentiates the Fire Phone is the other four cameras, one in each corner of the smartphone's frontplate. These are used specifically to track your head in any and all conditions, so that the phone knows where it is in relation to your face at all times.
This translates into an innovative (if questionably useful) interface that Amazon is calling Dynamic Perspective. Because of the accurate face tracking, you can interact with objects on the screen by tilting the phone to look around them. Amazon is already demoing these features with the user interface, lock screens, maps, and games.
For a closer glimpse into how this works, you can check out the entire 90 minute presentation on YouTube, but jump ahead 38 minutes for the beginning of the 3D discussion, and to 56 minutes to delve into just how Amazon worked to figure out how to track a wide variety of faces, facial hair, glasses, lighting and more to always identify your head.
Amazon also introduced a feature called "Firefly" which will look at a photo that you've taken, and identify the product in it for just about anything from any angle, and then give you information about it, and allow you to purchase it (over Amazon, of course). With a database of 70 million products, it can also identify audio from films, television, and music.
But, for most people, what'll probably be the most useful thing that Amazon announced is the inclusion of unlimited cloud storage for photos. If you've ever had trouble with your iCloud backup due to your photography habit, you'll now exactly how useful this is. No more worrying about how much space those thousands of photos of yours are taking up on your phone—they're all backed up online, for free.
While Amazon will have an uphill battle given the entrenched support for iOS and established Android phones, at the very least they're experimenting with something interesting and new.