World's Largest Photograph Goes On Display At National Air and Space Museum
A rare opportunity to see "The Great Picture" on full-sized display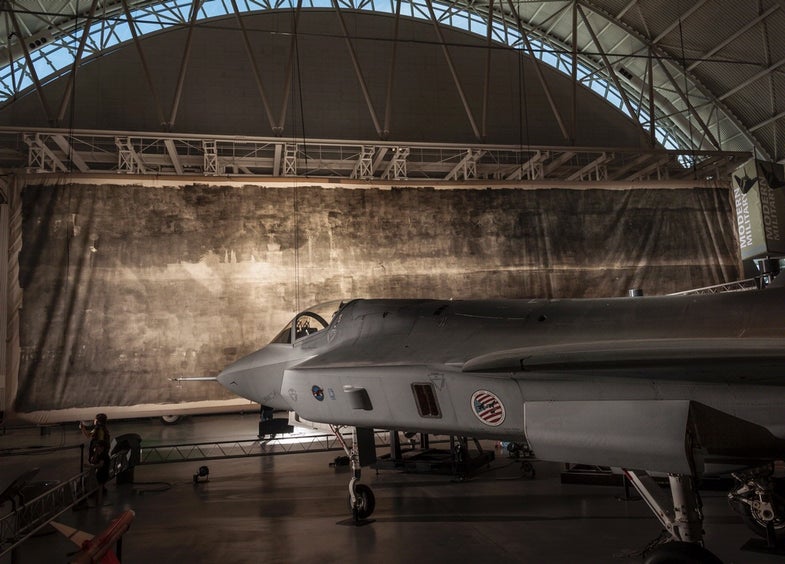 In 2006, a team of photographers and volunteers light-proofed an entire aircraft hanger, converting the immense space into an unfathomably large pinhole camera. Painting an enormous canvas with gelatin silver halide, they proceeded to create a photograph that measures 111×32 feet, the largest ever produced. Affectionately known as "The Great Picture", its enormous size means that it's not often put on display—but from now until November will be available to view at the Smithsonian National Air and Space Museum.
"The Great Picture" has been installed at the Steven F. Udvar-Hazy Center in Chantilly, Va., where it was opened to the public on April 26th. Taking up a whopping 3,375-square-feet, it has the Guinness World Record for the largest photograph in existence. It was shot using just a 1/4-inch aperture, and reversed versions of the photo let you see the true image on it.
Due to its huge nature, the photo isn't often put on display—it's not common for a museum or gallery space to have more than 3,000 square-feet of space available. In fact, the last time we heard of it going up for view was back in 2011, when it had to be placed in a special U-shaped installation at UC Riverside.
So if you're anywhere near Washington DC, this could be one of your few chances to see the largest photo ever printed.
[via DPReview]