Watch Andy Warhol Create Digital Image Art With Early Editing Tech
A series of all but lost images have been rescued from an ailing set of floppy disks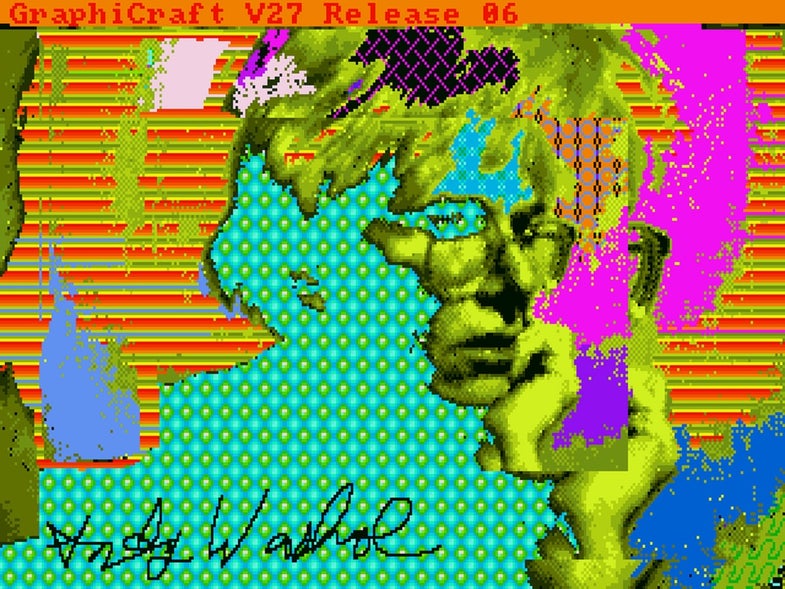 In 1985, Amiga contacted pop-artist Andy Warhol to experiment with the Amiga 1000 as part of an advertising campaign around the new, and then cutting edge, computer. Warhol produced a series of images on the Amiga, some of which were drawn freehand, others were edits of existing files, but almost all were lost to the mists of time (and obsolete storage mediums)—but now the images have been restored, and will broadcast as part of a documentary series.
Artist Cory Arcangel learned of Warhol's Amiga work through a YouTube video of Warhol painting Debbie Harry with the computer. While that image in particular remains in the Warhol archives, the rest of his Amiga work was committed to the floppy disks of the Amiga 1000—a format that's so far removed from modern computers as to be almost totally obsolete.
However, Arcangel was able to gain the help of curator Tina Kukielski of Carnegie Museum of Art. They enlisted the help of the Carnegie Mellon University's Computer Club, which has an incredible archive of old hardware to work from. With the assistance of the the Hillman Photography Initiative at CMOA, they were able to recover these images which would otherwise have been lost.
Keep in mind, this was around five years before Adobe Photoshop would first be released, and the concept of being able to digitally manipulate an image was still groundbreaking. Being able to copy and paste within a photo, or dramatically change the color with the paintbucket was a massive change from how things would have been done before.
You can read more about the initiative through a press release from the Warhol Museum and the Carnegie Museum of Art. The story of recovering these images will be shown as an episode in the The Invisible Photograph documentary series.