Getty To Sell Prints Through New Photos.com Service
Famous Getty Images, mounted and framed for your walls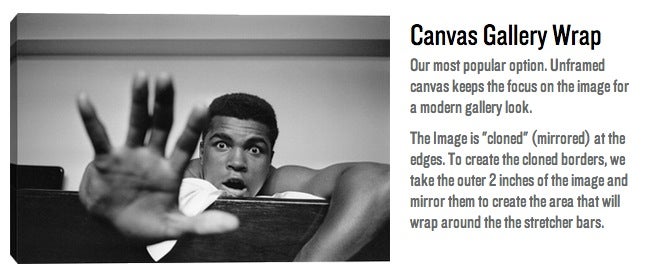 While Getty Images may now let you embed its images for free, the company has also now started offering a much more premium (and permanent) service, too. You're now able to purchase real-world prints of famous Getty images through Photos.com by Getty Images.
This newly announced service is a curated set of Getty's immense collection of photos, which will be printed by New Era Portfolio, and arrive framed and ready to hang on your wall. Prices start at $90, and are available on canvas, archival paper, aluminum, acrylic, and even wood.
The photos themselves cover the usual array of topics that you might want to hang on your wall—nature images, black and whites, geometric shapes. But the most interesting stuff is when Getty starts to tap into some of the more famed images from its archives. The LIFE archive represents thousands of famed images from the selfsame magazine. You can also look through collections from famed photographers such as conflict photojournalist Chris Hondros, music photographer David Redfern, and Hollywood photographer Earl Leaf.
This move into printing is a notable new addition to Getty Image's services—and obviously a new revenue stream for the organization. It also points to something of a resurgence in the world of photographic prints. Recently, acclaimed street photographer Daniel Arnold made $15,000 selling prints of his Instagram images in just 24 hours. Combine that with easily available print on demand services like the recent Blurb/Amazon partnership, and it's clear that there's still a very real appetite for physical copies of images.