The Platinum Sphere Portrait Turns a Photo Into a $500,000 Metal Headshot
Made up of thousands of tiny spheres arranged on a board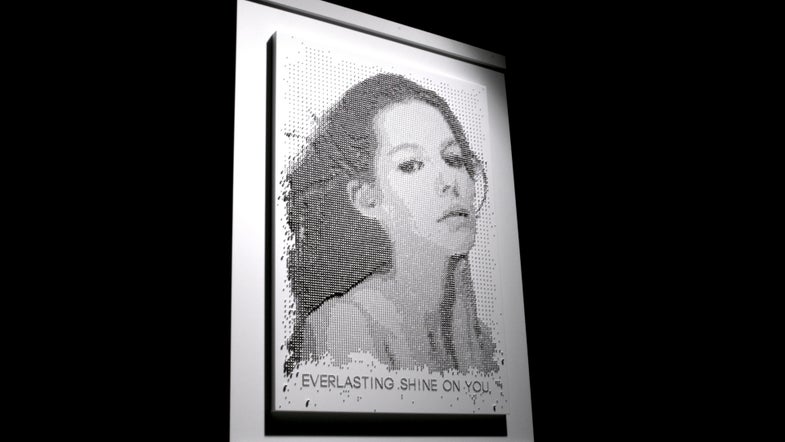 Ever wanted to have your face immortalized in one of the most expensive metals known to man? Feel the need to spend half a million dollars on a halftone print of a loved one? Then boy, do Platinum Sphere Portraits have the perfect gift for you!
This bizarre, and incredibly expensive, piece of art comes from a Japanese company called Platinum Guild International K.K., who will craft an image like this for you, for $500,000. The image is comprised of a tightly packed grid of platinum spheres, in a variety of sizes. When perfectly arranged, they create a halftone print, but one made of an extremely precious material.
According to the press release, the images are comprised of 1kg of platinum (worth around $47,000 on its own, if 100% pure), which is crafted down to 13,000 spheres, ranging in size from 2mm to 5mm. Each dot is hand placed in the correct location, and held in place by a small tab on each sphere.
If you actually want to get one of these yourself, prices start at $500,000 for a 58x80cm (23″x32″) version, with larger and more expensive options available. After a half hour meeting, the company will arrange a photographer to come and shoot you for a couple of hours, and then the image is digitized, and then hand-assembled in platinum form. If you want, they'll even send you a videotape of the assembly process.
Yes, it's ludicrously expensive, and the image doesn't even look that good. But you have to admire a company for really going all out when it comes to obscene luxury. That's not the sort of thing you'd see anywhere else.