An Open Letter From Photographers to People Who Flake on Photo Shoots at the Last Minute
Please share this with your friends and let's stop the spread of sad photographers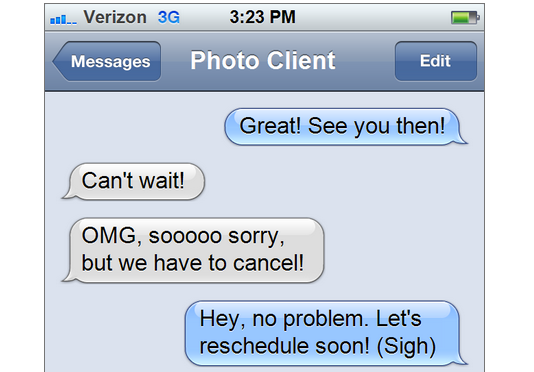 Dear friends, relatives, clients, loved ones, and anyone else who has ever cancelled on short notice for a scheduled photo shoot: Please stop doing that. Here's why.
Photography is one of those things that can quickly become an addiction. It's like golf in a way. You take many bad shots until you get a great one and then you're hooked. You need to do it again as often as possible. But, while you can always go and hit a bucket of balls at the driving range, portrait photography requires another willing participant. And finding a steady stream of subjects can be one of the trickiest parts of the whole pursuit.
A lot goes into planning a portrait shoot. While it might seem like you're just going to "hang out and take some photos," a lot of preparation goes into it. The photographer needs to choose a location, come up with a concept, prep the gear, and spend their time going over the various creative details before snapping picture one. That whole "hang out and take some photos" line is an effort on our part to keep you relaxed.
To us, it's serious.
So, when we get that text two hours before a shoot that says, "Soooo sorry, but we're going to have to cancel tonight. Our schedule is so crazy right now!" our hearts sink a little. All the time prepping, packing, and hauling gear is now for naught. All those ideas about shoots will have to sit in wait, and possibly be forgotten. Inspiration falls away. It's a big let down.
Now, we understand that schedules get crazy and sometimes things fall through. It's part of life. But, when you plan something like this, it's important to consider how much effort your camera-toting friend, or even your hired professional photographer put into it.
If the photographer asks you to be a subject and you say yes, then you are indeed doing him or her a favor. But, if you cancel at the last minute, you're doing the opposite. We're used to people saying no to photo shoots. It's not going to hurt our feelings. In fact, it hurts much less to hear, "Sorry, I hate having my photo taken," or "I'd love to, but the next few weeks are really busy for me," than it does to show up at a venue with a bag full of stuff only to have it be a waste.
If the shoot was your idea and a photographer goes out of his or her way to schedule a session, it hurts that much more. This is why many professionals now require a downpayment when scheduling.
Still, some of us will respond back, "No problem! Let's reschedule soon." We're willing to take the abuse because we care that much. But, that exclamation point is typically just for show. And it's a bad habit we should break.
In the end, we want to make photos. We want to take a picture that captures a person or a scene and then share it with them (and probably all of their Facebook friends). Some of us are trying to make a living this way. And you, photo subjects, are at the center of it. We can't do it without you.
So please, feel free to say no. We'll understand. And canceling in advance is usually not a problem. Amateurs can hit up other folks and professionals can take their deposit and try to book another customer. But, a short-notice cancellation ruins all of that. So please, be kind to us, and we promise to make you look your best.