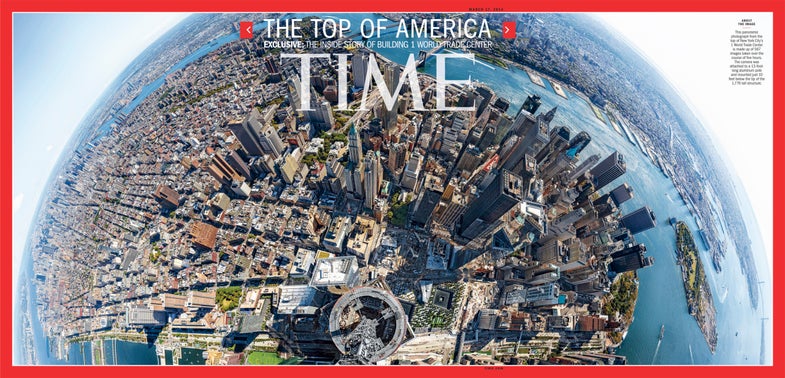 If you've seen the most recent issue of Time Magazine on the newsstands, you know that it's an issue devoted to the One World Trade Center, the enormous skyscraper erected at the site of the twin towers. Finally completed in 2013, the tower is the tallest in the Western Hemisphere, and this issue of the magazine is a closer look at the 12 year process of building it. But how did Time capture that stunning panorama for the cover?
The magazine put together a look at the behind the scenes of this incredible shoot, including a video which we've embedded below. Influenced by the famed image by Joe McNally of a worker changing a bulb at the top fo the Empire State Building, the planning for this photoshoot stretches its way back to early last year.
In fact, Time magazine worked closely with mega-panorama experts, Gigapan, to build a special rig designed just for the harsh conditions near the beacon at the top of the tower. At the end of the custom built jib was a Canon 5D Mark II and a 100mm lens, and over the course of five hours on September 28 of 2013, 567 images were recorded, and then assembled into this incredible panorama—which you can see in full here.