Behind the Scenes of Apple's Super Bowl Ad Shot on the iPhone 5s
How do you organize 15 locations and 45 shoots, over the course of one day, all shot on the iPhone?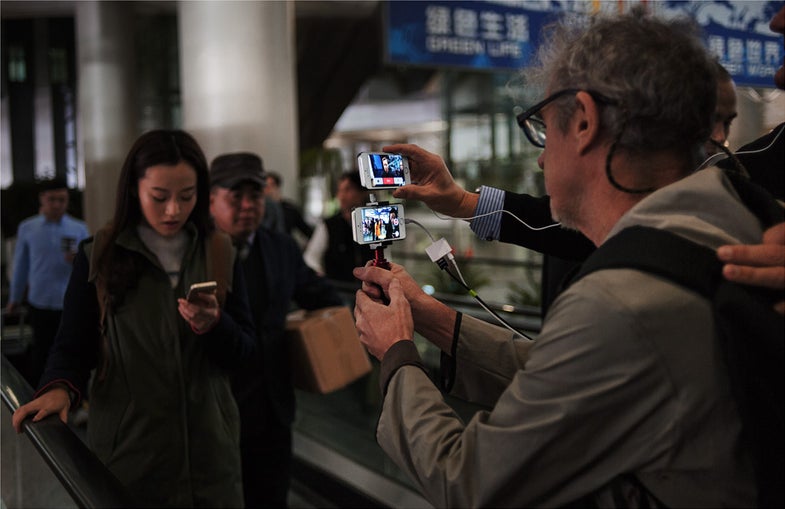 Yesterday, Apple released a video, simply called 1.24.14. Shot on the 30th anniversary of the Mac, it's a look at how Apple products are used the world over—laptops, desktops, iPhones, and iPads. Shot over the course of just a single day (the aforementioned January 24), it's not only a surprisingly moving video. It's also an impressive feat of organization in order to pull together something like this.
Now Apple is showing something of the behind the scenes to how it was made. Through a website and a newly released video, Apple shows off the coordination that managed to stitch together shooting in 10 countries, 15 cities, telling 45 stories, with 100 iPhones, producing 70 hours of footage. All over the course of one 36 hour day (thanks to time zones).
Key to putting it all together was a command center located in LA. Each filming team was not only shooting with iPhones, but also Facetiming with the director and DPs to set up each shot. Portable broadcasting stations beamed the data to the LA studio, where a team of editors got stuck into editing it.
Even though all the footage was shot on the iPhone 5s, there was still a lot of extra hardware involved, too. As you can see in the video, the phones were loaded up into all manner of mount, steadicam, and rig in order to keep the shots as smooth as possible.
Nonetheless, it's an impressive effort at taking a relatively pedestrian device, and through both artistic vision and planning ingenuity, making something pretty special.