Interview: Francisco Negroni on His Volcano Lightning Photos
A bit about the man behind last week's viral images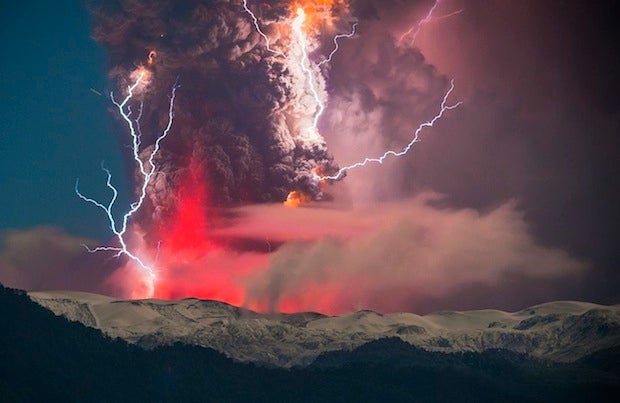 When we first saw Negroni's lightning-streaked photographs of the Cordón Caulle volcano, we were intrigued. So we got in touch with the man behind the images to get a bit of the backstory.
Cordón Caulle has been erupting since 2008, although the particular eruption shown in the photographs started in 2011. The phenomenon shown is known as volcanic lightning or a "dirty thunderstorm". Not a whole lot is known about these strange natural occurrences. At the very least, scientist now have some detailed photographs to study.
Can you tell me more about how these photos came to be? What was the process like for shooting them?
To take these photographs I used mostly slow exposures, this let me catch the lightning rays with such intensity. I also used a tripod and of course had a bit of luck!
Are they multiple exposures, or one single image?
None were multiple exposures, just long exposures.
When you first published these images, did you think they would reach such a wide audience?
I knew they were special photographs when I shot them. I hope to shoot more photos like these, I'd like to be shooting some of the best photographs of volcanoes in the world. People seemed to like them a lot and I hope it ultimately helps me to reach more customers. I live for this, and selling images is key to my success as a photographer.
Tell me a little bit about yourself and your background. What got you into photography?
I studied advertising photography in my country, Chile, in addition to adventure tourism.I am currently beginning to work with media outlets in my country, and have worked with international agencies a bit as well. Although being a freelance photographer is the evolution of the industry these days.
See more of Francisco's work here ( and see more volcano-lightning photos below).