VSCO Cam Makes Apple's "Best of 2013" List
Apple's annual best of the year list is filled with photo apps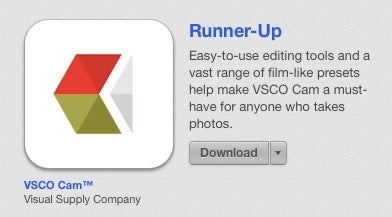 At the end of every year, Apple puts together a roundup of its "Best Of" for the previous 12 months. It's a catalog of apps, music, movies, and books, and chronicles not just what has sold well, but also those the company deems especially noteworthy. And not only were they plenty of ultra-popular photo apps, but one almost took the highest possible award.
The extremely popular VSCO Cam app was awarded runner-up for "App of the Year" on iPhone, losing out only to the language learning program Duolingo. Apple described the editing app as "Easy-to-use editing tools and a vast range of film-like presets help make VSCO Cam a must-have for anyone who takes photos."
As for other photo apps, Camera+ was #11 for Top Selling Paid apps, and in Top Free apps, Vine was #4, Snapchat #6, and Instagram #7. Apple also featured a number of "Stylish Photo Editing" apps, such as Mextures, Repix, and Rhonna Designs.
You can see the full rundown of Apple's Best of 2013 on iTunes using this link.
(via AppleInsider)