Flickr Overhauls Web Photo Embedding Feature
Now embedded photos have watermarks and interactive elements built in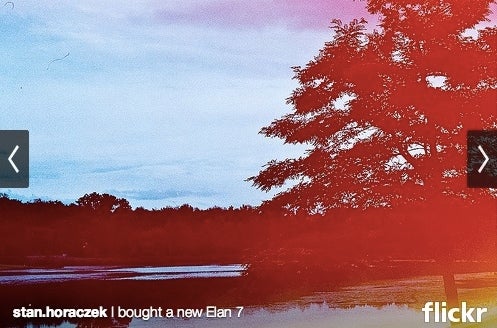 Flickr has announced a significant change to the way you can embed images, moving away from the static HTML upload, to a more dynamic, interactive version powered by iframe. And while the more obvious links to your photo sets and copyright information is good to see, some photographers are already chafing at Flickr putting its own watermark on the images.
The embedded images now show your Flickr name, and the file's full title, and on mouseover will also allow you to flick through the rest of the images from a set or group. From the photographers side, Flickr will now also track embed views, and only publicly viewable images will be embeddable.
Flickr has allowed for embedded images for years, though recent changes to the site's design have lead to some of those features being mysteriously dropped. A traditional HTML embed simply shows the images information as a title text on mouseover, and would link to Flickr on the click through.
However, not everyone is a fan of how Flickr has changed the embed system. Many are less than impressed with the fact that now all your images will have a large Flickr logo in their bottom right corner, regardless of how that looks.
To give you a feel for how the new version handles, here's an image by our own Stan Horaczek, with the traditional HTML embed on top, and the new iframe embed beneath.