Canon Files a Patent Application for (almost) 100x Superzoom Camera
How does a 1900mm zoom sound to you?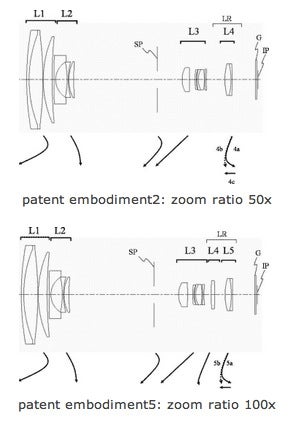 We may earn revenue from the products available on this page and participate in affiliate programs. Learn more ›
While the infamous megapixel wars may have come mostly to a halt, the battle over the longest zoom is still being fought. While the likes of the Canon SX50, Sony HX300, and Fujifilm FinePix SL1000 all managed to hit record breaking 50x zoom lenses, Panasonic eventually outpaced them with the FZ70 and a 60x zoom. But Canon has another trick up its sleeve — according to Japanese blog Egami, the company has filed a patent for a 100x zoom camera.
Technically, it's slightly under 100x, running 3.6-340mm — a 35mm equivalent of 20-1900mm, with an aperture range of f/3-f/9. And the lens would be made of 13 elements in 10 groups.
Interestingly, the patent also includes the specifications for a 50x lens, but one that's different from the lens found on the Canon SX50. The SX50 runs 24-1200mm equivalent, f/3.5-6.5. The 50x patent is for a 24-1200mm lens, but with an aperture range of f/2.9-7.1.
Now, none of this means that we're going to see a 100x zoom lens from canon in the very near future — but it's obvious that zoom length is a major feature that companies are battling over now. So it's only a matter of time before these stupefyingly long lenses become very much a reality. Bring a tripod.